24-Hour Waikiki Itinerary for Cruise or Layover Visitors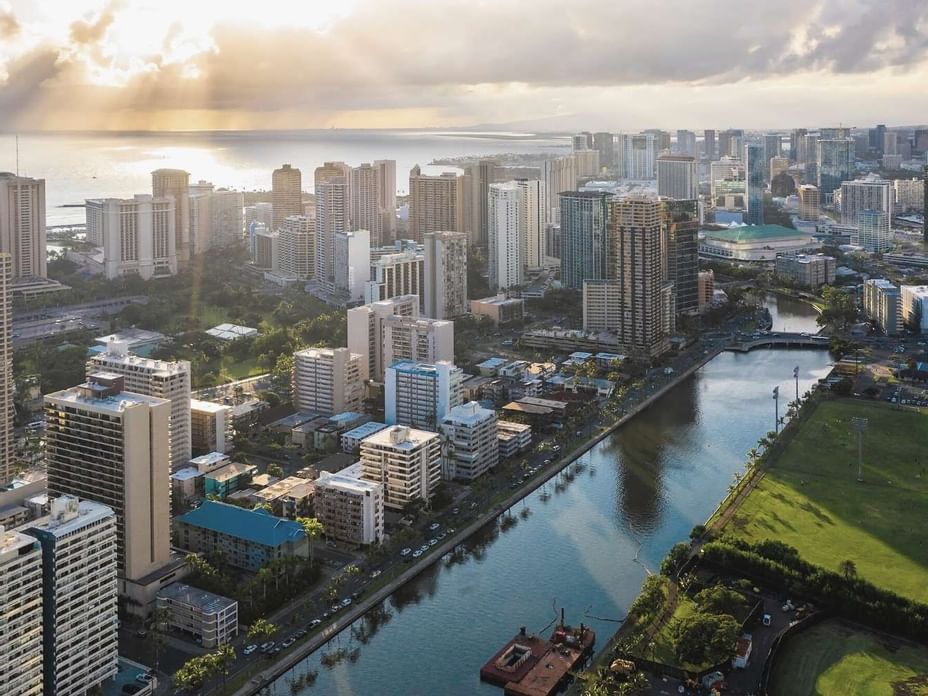 Are you on a quick stopover before or after your cruise ship docks at Pier 2 in Honolulu Harbor? Or perhaps you have a layover between flights or your flight just got canceled. Turn your auwe (Hawaiian for exclaiming, "oh no!") into mahalo (gratitude or thanks). Waikiki is less than a 30-minute car rental or bus ride from the cruise ships and airport, and it's the perfect 24-hour destination to get a flavor of all that Oahu has to offer.
Your Morning to Evening Itinerary: What to Do With a 24-hour Waikiki Itinerary
Many visitors come to Oahu for at least three or four days, which is the minimum amount of time to traverse the island's coasts from the south shore to Oahu's famous north shore. But if you have just hours to spare, what should you not miss in Waikiki? This 1-day Waikiki itinerary squeezes the most Hawaiian fun under the Waikiki sun.
5 a.m. - Catch a Sunrise
Waikiki offers sweeping views of the Pacific. Check the current sunrise times and welcome the lā ("sun") as it paints the sea and sky in glorious pinks and reds. Top spots in and around Waikiki for the best view include:
6:30 a.m. - Refuel Your Energy Levels with Authentic Hawaiian Coffee
Hawaii's hot sun, cool ocean breezes, and rich volcanic soil produce five world-famous coffee varieties. Get caffeinated for your quick-and-packed agenda with a stop at these famous Waikiki coffee shops:
7:30 a.m. - Enjoy Breakfast on Waikiki Beach
Grab a to-go breakfast from the Ilima Cafe and enjoy it to the sound of waves crashing on Waikiki Beach. This beach gets crowded quickly, so an early start means you get the best spot of open sand before the rest of the world arrives.
8:30 a.m. - Suntan or Embrace Adventure on Waikiki Beach
No visit to Waikiki would be complete without a dip into its pristine, warm waters. The sun will really start heating things up around now, making it the ideal time to suntan with a good book or go swimming. If you're feeling adventurous, many vendors along the beach offer rentals to make your beach time truly memorable:
Don't forget your sunscreen! Keep in mind that Hawaii has very strict rules about the type of sunscreen that's legal to use in the Aloha State.
11:30 a.m. - Grab Ono ("Delicious") Hawaiian Food For Lunch
Waikiki has more restaurants and cafes per capita than most other cities and towns in Hawaii. After a day in the sun, try some classic Hawaiian grinds (local pidgin/slang for "food"). Some can't-miss options include poke, loco moco, and plate lunch.
1 p.m. - Dodge the Heat with Shopping or History
Escape the midday sun with some of Waikiki's best visitor attractions:
3 pm. - Do a Sunset Cruise
Head back to the ocean on a sunset cruise. Multiple tour companies offer catamaran tours of Waikiki, typically lasting 1.5 to 3 hours in length. See the island from a new vantage point and take in the stunning sunset at around 5:30 p.m. Some cruises even include drinks and dinner or water activities like snorkeling and swimming.
8 p.m. - Dance Away Your Last Few Hours in Waikiki's Vibrant Nightlife Scene
Whether it's hitting up the Waikiki strip's world-class nightclubs and bars, catching an evening hula show, or sipping a mai tai on an open-air patio, the night is yours.
Whether you're visiting for one day or 30 days, the Waikiki Resort Hotel welcomes you to your hale (home) away from home. We're just steps from Waikiki Beach and set right in the heart of the Waikiki strip, giving you unparalleled access to pristine beaches and world-class dining and shopping. Book your stay at the Waikiki Resort Hotel online or call us at 1-800-367-5116.