Exploring the North Shore of Oahu: Best Things to Do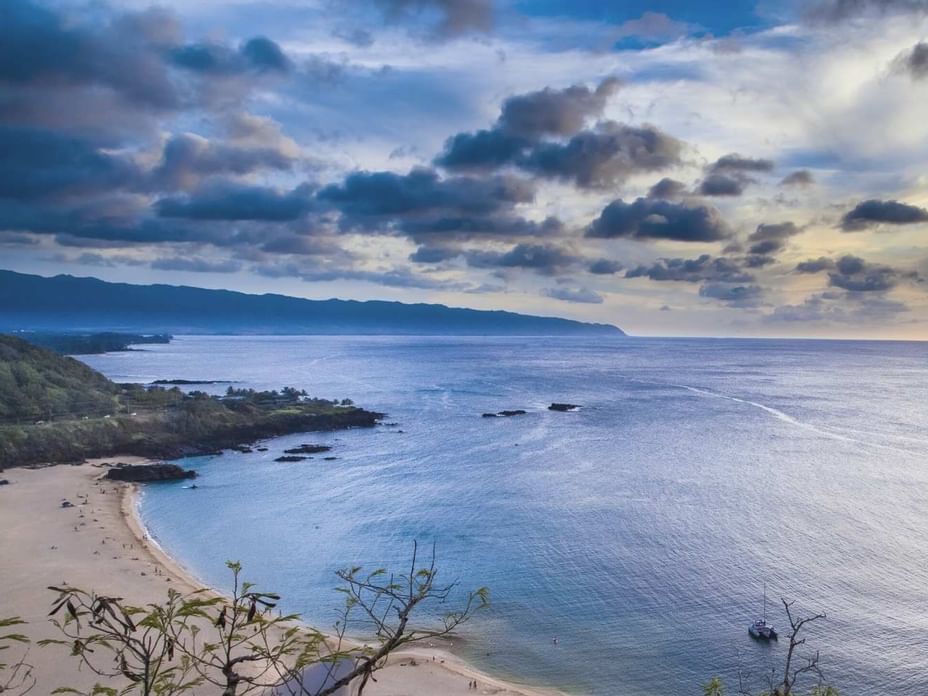 The laid-back, chill vibe of Oahu's North Shore offers far more than just big surf—although Waimea Bay's world-famous waves are definitely a draw. From refreshing shave ice served out of a historic 1950s grocery stand to a sprawling 42-acre Polynesian cultural center, the northern coast of Oahu invites you to an idyllic Hawaiian getaway just 60 minutes from the hustle and bustle of urban Waikiki.
The Best Things to Do on Oahu's North Shore
Want to get your adrenaline pumping on an outdoor adventure? Looking to hoʻomaha (relax) in the sun on a quiet, white-sand beach? Craving some ono grinds (good food) and a taste of local cuisine? The town of Haleiwa and the surrounding neighborhoods have something for everyone.
1. Dive Into the North Shore's Famous Surf Breaks
The breaks at Waimea Bay, Pipeline, and other beaches along Oahu's so-called "Seven Mile Miracle" serve up some of the most extreme waves in the world. While that makes them dangerous for all but the most skilled surfers, you can still dive in and see why people travel the globe to swim and surf here:
Book surfing lessons in Haleiwa (options include Haleiwa Surf School, 808 Surf School, and Surf Hawaii Surf School) and practice your new skills at Haleiwa Beach Park's Puaena Point (62-449 Kamehameha Hwy, Haleiwa, HI 96712).
Go body surfing at Waimea Bay if surf conditions allow (the surf is considerably calmer in the summer, but keep an eye for caution signs and talk to the lifeguards first).
Hop on a board with a pup at Hawaii Surf Dogs, where pro surfer Rocky Canon does surf lessons and guests can ride a board with a trained surf dog (Turtle Bay Resort, 57-091 Kamehameha Highway, Kahuku, HI 96731-2149).
Enjoy snorkeling, boogie boarding, tide pool-combing, or a good book on the expansive golden sands of Sunset Beach (59 Kamehameha Hwy, Haleiwa, HI 96712).
2. Dig Into Local Cuisine
No visit to the north shore of Oahu would be complete without a stop at Matsumoto's Shave Ice (66-111 Kamehameha Hwy #605, Haleiwa, HI 96712), where lines of guests wait for their chance to dig into Hawaiian shave ice with creative toppings like mochi and azuki beans.
For heavier fare, don't miss:
Haleiwa Bowls (66-030 Kamehameha Hwy): Brighten your morning with cold-brew Hawaiian coffee, freshly blended smoothies, and built-to-order acai bowls.
Romy's Prawn & Shrimp (56781 Kamehameha Hwy): Oahu's north shore is dotted with food trucks serving iconic plates of garlic shrimp.
Kono's Northshore (66-250 Kamehameha Hwy): You can't go wrong with a classic plate lunch. Kono's is also renowned for its 12-hour slow-roasted Kalua pulled pork.
3. Get Up Close and Personal with Nature
The Polynesian Cultural Center (55-370 Kamehameha Hwy, Laie, HI 96762) lets you explore six Polynesian cultures on 42 acres of lush jungle. For something more on the wild side, you don't need to book a tour or buy an entrance ticket:
Hike the Ka'ena Point Trail: Take in dramatic coastal scenery on this 3.5-mile hike. Look out for rare or endangered sea birds (and if you're lucky, whales breaching on the horizon).
See Hawaiian green sea turtles at Laniakea Beach (61-676 Kamehameha Hwy): Many honu (endangered Hawaiian green sea turtles) call this stretch of sand home. Make sure you respect the rules and stay at least 10 feet away from these resting animals.
Hike to Waimea Falls on the Waima Valley Trail: This relatively easy hike winds through the forest and to a rushing waterfall. Please note that swimming in the waterfall requires payment and a life jacket.
When you stay at the conveniently located Waikiki Resort Hotel, you're situated centrally at the famous Waikiki Strip and just a short 60-minute drive from Oahu's historic, scenic north shore. Book your stay at the Waikiki Resort Hotel online or call us at 1-800-367-5116 to see why the Waikiki Resort Hotel is the place of choice for visitors who want to explore everything the island has to offer.