South Shore Beaches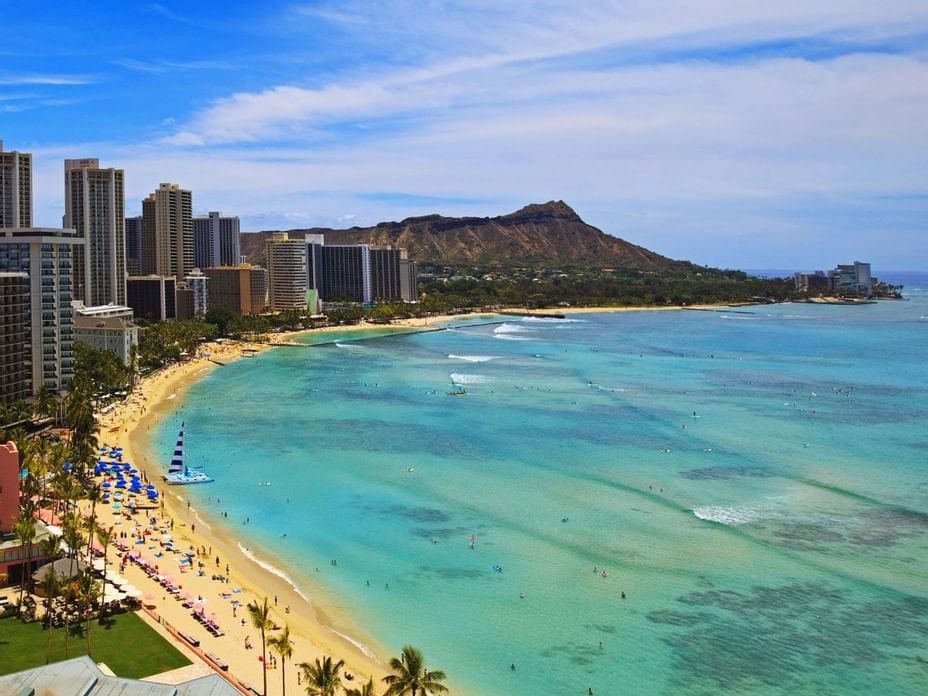 Waikiki Beach is one of the most popular beaches in the world, boasting more than four million visitors every year and breathtaking views of Leahi (Diamond Head). The Duke Kahanamoku statue welcomes you to Waikiki, one of the best places in Hawaii to learn how to surf or paddle a canoe thanks to its small but long-lasting wave break. Waikiki is actually made up of a few beaches, including Fort DeRussy Beach to the west, Waikiki Beach (fronting the historic Royal Hawaiian Hotel), Kuhio Beach (along Kalakaua Avenue) and Queen Surf Beach, home to quieter stretches on the Diamond Head side of Waikiki. Waikiki Beach is a mere 3-minutes walk for guests staying at the Waikiki Resort Hotel.
Waikiki - Duke's Beach is named in honor of the Olympic swimmer, Duke Paoa Kahanamoku and is one of the smaller beach strips in Waikiki that makes up a larger beach.
Waikiki - Kuhio Beach is nick-named ""Kuhio Ponds"" as the beach is divided by two walls. This is a smaller beach strip in Waikiki that makes up a larger beach.
Waikiki - Queen's Surf Beach is popular among bodyboarders and surfers and is also a smaller strip of beach that makes up a larger Waikiki beach.
Waikiki - Sans Souci/Kaimana Beach Park is shallow and sandy and free of strong currents - perfect for families!
Ala Moana Regional Park is just minutes west from Waikiki. This half-mile beach is protected by a fringing reef for calm waters. Tables are available for picnics.
Magic Island Lagoon extends out from Ala Moana Regional Park beach, a manmade peninsula with large seawalls and a shallow lagoon, making it a perfect place for keiki (children) to swim.