Protect Hawaii's Coral Reefs With This Reef-Safe Sunscreen Guide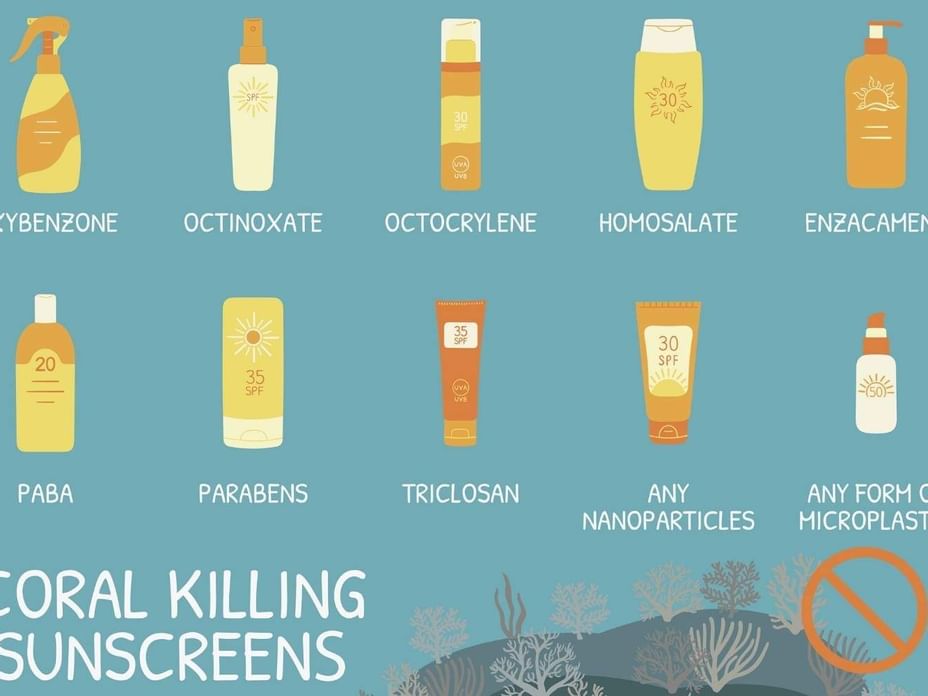 A Hawaii law that bans the sale of sunscreens with chemicals harmful to coral reefs has been in effect since January 1, 2021. Since then, the sun protection market has responded with more options for reef-safe sunscreens.
If you're planning a trip to Hawaii, sun protection is certainly important for a fun, safe vacation. It's also important to make sure that the sunscreen you pack isn't causing harm while you're interacting with Hawaii's marine populations, like Oahu's sea turtles.
Use this reef-safe sunscreen guide to both educate yourself on why some products are harmful and to identify options that will keep you sunburn-free without damaging Hawaii's coral reefs.
What is Reef-Safe Sunscreen?
A reef-safe sunscreen is free of chemicals and other ingredients that may cause harm to coral reef systems and marine life.
The Hawaii ban specifically mentions oxybenzone and octinoxate, two of the most common chemicals used by sunscreen brands. There have been efforts to add avobenzone and octocrylene to that ban, but it's unclear if that measure will pass.
While those ingredients protect our skin from the sun's harmful UV rays, they also damage and cause bleaching of coral reefs when they wash off during our favorite water activities.
Damage to coral reefs also harms marine life that uses the reefs as habitats. That includes the fish, seahorses, and sea anemones you may see on an Oahu snorkeling trip.
Harmful Sunscreen Ingredients
The ban covers the sale of sunscreens that are harmful to coral reefs and marine life, but the real effort is on consumers. If you're packing your own sunscreen, here are ingredients to avoid:
Oxybenzone
Octinoxate
Avobenzone
Octocrylene
4-methylbenzylidene camphor
Para-aminobenzoic acid (PABA)
Petrolatum/Mineral oil
Large amounts of titanium dioxide
Seek out mineral- and zinc-based sunscreens, instead, with particles over 100 nanometers. Sunscreens with eco-friendly packaging are always a good idea, too.
Reef-Safe Sunscreen Brands
The words "reef-safe" and "reef-friendly" are not regulated, so it's important to read labels when purchasing reef-safe sunscreen. If you're not sure where to start, these reef-safe sunscreen brands are all good options to protect you and the reefs.
Kōkua Sun Care Hawaiian Natural Zinc Sunscreen (SPF 50)
Kōkua Sun Care is water-resistant and reef-safe. Non-nano zinc oxide is the active ingredient, with 23 antioxidants—including 7 from Hawaii—added to moisturize your skin on top of the sun protection.
MANDA Organic Sun Paste (SPF 50)
MANDA is made for active travelers. Each tub is loaded with all-natural, all-organic ingredients like coconut oil and thanaka, a tree bark paste known for its anti-inflammatory properties. Non-nano zinc oxide is the active ingredient.
Babo Botanicals Clear Zinc Sunscreen (SPF 30)
This mineral-based sunscreen comes clear, making it easier to rub in than many reef-safe sunscreens. The main ingredient is zinc oxide. Additional ingredients include coconut oil, shea butter, and calendula extract.
Mama Kuleana Reef Safe Sunscreen (SPF 30)
Maui-made Mama Kuleana sunscreen is non-nano zinc powder-based. Organic coconut oil, shea butter, beeswax, and seed oils round out the ingredients. Mama Kuleana products also come in fully biodegradable and compostable packaging.
Little Hands Hawaii Body & Face Mineral Sunscreen (SPF 35)
Little Hands Hawaii's non-nano zinc oxide sunscreens come in a variety of shades, including an original white, for easier blending. Additional ingredients include coconut and jojoba oils, kokum butter, and beeswax. Tins are recyclable with biodegradable labels.
Protect the Beauty of Waikiki
Reef-safe sunscreen is an effective way to protect Hawaii's coral reefs and your skin. If your starting point is Waikiki, a gateway to the Hawaiian Islands, choose accommodations with easy access to Oahu's marine life like the Waikiki Resort Hotel.