Exploring Oahu from Waikiki Beach: A Day Trip to Haleiwa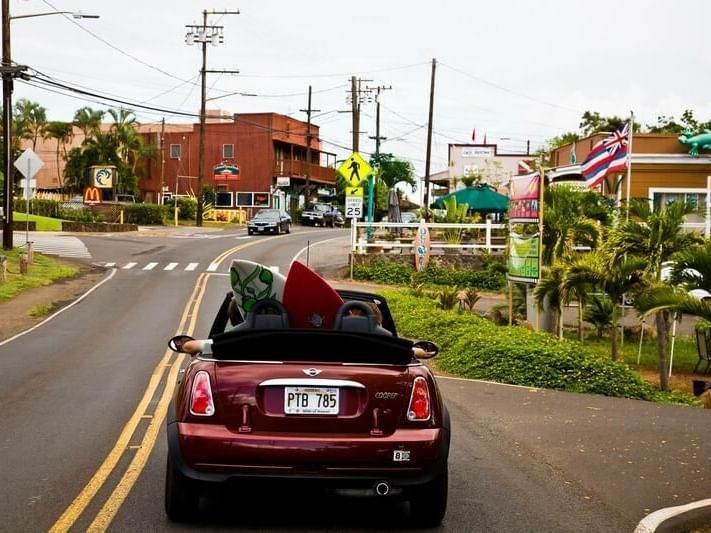 Honolulu and Waikiki Beach offer so many opportunities for adventure that it can be easy for visitors to accidentally neglect what the rest of Oahu can offer. The North Shore community of Haleiwa, often regarded as the "Surfing Capital of the World," is a great destination for those eager to explore Oahu outside of Honolulu.
Traveling to Oahu's North Shore
Haleiwa Town is located in almost the exact center of Oahu's North Shore, a mere 45-minute ride north from the Waikiki Resort Hotel on Interstate H-2 and Route 99. Perhaps the best thing about a day trip to Haleiwa is the wide variety of Oahu attractions you can visit on your way.

• Bishop Museum
The journey first passes the famous Bishop Museum in Honolulu, the official Hawaii State Museum of Natural and Cultural History. In addition to a wide variety of comprehensive exhibits dedicated to Hawaiiana, the museum is also home to the third-largest collection of preserved insects in the world.
Those up for a more adventurous visit should also explore the Mamiya Science Adventure Center located on the grounds.
• Pearl Harbor National Memorial
Interstate H-2 also passes right by the Pearl Harbor National Memorial and the Battleship Missouri Memorial, two of the most solemn albeit popular visitor destinations on the island. Guests can learn about the history of World War II's Pacific Theater at the visitor's center at Halawa Landing.
• Dole Plantation
Explore a native Hawaiian take on the island's history with a visit to the Dole Plantation in Historic Wahiawa Town. Depending on which crop is in season, visitors can take in the delicate fragrances of the plantation's native lei flowers, fruit orchards, and colorful cacao pods.
Exploring the Surfing Capital of the World
Once you reach the North Shore, you'll find no shortage of exciting things to do in Haleiwa. From the numerous opportunities for adventure at Haleiwa beaches, exploring folk art to trying locally made cuisine, it's easy to see why Haleiwa is one of Oahu's most popular destinations.
• Snorkeling
Families with young children and intermediate swimmers alike can enjoy some of Oahu's best snorkeling at Haleiwa's Shark's Cove. This secluded reef section is home to a wide variety of colorful fish and sea life that can be viewed up close.
• Shopping
From jewelry stores and t-shirt huts to locally-made soaps, Haleiwa Town is home to a bustling community of shops and small businesses. So you can pick up tokens to remember your trip or get a few gifts for loved ones back home.
• Body Surfing
When the surf is gentle, there's no better place to catch a wave than Haleiwa Beach Park. The park's calmer waters are ideal for beginning surfers and cautious swimmers. A variety of park benches and picnic tables make it a great location to enjoy local takeout, or even have your own barbecue.
Dining in Haleiwa Town
From traditional Hawaiian cuisine to exotic seafood, burgers, fresh sushi, and shave ice, the North Shore is home to cafes and restaurants that will cater to every visitor's taste, whether you like simple snacks or enjoy fine dining. Picking a favorite is like choosing the perfect wave, but three spots stand out as visitors' favorites.
• Poke for the People
Shrimp tempura rice bowls, specialty poke salads, and chilled tofu are just a few highlights at this Haleiwa favorite. Poke for the People aims to spread "culinary Aloha" through its diverse menu celebrating native Hawaiian culture, flavors, and vibrant ambiance.
• Haleiwa Beach House
Located in the historic Jameson and offering some of the most scenic views of Oahu's North Shore, the Haleiwa Beach house is a spot celebrated by locals and visitors alike. Relax with one of their handcrafted signature Hawaiian cocktails or locally-brewed IPA's and enjoy their famous House Loco Moco or Kalua Pork Sandwich.
• Haleiwa Joe's
The upscale Haleiwa Joe's offers a rotating menu of fresh fish, locally-grown produce, and locally sourced tuna. Founded in 1998, the establishment's location on Oahu's famed "Seven-Mile Miracle" makes it one of Hawaii's most scenic dining locations.
Can't-Miss Oahu Destinations
Guests of the Waikiki Resort Hotel can also get suggestions from our friendly staff before planning a day trip to Hawaii's North Shore from Waikiki. We also offer car rentals so you can make your trip to Haleiwa at your own pace without missing one of the many wonderful sites located along the way.