Kayaking with Kids in Hawaii: How to Get It Right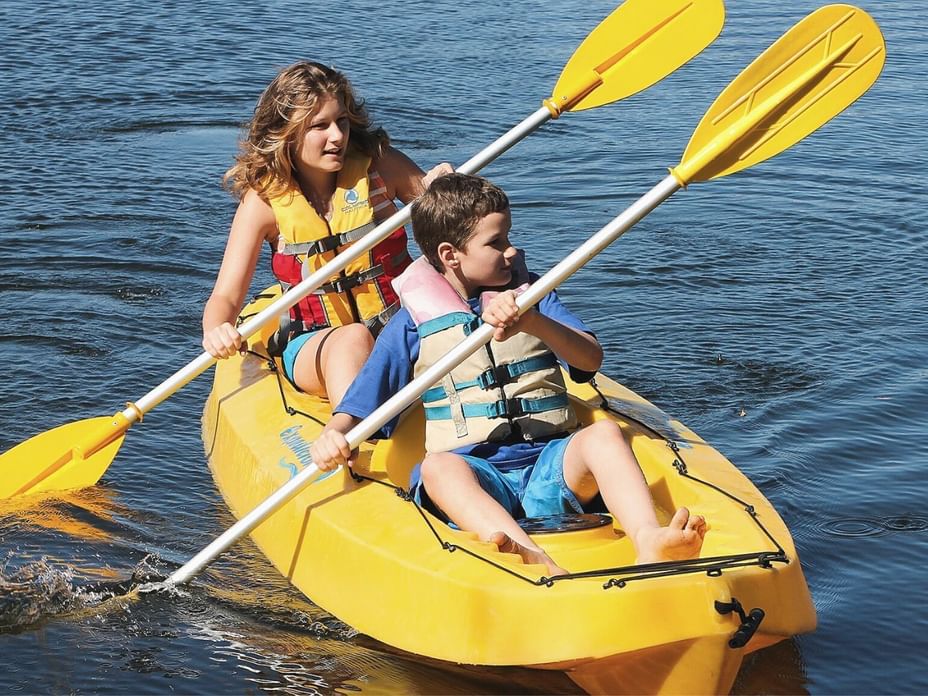 Ho'omakaukau! (Hawaiian for "ready, get set, go")—often used to kick off canoe and kayak races in Hawaii) There's no better way for you and your family to see the world-famous beaches of Oahu than kayaking in Hawaii. From crystal-clear lagoons filled with honu (turtles) and iʻa (fish) to breezy coastlines where you can take in Oahu's fabled cityscape and mountains, kayaking with kids in Hawaii creates memories and unforgettable experiences for young and old alike.
Is Kayaking Safe for Kids in Hawaii?
No matter how adventurous your keiki (children) are, the kai (ocean) is beautiful yet demands respect. Sudden changes in weather, or a hidden current, can quickly turn a tranquil family outing into a stressful escapade. Yet with the right planning and packing, kayaking is safe for kids in Oahu:
Pair up: Children over the age of 10 are often able to hit the water in their own kayak, but parents of younger keiki will want to ride tandem with them in a two-person kayak.
Choose the right kayak: For the best stability, go with a sit-on-top kayak, which is wider and more stable. Experienced adults, or teens who have kayaked in the ocean before, can enjoy the more agile sit-in kayak.
Suit up: No matter how confident you are, the ocean is a wild landscape and everyone should wear a personal flotation device that follows the U.S. Coast Guard's recommendations.
Practice sun safety: The sun's rays bounce off of the ocean surface, increasing the risk of sun exposure. Consider dressing your children in UV-rated long sleeves, a wide-brimmed hat, and sunglasses, and don't forget your reef-safe sunscreen.
Where to Go Kayaking With Kids in Oahu, Hawaii
You can't go wrong with a guided tour, which provides you with gear and a local tour guide who can show you all the sights and sounds of the area.
Some of the best child-friendly kayak tours in and around Waikiki, Honolulu, and beyond, include:
If you want to blaze your own trail, you can also rent kayaks and other gear at some of the best kayaking beaches in Oahu, including:
Kahana Bay (a secluded beach cove with waterfront camping)
He'eia State Park Fishpond (a historic landmark that's completely blocked from ocean currents, making it perfect for first-time keiki)
Lanikai Beach (a picture-perfect calm ocean with live coral reefs and endless white sand)
There are also many self-guided tours that take you to some of Oahu's best-kept kayaking secrets, such as trips through the Kahana rainforest and a jaunt to Kaneohe Bay's unbelievable sandbar. Self-guided kayaking tours often include an itinerary and all the gear you need—the rest is up to you and your children's imagination.

What to Bring When Kayaking With Kids in Hawaii
Besides the essentials, make the most of your kayak trip with your children by bringing:
A kid-sized snorkel set for jumping into the island's warm ocean and seeing the beautiful underwater vistas around you
An underwater camera for capturing these unforgettable memories
A beach towel and a Hawaiian plate lunch to live like a local and refuel after a day on the water
The Waikiki Resort Hotel is just a few minutes from Waikiki's kid-friendly kayak tours and kayak rentals and a short drive from iconic kayaking hotspots like Kaneohe and Kailua. Book your stay at the Waikiki Resort Hotel online or call us at 1-800-367-5116 to see why our location, friendly staff, convenience, and amenities give us top ratings among our guests, from keiki to tutus (grandparents) alike.