Take a Day Trip to Kailua from Waikiki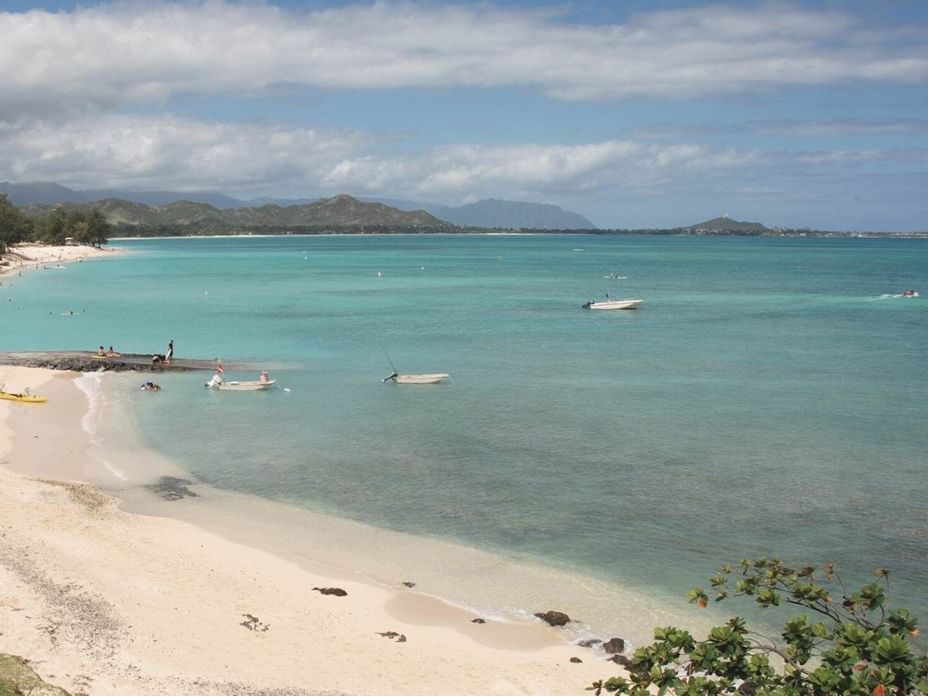 Kailua beckons you away from the lights and action of the Waikiki strip to experience the east coast of Oahu. From fresh papaya and other local produce at the weekly Kailua Farmers' Market to sweeping views of the Pacific atop the Lanikai Pillbox Hike, this beachside town has something for everyone. And since Kailua is just a few minutes away from Waikiki, it's the perfect day trip destination.
The Perfect Waikiki-to-Kailua Day Trip: How to Get to Kailua From Waikiki
Thanks to the Waikiki Resort Hotel's convenient location in the heart of beautiful Waikiki, driving from Waikiki to Kailua is a breezy 25-minute drive.
Directions From Waikiki to Kailua:
Head south toward Diamond Head on either Kalakaua Avenue or Kuhio Avenue.
Turn left on Kapahulu Avenue and follow the highway signs onto H-1 West.
Take exit 21B for the Pali Highway.
Bonus option: Halfway down the Pali Highway, you'll see signs for the Nu'uanu Pali Lookout. Towering more than 1,000 feet above Kailua, get breathtaking views of the Koolau cliffs and the entire Windward Coast before driving down the highway into the vista you just saw.
Continue onto Kailua Road and you'll find yourself in picturesque Kailua town.
What to Do When Visiting Kailua, Oahu
On your day trip from Waikiki to Kailua, you'll find something for every type of traveler.
For Hungry Foodies
Quirky food trucks and local mom-and-pop restaurants offer a smorgasbord of delicious options to fuel your Kailua day trip.
The Best Food Trucks in Kailua, Oahu:
Leilani's Island Tacos (120 Hekili Street): Many kamaʻāina (locals) drive the Pali Highway just to sample this food truck's flavorful tacos that find surprising ways to fuse both Mexican and Asian cuisine. Don't miss their shrimp tacos paired with Asian slaw, or their Aloha Chicken Tacos made with shoyu chicken with a side of pineapple-ginger broccoli slaw
Maria Bonita Lunchwagon (30 Kihapai St, next to Hardware Hawaii's parking lot): Just five minutes from the beach, grab authentic Mexican fare like taquito and enchiladas. Don't miss the housemade salsa. Portions are generous but be warned that they only accept cash.
The Best Restaurants in Kailua, Oahu:
Boots & Kimo's Homestyle Kitchen (1020 Keolu Drive): This family-owned restaurant is renowned for their specialty pancakes paired with their world-famous housemade macadamia nut sauce.
The Beet Box Cafe (46 Hoolai Street): For a healthy, locally sourced, and organic breakfast, swing by this upbeat eatery. Popular options are their Cacao Bowls, but you can't go wrong with the cafe's elevated version of avocado toast.
Nico's (970 N. Kalaheo Avenue): Perfect for the fine-dining gastronome. All of their seafood dishes are made with Hawaiian fish caught that very day and hand-selected by Nico's team at the Honolulu Fish Auction.
For Adventurers and Beach Lovers
From sea to sky, relax in the Hawaiian sun or embrace adventure and get your heart rate pumping on a scenic hike:
Lanikai Beach (six pedestrian beach access pathways in a residential neighborhood along Kawailoa Road): The name lani kai translates to "heavenly ocean," which describes this beach perfectly. It can be tricky to find, but you'll be rewarded with an aqua-blue sea and views of the Mokulua Islands.
Kailua Beach Park (526 Kawailoa Road): Enjoy a massive stretch of powdery, white sand. This beach is far bigger than Lanikai, and also far busier. Once you're tired of suntanning, try your hand at watersports like windsurfing. This park is also perfect for sunsets.
Kiawe Ride/Lanikai Pillbox Hike (use GPS for directions as all parking is in residential areas): It'll take most people approximately an hour to do this 1.5-mile round trip hike. At the top, you'll enjoy a view of the entire coast, ranging from Kaneohe Bay to Kailua right below you.
For Shopaholics
Kailua is bustling with boutiques with an island twist. Whether you need new aloha attire for a night in town, or you're searching for unique souvenirs, don't miss these shops:
Kailua Moon (539 Kailua Road): Unique women's clothing and colorful accessories
Mahina (539 Kailua Road): Voted the best boutique on Maui for years in a row, this clothing shop now has a Kailua location
Island Bungalow (131 Hekili Street): Bring home a piece of the islands with this home decor and gift shop known for its reclaimed furniture and globally inspired textiles.
No matter what type of experience you're seeking when you're visiting Kailua, Oahu, the Waikiki Resort Hotel is a short 25-minute drive away. Book your stay at the Waikiki Resort Hotel online or call us at 1-800-367-5116 to see why visitors love our convenient location just steps from Waikiki Beach.