The Best Kid-Friendly Activities for Family Fun on Oahu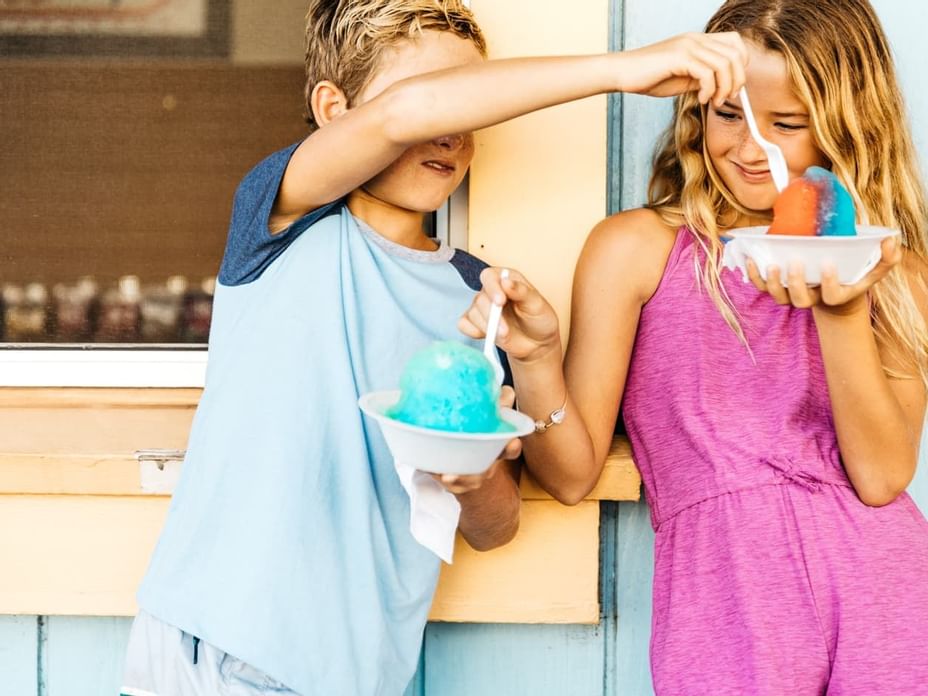 Planning a family vacation to the tropical shores of Oahu? Hawaii's third-largest island has a plethora of exciting things to see and do that will keep all ages entertained during your stay. Read on for kid-friendly activities on Oahu that are guaranteed to make a lifetime of memories.
Wildlife Encounters at Honolulu Zoo
Opening times: 10 am to 3 pm (face masks required)
Travel time from hotel: 10-minute walk
Kids will love meeting curious creatures from Hawaii and around the world at the island's wildlife centers. Within the oceanfront Kapi'olani Regional Park, you'll find the Honolulu Zoo, one of Oahu's best spots for animal discoveries.
Highlights
Over 900 animals, including elephants, giraffes, and penguins, in a 42-acre zoological park that resembles a botanical garden.
See the animals without the crowds on the Morning Safari and Twilight Tour.
Hands-On and Interactive Education at Museums
Perfect as both rainy day activities or for a break from the sunshine, Oahu's museums teach about everything from aviation history to ancient Polynesian cultures and the solar system.
Opening hours: 9 am to 5 pm
Travel time from hotel: 15-minute drive
Hawaiian heritage and cultural traditions come to life via displays of artwork, canoes, science exhibits, and a planetarium.
Opening hours: 9 am to 4 pm (face masks required)
Travel time from hotel: 25-minute drive
Displays of historical aircraft, Pearl Harbor artifacts, and a flight simulator housed in an authentic World War II hangar.
Opening hours: 12:45 pm to 9 pm (closed Wednesday and Sunday)
Travel time from hotel: 1-hour drive
Journey through the art, history, mythology, and ceremonial traditions of the South Pacific at six replica islands.
Scenic Train Ride with the Hawaiian Railway Society
Tours on Wednesday (1 pm), Saturday (noon), and Sunday (1 pm)
Bookings required two weeks in advance
Travel time from hotel: 35-minute drive
The Hawaiian Railway Society is Oahu's only active historical railroad. Step aboard for a 2-hour train ride that trundles through the lush countryside of Oahu's leeward (western) side to Kahe Point and includes a commentary of Hawaiian railroad heritage. Don't miss the toy train museum and gift shop, for train-themed souvenirs.
Outdoor Adventures and Movie Tours at Kualoa Ranch
Opening hours: 8 am to 5.30 pm (advanced reservations recommended)
Travel time from hotel: 40-minute drive
Kualoa Ranch is a 4,000-acre nature preserve nestled between steep, forest-clad mountain slopes and the dramatic Kaneohe Bay. This working cattle ranch is the perfect place to combine thrill-seeking pursuits with American movie culture.
Uncover the jaw-dropping natural beauty of Oahu's windward side on ATV, horseback, mountain biking, and zip-line tours.
Visit shooting locations for Godzilla, Jurassic Park, Jumanji, and other Hollywood blockbusters.
Watersports and Sea Life at Hanauma Bay
Beach opening hours: Wednesday to Sunday, 6:45 am to 2 pm (advanced online reservations available)
Travel time from hotel: 25-minute drive
If you want to experience what lives beneath the crystalline waters of Oahu then look no further than the Hanauma Bay Nature Preserve. With a beautiful beach, hiking trail, panoramic lookout, and excellent snorkeling, it's easy to while away an entire day here.
Rent snorkeling gear at the concession stand or

join a guided tour

and observe colorful coral reefs, exotic fish species, and sea turtles in the bay's shallow waters.
Spot birdlife, dolphins, and whales from Hanauma Bay Lookout.
Discover the Best of Oahu from Waikiki
Oahu is an ideal destination for a family vacation. Stay at the Waikiki Resort Hotel for convenient access to magical attractions and the utmost comfort after a day of exploration.