Oahu vs. Maui: A Guide for First-Time Visitors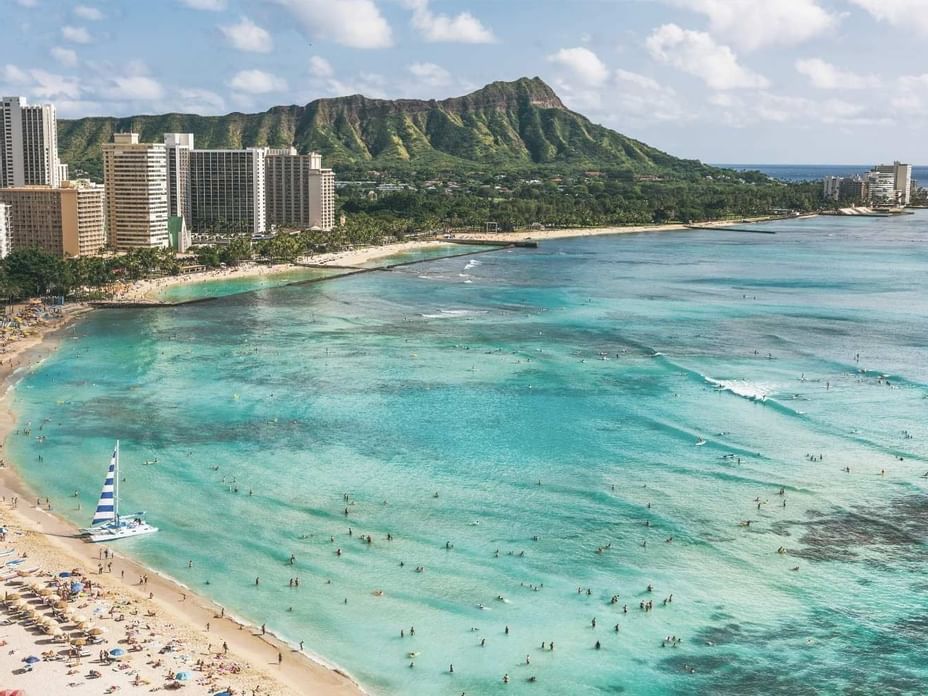 Of the eight main islands, Oahu ("The Gathering Place") and Maui ("The Valley Isle") are the two most popular destinations for tourists. And while both feature lush jungles and sun-kissed white-sand beaches, the similarities quickly diverge. If you're planning a Hawaiian getaway, you're likely asking: "Is Oahu or Maui better for a vacation?" Whether you're thinking of building an Oahu or Maui itinerary, know before you go with these insider tips.
Oahu vs. Maui: Top Details For Both Islands
Oahu 101
Size: Clocking in at nearly 596 square miles, the Gathering Place is Hawaii's third-largest island.
Population: With more than 1 million kamaʻāina, Oahu hosts nearly 3/4ths of Hawaii's population.
Best for: Visitors who want quintessential Hawaii but with easy access to all the amenities of a bustling metropolis.
Maui 101
Size: At just over 727 square miles, the Valley Isle is Hawaii's second-biggest island.
Population: More than 144,000 kamaʻāina (local residents) call Maui home, making its population the third-largest in Hawaii.
Best for: Visitors who want all the tourism attractions of Hawaii in a quieter, more laid-back environment.
Is Oahu or Maui Better? How Each Island Ranks For Resorts, Weather, Nightlife, and More!
1. Oahu vs. Maui Hotels and Resorts
Maui: Since the island is bigger, you'll find that many of Maui's resorts are more idyllic with sprawling properties spread out over many acres. On the flip side, these resorts are also often a bit of a distance from attractions, restaurants, and nightlife. 
Oahu: Oahu has a few of the bigger Maui-style resorts. However, unless you drive to more rural areas like the town of Kapolei, you'll notice that the island skews more toward high-rise hotels densely packed into hotspots like Waikiki instead of big, spacious resorts. But the positive trade-off is obvious: Options like the Waikiki Resort Hotel put you right in the middle of the action and are just a block or two from white sand beaches. No driving is required like on Maui.
2. Dining and Nightlife
Maui: Small beachfront towns like Kihei and Lahaina are bursting with food trucks, bars and restaurants, and roadside cafes. There's enough to please any foodie, whether you're craving American-style cuisine or local Hawaiian "grinds" (local pidgin slang for "good food").
Oahu: Oahu wins for sheer variety and options. Whether you're looking for a Michelin-starred fine dining, booming nightclubs, and bars, or Native Hawaiian fares like poke and lau lau, Oahu simply can't be beaten. It easily has more dining and nightlife options per block than Maui.
3. Weather
Maui: Both islands are very similar climate-wise, with a few key differences. The elevation of Upcountry Maui and the slopes of mountain peaks like Haleakalā give you a chance to experience misty, cold days (and even snow!). Maui is also a bit drier than Oahu.
Oahu: On the beach, both islands have very similar climates. However, Oahu historically gets less rain during Hawaii's rainy season which stretches from November through April.
4. Transportation
Maui: Maui has three airports, with the main one being Kahului Airport in central Maui. Keep in mind that a rental car is almost a necessity. There are public buses that reliably service some of the island's main tourist areas.
Oahu: Daniel K. Inouye International Airport (HNL) is the state's largest airport, and wins by sheer flight options from destinations around the world. If driving or parking in Oahu sounds stressful, centrally located hotels like the Waikiki Resort Hotel make a rental car unnecessary unless you want to drive to the North Shore.
The island of Oahu is unbeatable if you want a fusion of Hawaiian culture and stunning beaches, world-class outdoor activities, and dining and nightlife. And it all starts at the Waikiki Resort Hotel, where some of Hawaii's best attractions are just outside your hotel room.