Things to Do in Oahu: The Best Activities For Social Distancing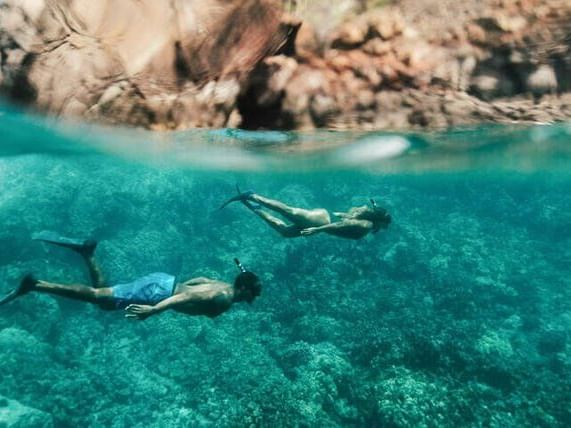 Thanks to Hawaii's Safe Travels program, the Aloha State is once again welcoming visitors to its windswept mountain valleys and balmy, sunny beaches.
Whether you're here for a weekend or a week, the following socially distanced activities are hidden gems that get you away from the tourist crowd and let you immerse yourself in Oahu's magic while staying safe, healthy, and comfortable.
Before You Go: Planning for a Socially Distanced Oahu Vacation
A little preparation goes a long way to ensuring a beautiful Oahu vacation that you'll treasure for a lifetime:
Check the latest rules: Because pandemic-related travel regulations change frequently, talk to your travel agent or consult the latest updates from the Hawaii Tourism Authority so you know what you need to do in terms of COVID-19 testing, quarantines, etc.
Consider your local transportation: If you're lucky enough to have Waikiki-based accommodations like the Waikiki Resort Hotel (the only 3-star hotel just steps from Waikiki Beach), you're at the epicenter of many great activities. However, some popular destinations (e.g. the fabled North Shore) require either a rental car or a day pass on TheBus (budget-conscious travelers will appreciate that a day pass for unlimited rides costs less than $6).
Don't forget to pack your essentials: Just like at home, you'll have to wear face cover in most Oahu businesses and attractions. You'll also want sunscreen — buy it when you arrive, as Hawaii introduced strict new sunscreen rules on January 1, 2021 — and any outdoor gear you'll need for your adventures (e.g., reef shoes, hiking shoes, sunglasses, etc.).
The Hidden Gems of Oahu: Exciting Things to Do in Honolulu (And Beyond!)
Whether you're a solo traveler or you're embarking on a Hawaiian vacation with the entire family, the following activities are local favorites and tourist-approved. They're also the perfect activities to maintain social distancing while enjoying all that Waikiki, Honolulu, and the island of Oahu have to offer.
1. Stock Up on Hawaiian Produce at a Farmers' Market

On your first day in Waikiki, set your alarm early and head to one of the many farmers' markets in the area. Everything is guaranteed local and fresh, and you'll find a treasure trove of Hawaiian produce like fresh guava, juicy papayas (the "Hawaiian sunrise papaya" is popular with locals), and crisp pineapples.
You'll also find vendors offering ready-to-enjoy snacks and meals. It's the perfect way to stock up for the rest of your vacation, support local farmers, and avoid overpaying at tourist traps or corner grocery stores.
Details to Know:
There are half a dozen farmers' markets in and around Honolulu. Check out the Saturday market at Kapiolani Community College (an 8-minute drive from the Waikiki Resort Hotel) and the Wednesday market at the Neil S. Blaisdell Center (an 11-minute drive). Get a full list of locations and dates from the Hawaii Farm Bureau.
Bring a reusable bag and get there early — you're hardly the only one who wants to enjoy the delicious bounties of Oahu!
Follow all markings on the ground to follow safe distancing if there's a line-up.
2. Go For a Sunrise Hike
Wake up with the sun, get fresh air, and re-energize your body with a sunrise hike. It's the perfect way to start a day of adventures and gets you away from the potential crowds of sunbathers at the beach. Oahu has some of the most stunning sunrises (bring your camera!), especially if you're willing to spend a few minutes driving or on public transportation.
Some of the best Oahu hikes that give you stunning sunrise vistas are:
Lanikai Pillbox (it's family-friendly and dog-friendly, too)
Makapu'u Lighthouse (very easy for young children)
Koko Head (enjoy a 1,000-step stairway into the sky)
Diamond Head (this is the volcanic crater at the end of Waikiki Beach, a short 3-mile walk from Waikiki with beautiful sunrise views of the resort coast)
3. Learn About Hawaii's Culture and History
Did you know that up until the late 1800s, the Kingdom of Hawaii was governed by Hawaiian kings and queens? But then the United States illegally overthrew the monarchy and turned the kingdom into the country's 50th state. And that's just one of many fascinating aspects of Hawaii's history, its native people, its culture, and its environmental diversity.
Explore Hawaiian art and culture at one of the many internationally renowned galleries and museums dotting Honolulu. It's a great way to escape the heat, and there are activities and displays that will appeal to anyone regardless of your interests or your age.
Top socially distanced options to consider include:
Bishop Museum: Here, you'll find the world's largest collection of historical artifacts from around Polynesia. Timed admissions help keep all visitors socially distanced.
Iolani Palace: Nestled amidst the skyscrapers of downtown Honolulu, just a couple of minutes from Waikiki, is a majestic palace. This National Historic Landmark was the royal residence during the Kamehameha Dynasty and was home to the last queen of Hawaii before the kingdom was overthrown.
Pearl Harbor: The 2001 blockbuster film is nothing like the real deal, which you can visit with just a short drive from Waikiki. You'll be able to view the sunken USS Arizona, and even see the battle scars on the still-existing airplane hangars.
4. Get Into the Water
No trip to Waikiki is complete without a full day in the warm Hawaiian sea. And when it comes to Oahu activities with social distancing, you simply can't beat being out on (or under) the water. Fish, Hawaiian monk seals, and green sea turtles don't count when it comes to COVID-19 restrictions on public gatherings, do they?
Visit Waikiki Beach, where you can take surf lessons, go swimming, or simply lounge. Once you've had your fill of sunbathing and suntanning, escape this beautiful (but very well-known) hotspot and try:
Snorkeling at Hanauma Bay: The bay's protected reef creates warm, wave-free snorkeling where you'll get a chance to see 400+ species of fish, as well as colorful coral and dozens of sea turtles.
Go kayaking on the North Shore: Head to the scenic, quaint town of Haleiwa and spend the day kayaking on the idyllic Anahulu River which spills into Waialua Bay. There are numerous kayak rental shops along the river, including one that offers clear-bottom kayaks for scenic underwater views. Then, look for turtles resting on the beach while you enjoy world-famous shave ice from nearby Matsumoto Shave Ice.
Book a tour: Waikiki Beach has numerous vendors offering surfing lessons, paddleboarding lessons, and even kite surfing for more advanced sporting enthusiasts. Feel the pure exhilaration of catching a wave, just like the locals.
Ready to Start Your Waikiki Adventures?
Whether you're seeking a relaxing vacation of lounging on the beach or an adventure-filled getaway, Waikiki Resort Hotel offers you unparalleled access to the best socially distanced activities and events in Waikiki, Honolulu, and beyond. From this convenient location, the world is your opihi (a local shellfish that's a Hawaiian delicacy).
The Waikiki Resort Hotel is located directly across from Waikiki Beach for safe, convenient access to all that Oahu has to offer. Plus, every guest gets a warm welcome with the hotel's aloha spirit and Hawaiian hospitality. And our comprehensive "Clean Promise" COVID-19 protocol ensures the utmost sanitation and cleanliness throughout your stay from check-in to check-out (including CDC-compliant room cleaning and electrostatic sprayers in all common areas).
When you book today, you'll receive exclusive amenities, including a local concierge who can help you plan your socially distanced activities and even book tours and excursions for you and your family. Learn more at waikikiresort.com or call (808) 922-4911.