Tipping in Hawaii: When, Where, and How to Tip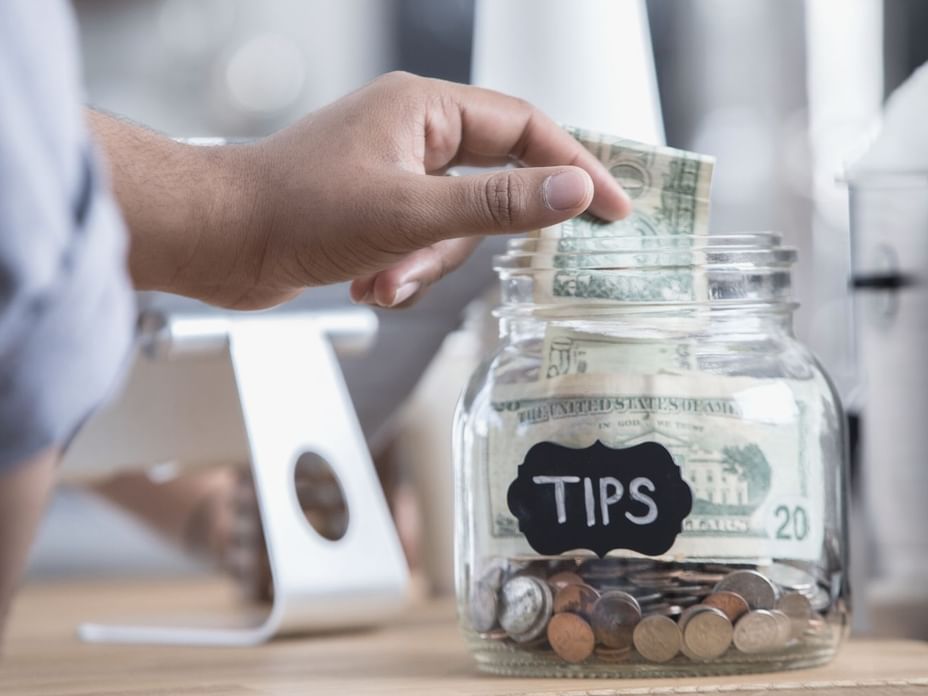 According to a 2022 restaurant industry study, the state of Indiana has the most generous tippers in the United States while Hawaii ranks as the fifth worst state for tipping. If you're a mea kūʻai mai (the Native Hawaiian word for "customer") who believes it's your kuleana (responsibility) to show gratitude through tipping, this Hawaii tipping guide will walk you through the basics of tipping in Hawaii—when and where you should tip, and how much is expected for excellent service and a grateful mahalo (thank you).

Hawaii Tipping Guide: When and Where Tipping in Hawaii is Expected
Whether you're a visitor or a kamaʻāina (local resident), tips in Hawaii are a way to support local workers (service workers in Hawaii are paid some of the lowest wages in the U.S.).
Tipping also shows that you appreciate the excellent service you received, and can even be a way to encourage people—from Honolulu hotel concierge staff to Oahu tour guide operators—to go above and beyond what they're expected to do. Yet many people wonder when and where it's appropriate to dole out tips in Hawaii.
Here's what you might want to consider when tipping in Hawaii!
The Basics of Tipping in Hawaii:
If you're an international visitor, it may seem foreign; however, tipping is a part of U.S. culture, including in Hawaii.
The standard percentage is similar to the mainland U.S.:

15% for adequate service
20% or 25% for outstanding service
10% for subpar service

Cash is always preferred for tips in Hawaii, but don't let that stop you if you have a credit card.
Arriving at Honolulu International Airport:
Luggage handlers: The standard is a dollar or two for each bag with which you need assistance.
Taxis, private shuttles, limousines, and ride-sharing companies (i.e., Uber, Lyft, etc.): 15% of your total ride costs.
At your Waikiki Resort or Oahu Hotel:
Hotel bellmen: The standard is around $2 per bag. Don't forget that bellmen are the gatekeepers of the hotel—if you treat the bellmen well, they're likely to return the favor.
Parking valet: If you're driving a rental car during your Oahu vacation, you don't have to tip when you arrive at your Waikiki hotel. However, a $2 or $3 tip is standard when having the valet bring your car to you.
Housekeeping: The staff who clean your hotel room have a very physically demanding job—say mahalo (thank you) with a few dollars left in an envelope marked for them (a well-tipped housekeeper might also spend a little extra time making sure your room is the perfect oasis when you return from your outings).
Other hotel staff: You typically don't need to tip the hotel concierge or the front desk, although restaurants and room service tend to get a 15% or 20% tip on your total order.
During an Oahu Guided Tour or Outdoor Excursion:
Free tours: Whether it's a free walking tour, an open house at a Hawaiian museum, or a visit to a historical landmark, many sites will provide a suggested donation amount. If no suggestions are provided, many tourists give $5 per person for a 1-2 hour free tour.
Boat and helicopter tours: The standard is $10 per hour per person, with some guests giving a bit more if the pilot or captain is exceptionally friendly or well-versed in Hawaii's ecosystems, scenery, and culture. You typically give this tip to the person who is saying farewell at the end of the tour.
Group tours: If you're sightseeing with a big group, such as on Oahu's famous circle island tours, tip averages are typically lower than if you did a more private tour. Often, tourists tip $5/person.
Private tours: If you book a private tour for you and your family, aim for a 15% or 20% tip on your total tour package.
At a Restaurant or Bar:
Bars: Aim for $1 per drink when ordering from Oahu's numerous nightclub venues and bars.
Restaurants: Just like on the U.S. mainland, a 15% or 20% tip is standard.
Hawaii food trucks: Oahu is home to hundreds of popular food trucks. Toss a few bucks into the food truck's tip jar, aiming for 15% to 20%.
Restaurants with live music: Besides the tip to the server, many guests will drop a few dollars into the musicians' tip jar if they appreciate the local Hawaiian or reggae music.
Other Scenarios Where Tips May Be Appropriate in Hawaii:
Hawaii spas: The standard is 20% for massages, facials, and other treatments.
Photography: Thinking of having family photos taken on your vacation? Industry standards suggest 10% if you loved their service.
Hawaii weddings: If you're getting hitched in the Aloha State, plan to tip each of your service providers (e.g., your hair and makeup stylist).
Tipping in Hawaii can be a tricky and nerve-wracking experience, as no one wants to offend the hard-working locals who help make your Oahu getaway so special. Use this Hawaii tipping guide to give you confidence on your next vacation, and when in doubt—just ask!