An Insider's Guide to the Best Ways to Enjoy Waikiki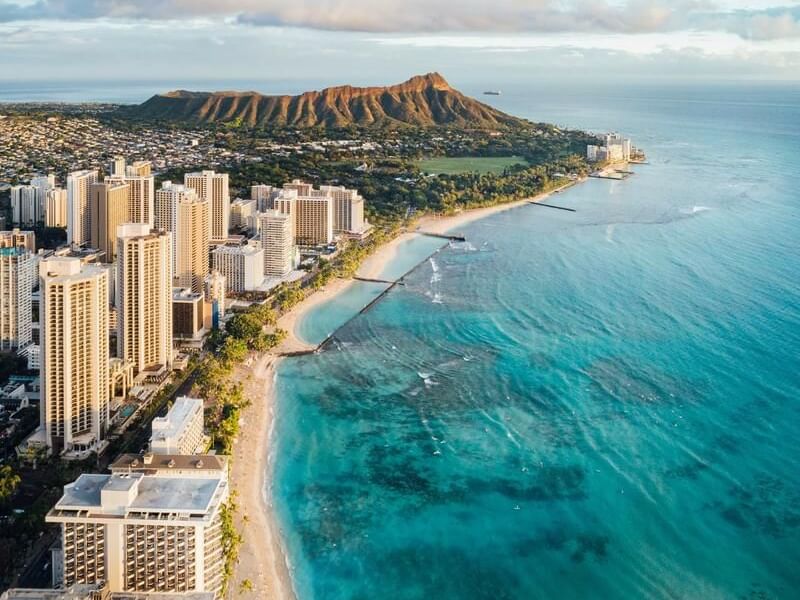 Waikiki is best known for its world-famous beach — two miles of white sand and warm, rolling surf set against the iconic backdrop of Lēʻahi (Diamond Head). But the neighborhood is far more than just the beach. Visitors and residents alike enjoy a bustling scene of internationally renowned restaurants, spirited bars, vibrant shopping, and tropical activities.
Explore all that Waikiki has to offer with this insider's guide to the best ways to enjoy your upcoming visit to Waikiki, Oahu.
Getting to Waikiki: When to Go and Where to Stay
Waikiki has something to offer everyone all year long, but many savvy visitors like to travel to Waikiki in the:
Late spring
Early summer
Late fall
Early winter
During these months, the Waikiki strip tends to be less packed with visitors and the temperatures are more moderate. Summer is peak tourist season: The weather is at its warmest and driest, but the beaches and attractions are also more crowded.
Once you've booked your tickets to Hawaii, it's time to narrow your hotel options. Waikiki's first hotel opened its doors in 1901. Since then, dozens of hotel brands have flocked to the strip. When picking a hotel, consider a few key questions:
How walkable is it? - For optimal access and convenience, you'll want something that's no more than a block or two off of Kalakaua Avenue (the main road through Waikiki around which most of the restaurants, bars, and activities are located).
How budget-friendly is it? - With access and convenience comes a major trade-off: Price. The closer you are to the heart of Waikiki, the pricier your accommodations will be. However, well-traveled, quality-conscious travelers know how to find exceptions to this rule (more on that below).
How safe is it? - Hawaii has stringent COVID-19 arrival protocols. Get peace of mind and protect your health by ensuring your hotel goes above and beyond the CDC guidelines for sanitization and hygiene.
The Waikiki Resort Hotel offers all of the above and more. It's the only 3-star hotel a block from Waikiki Beach in the heart of the action — the ideal balance of location and price — and every guest is welcomed with the hotel's exceptional Clean Promise.
The Perfect Honolulu Itinerary: Things to Do, See, and Eat in Waikiki
Once you've landed and dropped your luggage off at your hotel, dab on some sunscreen and hit the Waikiki strip.
There are all your usual Hawaiian vacation options: Sipping a mai tai at a touristy tiki bar, booking reservations for a Hawaiian luau, or taking a surf lesson at Waikiki Beach.
Don't get us wrong — those are all must-try activities, especially if you've never visited Hawaii before. But if you want a truly unique experience, think outside the box with the following insider tips.
The Best Waikiki Activities off the Beaten Path
When you've had your fill of sunbathing on the beach, head out and explore Waikiki's sights and sounds. There's something for everyone, whether you're seeking adrenaline or relaxation. If you want to get your blood pumping, get started with:
Hiking Diamond Head, the scenic mountain that overlooks Waikiki Beach. It's fairly steep, but the views are breathtaking. Rehydrate on the way down at the Honolulu Pineapple Company, which has a shop set up at the bottom of the mountain.
Renting a Biki bike and stretching your legs on the many breezy bike trips to the surrounding beaches and parks just beyond Waikiki Beach itself.
Parasailing over the beach (there are many parasailing tour operators, including Hawaiian Parasail and Paradise Watersports). You'll soar hundreds of feet above Waikiki on the Hawaiian trade winds.
For something more relaxing, try:
Meandering through the Honolulu Zoo, which is just a couple of blocks from the Waikiki Resort Hotel. Its 42 acres are filled with Hawaiian indigenous species, plus family favorites like elephants and monkeys.
Going swimming with dolphins (Oahu is home to the Hawaiian spinner dolphin).
The Best Food and Drink in Waikiki
Honolulu has hundreds of restaurants, diners, and dives for sampling island favorites like:
Loco moco (hot rice smothered in gravy, topped with a beef patty and a fried egg)
Spam musubi (spam prepared almost like sushi)
Poke bowl (fresh raw fish, marinated in Hawaiian seaweed and sauces)
But the dining choices can be overwhelming on your first day. Here's what we suggest:
Start your morning with brunch at Mahina and Sun's (412 Lewers St). Winner of the 2020 Diners' Choice awards, it's local cuisine with a hip twist. Try the pork adobo fried rice (the adobo cooking process is popular in the islands). This savory bowl includes fried rice topped with poached eggs and served alongside avocado, pickled mushrooms, kimchee, and other garnishes.
For lunch, grab a poke bowl at Maguro Brothers (415 Nāhua Street). Originally started in Oahu's Chinatown, Vice magazine ranked it "the freshest and tastiest poke spot in Honolulu." The fish comes right off the fishermen's boats and gets carved into ultra-fresh poke. Order the Hawaiian Limu Ahi poke bowl for an authentic experience.
Finish the day at the bar. The Barefoot Bar at Duke's Waikiki (2335 Kalakaua Ave) was named America's best beach bar by Travel + Leisure magazine. It's delightful, but for a truly local experience, head up the street to Honolulu Tavern (417 Nohonani St).
This watering hole is always buzzing with locals and visitors mingling together (don't miss their ultra-cheap Taco Tuesdays). It's the perfect way to "talk story" (local expression for swapping ideas, tips, and stories) and find the "real" Waikiki.
Explore Waikiki's Best Sights and Sounds from the Waikiki Resort Hotel
No other hotel offers the fusion of Hawaiian hospitality, location, and pandemic-conscious sanitization like the Waikiki Resort Hotel. Literally steps from the beach, Waikiki Resort Hotel is the perfect launchpad for your visit to Honolulu.