Hawaii's 5 Best Craft Beers on Oahu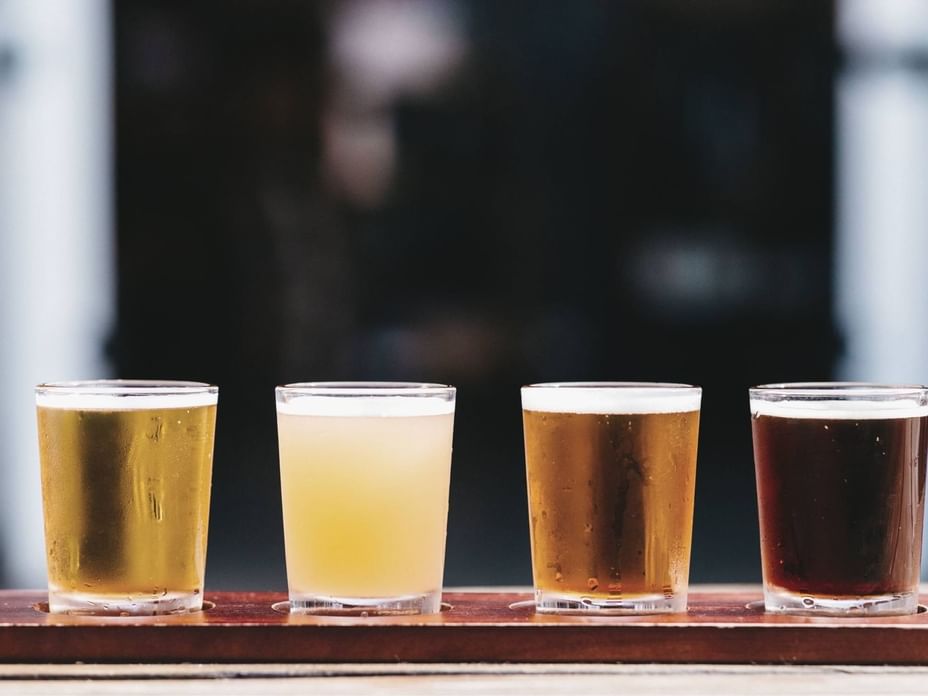 Hawaii's first brewery opened in 1854, and one of the state's earliest successful beers — the Primo Lager, released by Honolulu Brewing and Malt in 1897 — was still being produced as recently as the 2010s. Today, Hawaii's craft beer scene has grown exponentially. 
While the Aloha State may not boast the same number of breweries as regions like Oregon or California, there are now numerous craft beers on Oahu offering both kamaʻāina (locals) and tourists alike a taste of the island. The next time you're in Waikiki, don't miss these five outstanding options. 
Location: 2300 Kalakaua Ave, Honolulu, HI 96815 (a 7-minute walk up the beach from the Waikiki Resort Hotel)
Started on the island of Maui, this Hawaii craft beer company is one of the largest brewers in the islands and holds the most awards of any Hawaiian brewery at the Great American Beer Festival. Swing by their brewery in the heart of Waikiki for an ice-cold pint, delicious food, and live entertainment from local bands (6 p.m. to 8 p.m. on most evenings).
You can find all of Maui Brewing's flagship beers, including the Bikini Blonde (a crisp beer with slight woody hops, mild aroma, and a touch of sweetness) and the Big Swell IPA (a fresh, golden-colored IPA with bitter-sweet notes of citrus and pine). Unlike many of the brewery's other tasting rooms, the Waikiki location also pours experimental runs and exclusive beers previously only found at its main location in Kihei, Maui, such as the Wild Hog nitro Stout.
Take your beer-tasting to the next level with Maui Brewing's loco moco. It's made with Kauai bison topped with gravy infused with the brewery's IPA.
Location: 1010 University Ave, Honolulu, HI 96826 (an 8-minute drive from the Waikiki Resort Hotel)
As the Beer Lab HI's name suggests, it's all about experimentation. Many Oahu craft breweries infuse their drinks with well-known tropical fruits, such as Hawaiian pineapple. But at this Honolulu brewery, they draw on Hawaii's ethnic, cultural, and culinary diversity to create new flavor profiles.
For example, their Hocus Phocus is a saison with a touch of warming pho-style spices (drawn from Vietnamese cuisine). And their Colloportus is a hazy session IPA with the flavors of the island's lilikoi fruit. 
All their beer pairs well with their house-made charcuterie. They're the only place in Hawaii where you can try salami fermented and cured right on location. "From prosciutto to soppressata to even lap cheong, the styles depending on factors like aging, seasoning, and the cuts of meats," explains Honolulu Magazine. "As with Beer Lab's beers, [the brewery] doesn't plan on adhering to set styles."
Location: 328 Cooke St, Honolulu, HI 96813 (a 12-minute drive from the Waikiki Resort Hotel)
Honolulu Beerworks was one of 2010's biggest newcomers in Oahu's craft beer scene. Founder Geoff Seideman got started when his wife gave him a home beer-making kit, and the rest is proverbial history. One of their most well-known beers is the Pussy Grabs Back, a thirst-quenching hazy mellow drink with hints of stone fruit. A portion of all the sales of this beer varietal goes to provide scholarships to women in the brewery industry.
Pay attention to their limited releases, bursting with experimental flavors. Recent options have included a raspberry milk stout and a rye-heavy IPA. 
After you've satisfied your thirst, feed your appetite with menu options like beer-made mac and cheese and other pub classics.
Location: 700 Queen St. Honolulu, HI 96813 (a 10-minute drive from the Waikiki Resort Hotel)
Sit on the roadside patio at this laid-back taphouse and try the classic Waimānalo Farmhouse from Aloha Beer Company. It's heavily inspired by Belgian saisons, but with a bright and refreshing tropical fruit twist and a slightly sour pucker. Another popular option is the Vienna Lager, an amber-bodied house lager that's easy to drink while still having more heft than other light beers.
Veteran brewmaster David Campbell draws from locally sourced ingredients. "At the heart of beer is water," he told Hawaii magazine. "Good water is good beer. And we have beautiful water here. [...] We love brewing with local honey. If the style of beer calls for fruit, you better believe we're going to use whatever is in season here. I've used calamansi, lemongrass, ginger, olena (turmeric), guava, Tahitian lime, jabong (pomelo)."
Location: 1945 Kalakaua Ave, Honolulu, HI 96815 (a 5-minute drive from the Waikiki Resort Hotel)
If you want to try very limited and experimental small-batch beers, you're in luck. Unlike Waikiki Brewing's other locations, the entire focus at their Waikiki location is unconventional varieties. For example, when the brewery re-opened in the winter of 2020, they celebrated with a limited-edition IPA made with local Hawaiian coffee from Lion Coffee.
The recently renovated tasting room boasts local art and plentiful outdoor seating at sprawling re-finished picnic tables. Try the Hana Hou Hefe, which is an American-style hefeweizen brewed with orange peels, and pair it with pub food options like prime cheeseburgers or giant pretzels.
The Waikiki Resort Hotel is Your Gateway to Oahu's Best Craft Beers
Whether you're seeking a classic, refreshing lager or an experimental beer infused with Hawaiian culinary flavors, Honolulu's craft breweries have something for everyone. And only the Waikiki Resort Hotel gives you such easy access to some of the most popular tasting rooms and taphouses in the city.
Located in the heart of Waikiki right across the street from world-famous Waikiki Beach, our hotel is the perfect spot to venture out and sample Hawaiian beer. Learn more about our resort at waikikiresort.com or call (808) 922-4911 today!