This is Where to Get the Best Shaved Ice on Oahu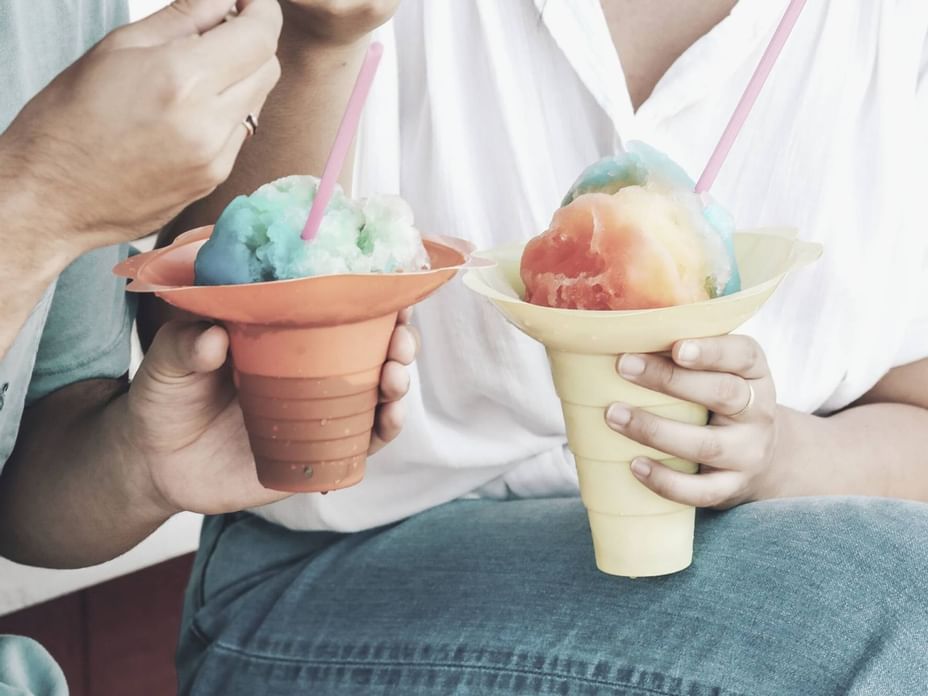 Shave ice is as quintessential to Hawaii as hula pie and poi-glazed donuts. Sweet, light, and refreshing, it's perfect to enjoy while cooling off after a day basking in the glorious sunshine. The tempting dessert is Hawaii's version of the snow cone, but with one major difference—the ice is thinly shaved rather than crushed. 
Served in a cup or bowl and with a straw or spoon to sip up the melted juices, shave ice comes topped with an assortment of flavors such as tropical fruits, bubble gum, coconut cream, and root beer. Here are five of the best Oahu shave ice locations to get your fix of a true Hawaiian delicacy. 
Matsumoto Shave Ice
When the Hawaiian-born Japanese owners of Matsumoto Shave Ice bought their first shave ice machine in 1956 they probably didn't expect to become one of Oahu's most iconic desert locations. Yet, well over half a century later, the family-run business often serves over a thousand bowls per day. Expect to stand a line, but it's worth the wait. 
Must try: Ichiban Special, featuring shave ice, ice cream, and azuki beans served in a waffle boat.
Distance from hotel: 45-minute drive. 
Aoki's Shave Ice
If your craving for the best shave ice on Oahu won't let you wait in line at Matsumoto, then simply cross the road to Aoki's Shave Ice. Aoki's has been operated by four generations of the same family and radiates a cool and family-orientated vibe. There's a courtyard with benches to sit on and indulge in ultra finely shaved ice here.
Must try: Rainbow (strawberry, lemon, and pineapple) and fall's seasonal Pumpkin Spice. 
Distance from hotel: 45-minute drive.
Waiola Shave Ice
Waiola Shave Ice might've first shot to international fame when Barack Obama visited with his family, but locals have been enjoying shave ice at this no-frills Honolulu spot since 1970 (the store opened in 1940). Waiola proudly makes its own azuki beans and mochi balls (soft and chewy rice cakes). Choose your flavor and sit beneath the rainbow mural outside.  
Must try: Special Azuki Bowl, with milk-flavor shave ice topped with azuki beans and mochi balls and drizzled with condensed milk.
Distance from hotel: 5-minute drive or 10-minute bike ride to the original Waiola Street store.
Island Vintage Shave Ice
Outside the Royal Hawaiian Center, Island Vintage Shave Ice is another place to sample the best shave ice on Oahu. This roadside stand is famed for its refreshing desserts topped with fresh and local tropical fruits. It's an ideal spot for breaking up a shopping spree on Waikiki's bustling Kalakaua Avenue.
Must try: Super Island, combining acai and strawberry syrup, frozen yogurt, handmade mochi, popping boba (juice balls), and blueberries.
Distance from hotel: 10-minute walk along Kalakaua Avenue.
Uncle Clay's House of Pure Aloha
An Oahu shave ice tour isn't complete without a visit to Uncle Clay's House of Pure Aloha. Legend has it that a 5-year-old Clayton once told a store owner, "One day, I will own this shop." Clayton is now Uncle Clay, who spreads the spirit of aloha while serving hundreds of shave ice daily. He even featured on the Hawaiian episode of the Netflix show Somebody Feed Phil. 
Must try: Lychee Lover, with lychee syrup, fresh lychee, homemade mochi, condensed milk, and strawberry ice cream.
Distance from hotel: 15-minute drive. 
Shave Ice on the Doorstep
The best shave ice on Oahu is easy to reach when you're staying at the Waikiki Resort Hotel. Reserve a room to indulge your sweet tooth and be just steps away from Waikiki's glorious beaches.