Explore Kaka'ako: The Hippest Place on Oahu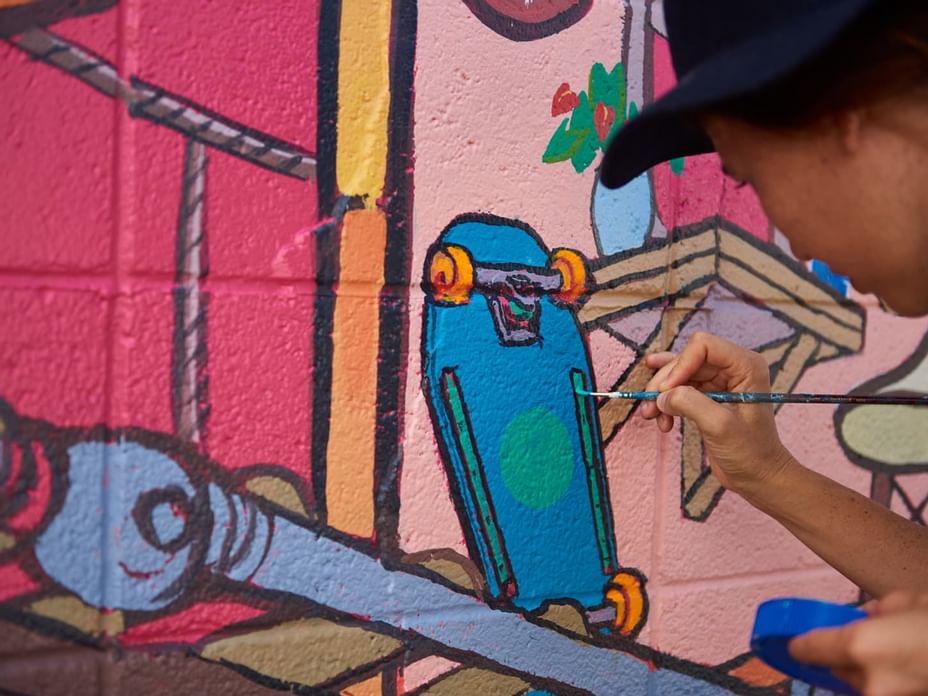 Looking for a trendy destination just a few minutes from the heart of Waikiki? Bustling with vibrant street art, locally brewed beer, and cuisine inspired by different cultures, Kaka'ako has something for everyone. Spend the afternoon strolling this formerly industrial area, or visit one of the neighborhood's family-friendly outdoor events during your vacation.
Here are five of the best things to do in Kaka'ako during your Hawaiian adventure. 
Explore the neighborhood's history.
Take in the art scene.
Score a one-of-a-kind souvenir.
Sample some global (and local) cuisine.
Try Hawaiian-made beer.
1. Explore Kaka'ako's History
Positioned between Waikiki and downtown Honolulu, Kaka'ako has recently undergone a revival. But when you visit, be sure to explore some of Kaka'ako's more historic sights, like the Kawaiaha'o Church and mission houses. The church was built in 1842, so it's the oldest Christian church in Hawaii – and the mission houses are nearby. 
The Hawaiian Mission Houses Historic Site and Archives preserve the island's oldest Western-style house, a 200-year old cemetery, and a library, which is home to one of the world's largest collections of Hawaiian language books.
On your walking tour of Kaka'ako, take a break or enjoy a picnic lunch at Mother Waldron Park, a New Deal project built in 1937. 
2. Take in the Art Scene
One of the most exciting things about Kaka'ako is POW! WOW! Hawai'i, an annual event that brings artists from around the world to create murals in the neighborhood. These murals are a major draw of Kaka'ako thanks to their vibrant colors, and they're perfect backdrops for your next Instagram post or souvenir family photo. 
You can also check out local art at Aupuni Space, an artist-run warehouse gallery, to get a feel for the neighborhood art scene. .
3. Score a One-of-a-Kind Souvenir
Bring an authentic piece of Hawaii home with you – shop at one of Kaka'ako's numerous markets. The monthly Pa'akai Marketplace showcases Native Hawaiian culture through art, live music, shopping, and more. It all happens at SALT, a city block that was awarded Shopping Center of the Year in 2018. 
Or, pop by South Shore Market to peruse vendor stalls selling one-of-a-kind, authentic items. You'll find apparel, jewelry, ceramics, home goods, swimwear, accessories, and so much more. 
4. Sample Some Global (and Local) Cuisine
Find some of Honolulu's best food right in Kaka'ako. Check out the Kaka'ako location of Nobu, a renowned sushi restaurant, or keep it local with authentic poke bowls from Redfish. Want to satisfy your sweet tooth? Treat yourself to small-batch ice cream at Butterfly or a pitaya bowl at Lanikai Juice. 
And if you love going to the farmers' market at home, make sure to check out the Kaka'ako Farmers Market on Wednesday evenings and Saturday mornings. You'll find freshly-made baked goods, hand-crafted coffees, locally-grown produce and so much more.
5. Try Hawaiian-Made Beer
Beer is a big part of Kaka'ako's history - the neighborhood was actually home to Honolulu Brewing (producers of the popular Primo lager) before the Prohibition era. Today, you can check out newer craft breweries like Honolulu Beerworks, Waikiki Brewing, and Aloha Beer Company. All of these breweries are close to one another, so enjoy a walking tour before you grab a taxi back to the resort. 
Start Your Kaka'ako Adventure
From exciting dining options to family-friendly cultural events, it's safe to say that Kaka'ako has something for everyone. Whether you're visiting Oahu for the first time or are a returning guest at the Waikiki Resort Hotel, make sure to explore the neighborhood the next time you're in Honolulu.