Manoa Neighborhood Guide: Best Things to Do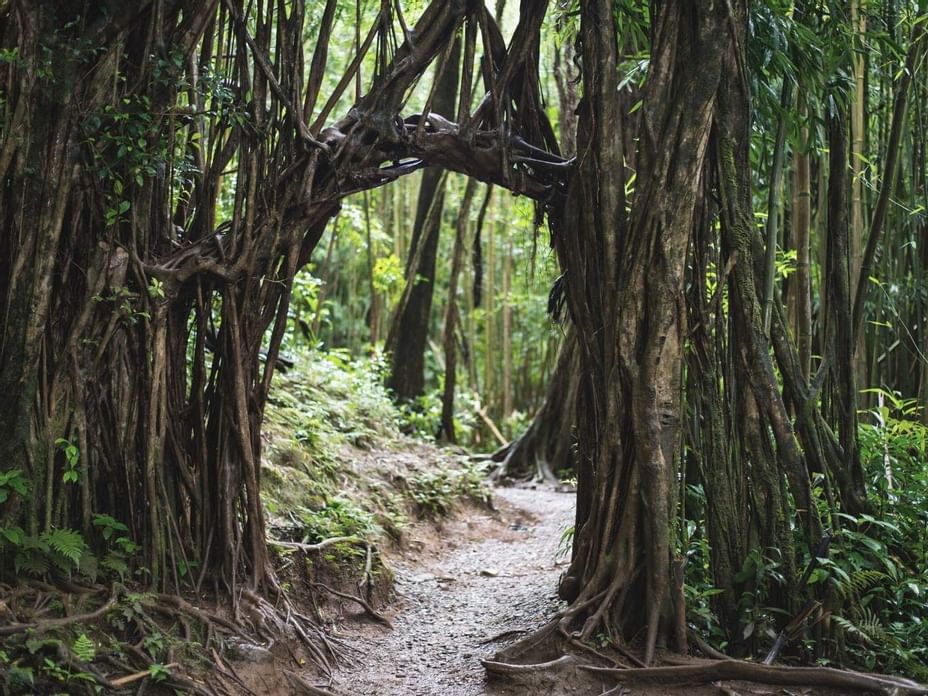 Located just a short 4-mile jaunt from Waikiki, you'll find centuries of history and culture tucked into the lush, verdant valley of Mānoa. In the Hawaiian language, the name Mānoa means "vast." And that's an apt term to describe the attractions, restaurants, and beautiful views you'll find just minutes from the bustling Waikiki strip.
How to Get to Manoa Valley
Whether you're driving a rental car, taking a taxi, or hopping onto a convenient Biki Bike in Waikiki, you can get to the Manoa neighborhood in under 25 minutes:
From the centrally located Waikiki Resort Hotel, follow Liliʻuokalani Ave to Ala Wai Boulevard.
Turn left on Ala Wai Boulevard.
Turn right onto Kalākaua Avenue.
Turn right onto South King Street.
Turn left at the first cross street onto Punahou Street.
Continue onto Manoa Road.
What to Do in Manoa
It can be hard to choose from the many things to do in Manoa, so we've made it easy for you by arranging a quick day-trip itinerary. It's the perfect way to escape into the quieter parts of Honolulu and get a more up-close-and-personal glimpse of Oahu's vibrant culture.
1. Grab Breakfast in Manoa
Start your day early with some ono ("delicious" in Hawaiian) grindz (local slang, or pidgin, for "food") at one of these popular breakfast joints:
Waioli Kitchen & Bake Shop (2950 Manoa Road): Originally built in 1922, this shop used to be the historic Wai'oli Tea Room. It's been recently revamped and serves fluffy banana macadamia nut pancakes and reimagined local favorites, like a loco moco made with braised short ribs.
Le Crepe Cafe (2752 Woodlawn Drive): The French first arrived in Hawaii in 1849. Today, taste a bit of Paris in Manoa with breakfast crepes (a must-try is the Mango Passion made with fresh passion fruit puree and organic mangoes).
Morning Glass Coffee (2955 E Manoa Road): For something a bit lighter, get freshly roasted coffee from this no-fuss, cozy cafe.
2. Hike Mānoa Falls
You'll find this easy, 0.8-mile hiking trail at the very end of Manoa Road:
Cost: Free entrance, but parking costs $7/vehicle if you drive
What you'll experience: You'll explore the base of the Ko'olau Mountains, strolling through lush rainforests and zen bamboo forests before coming upon the impressive 150-foot-fall Manoa Falls. This hike should take you approximately two hours there and back.
Important notes: Bring water, but don't bring a swimsuit—the waterfall isn't safe for swimming. And while the waterfall itself makes for a stunning photo, don't miss a "secret" photo stop. Halfway to the waterfall, you'll find a "throne" fashioned out of woven tree branches and a tree stump.
3. Enjoy Manapua for Lunch
After your leisurely hike, refuel with manapua. While they might look like char siu bao (Cantonese barbecue-meat-filled buns), manapua are unique to Hawaii and were first served up by Chinese food wagons in the 1800s. Island Manapua Factory has been serving up these savory delights since the '80s:
Location: 2752 Woodlawn Drive
Must-try menu items: The lap cheong manapua and char siu manapua are popular with kamaʻāina (Hawaii residents).
The full menu: Besides baked and steamed buns, you can also choose from delicacies like dim sum, jook (savory porridge), bento boxes, and more.
4. Explore Local Culture in the Manoa Neighborhood
The Manoa valley is steeped in Hawaiian culture and history. Finish your idyllic day with one or more of these cultural attractions:
Manoa Heritage Center (2859 Manoa Road): This sacred site is home to the last heiau (Native Hawaiian temple) out of what used to be 12 temples in the valley (the rest were destroyed when the area was developed). You'll also get a chance to stroll through a garden of endangered native plants and explore a historic house.
Harold L. Lyon Arboretum (3860 Manoa Road): Founded in the early 1900s, you can hike through 10 valleys in the gardens' 200 acres. It even has its own waterfall, known as Aihualama Falls.
Manoa Chinese Cemetery (225 Pakanu Street): It's one of the oldest Chinese cemeteries in the country, and the only place in the state that is both a classical Chinese cemetery and a traditional cultural property that honors the "Three Presentations Ceremony" each April. Look for the Tomb of the Unknown Chinese Soldiers, heralding from World War II, as well as the breathtaking Grand Ancestor's Tomb.
When you stay at the conveniently located Waikiki Resort Hotel, you save big on accommodations while being just steps from some of Oahu's biggest attractions, including all the things to do in Manoa Valley. Book your stay at the Waikiki Resort Hotel online or call us at 1-800-367-5116 to see why our location, friendly staff, convenience, and amenities give us top ratings among our guests.