Lau Lau: A Guide to the Best Savory Treat in Hawaii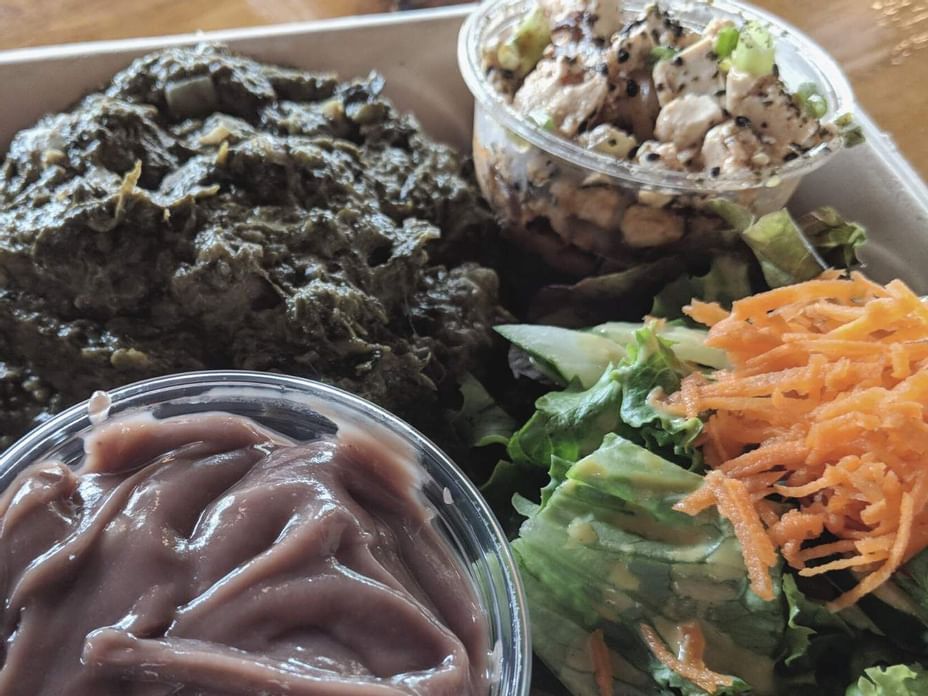 When you're hankering for some ono grinds (delicious food) on your next trip to Hawaii, seek out the nearest lau lau. From cafés and restaurants to farmers' markets and roadside food trucks, this local favorite can be found in every corner of the islands. Read on to learn about this traditional dish and some top spots where you can satisfy your taste buds.
What is Lau Lau?
Lau lau (aka laulau) is an essential Polynesian dish of fatty pork and salted butterfish wrapped in luau leaves (from the taro plant) and ti leaves. This meat, fish, and leaf package is historically cooked for several hours in an underground oven called an imu. Nowadays, chefs have adopted the original cooking method by replacing the imu oven with a rice cooker, instant pot, or pressure cooker.
While traditional lau lau recipes call for pork, other variations do exist. Pork is often substituted for chicken, and there are also vegan options that use kalo (taro), 'ulu (breadfruit), and 'uala (sweet potato). Whatever your preference, the result is a hearty, salty, and juicy calorie-packed dish.
How to Eat Lau Lau?
When you receive your steaming lau lau, you should first untie the string and remove the ti leaf–this is for cooking purposes only, and helps the steaming process. Everything else, including the luau leaf, which is full of antioxidants, healthy vitamins, and minerals, is to be devoured and enjoyed.
Popular sides to go with your onolicious lau lau are rice, kalua (pit-cooked) pig, poi (taro root paste), haupia (milk-based coconut pudding), lomi lomi salmon (diced tomato and salmon salad), and more.
5 of the Best Places for Lau Lau
Oahu
Vibe: Ohana-owned (family) and no-frills eatery for in-house dining and takeout since 1946.
Location: 1240 North Street, Honolulu (15-minute drive from the hotel, and close to the Bishop Museum).
Specialty: Lau lau served with the string and ti leaf already removed, so you can dive right in.
Vibe: Busy deli-style spot serving classic and homemade Hawaiian sweet and savory dishes since 1980.
Location: 2332 Young St, Honolulu (less than a 10-minute drive from the Waikiki Resort Hotel).
Specialty: Traditional pork or chicken and vegetarian lau lau served with everything from macaroni salad to lomi lomi salmon.
Vibe: Easy-going fish restaurant specializing in seafood and Chinese dishes but also with Hawaiian staples.
Location: 1286 Kalani Street, Honolulu (15-minute drive from the resort in the Kalihi neighborhood).
Specialty: Laulau Plate–pork, chicken, fish, or beef with lomi lomi salmon, sweet potato, pipikaula (beef jerky), rice, or poi.
Big Island
Kaaloa's Super J's
Vibe: Unassuming yet bustling roadside restaurant offering authentic local fare to a loyal crowd.
Location: 83-5409 Mamalahoa Highway, Captain Cook (close to Kealakekua Bay State Historical Park).
Specialty: Chicken or pork lau lau steamed for 8-10 hours to create a tender, finger-licking plate.
Kauai
Vibe: A go-to modest restaurant and takeout in Kauai for Hawaiian barbecue comfort foods and Japanese teriyaki.
Location: 4100 Rice St, Lihue (close to the Kauai Museum).
Specialty: Kalua or Lau Lau and Smiley's Chicken (fried chicken or fried with garlic chili sauce) combination plate.
Lau lau is just one of many tempting culinary treats to try when touring the islands of Hawaii. Book your room at the Waikiki Resort Hotel and be close to these and other great restaurants and food markets. Keu a ka 'ono (bon appetit)!