See More, Save More: Everything You Need to Know About Biki Bike Sharing in Waikiki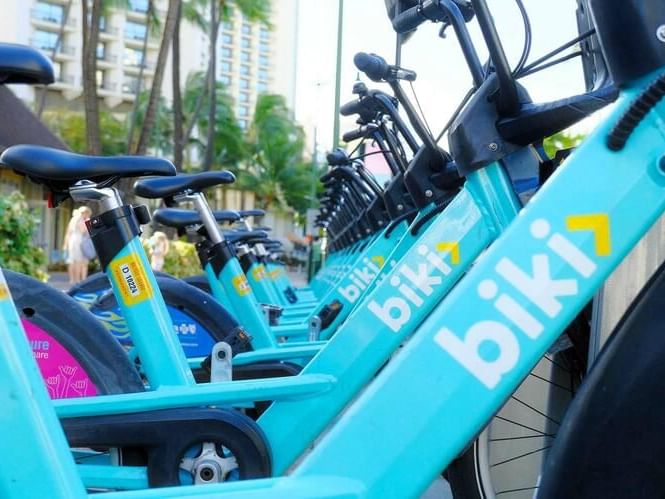 Biki's eye-catching aqua-blue bicycles first started popping up around Honolulu in 2017 and have become all the rage. Last year alone, Biki users logged more than a million rides. Waikiki visitors are now ditching the stereotypical tourist rental car, opting to instead enjoy the warm tropical sun and balmy ocean breezes as they cycle to the many restaurants, beaches, and attractions that dot Honolulu's cityscape.
Read this insider's guide to using Biki for everything you need to know before giving bike-sharing a spin (pun intended).
Why Biki Bike Sharing in Waikiki Makes Sense
Honolulu bike-sharing offers an array of advantages to those exploring the southern shores of Oahu:
It's economical: A single Biki ride costs just a few dollars (we'll discuss more Biki bike costs later in this guide). In contrast, renting a car for a day can easily cost you $50 or more (plus insurance, fees, taxes, and parking). Taxis don't do much better. For instance, a short trip from Waikiki to Diamond Head averages $21.50 each way.
It's convenient and safe: Biki offers numerous pickup and drop-off access points around the city, and Waikiki/Honolulu is increasingly friendly to bikers. For example, King Street — one of Honolulu's busiest corridors — got dedicated bike lanes in 2014.
It's quick: If you're staying in a central location, such as the Waikiki Resort Hotel, you're always just minutes of biking away from easily accessible attractions. And you won't have to compete with locals and other tourists for coveted (and expensive) parking.
Biki Bike in Honolulu: The Basics of How It Works
Bike-sharing with Biki is relatively effortless and takes just seconds to get started:
Visit a Biki bike stop (they're everywhere, and you won't miss the row of brightly-colored bicycles).
Follow the prompts on the screen and swipe your credit card to unlock a bike.
Ride to your favorite beach, attraction, or restaurant, taking in all the beautiful sights and sounds around you.
Return your bike to the Biki bike stop closest to your destination and simply push your bike into an empty dock to secure it.
Repeat to return to your hotel, or continue on your sightseeing adventure.
How Much Does a Biki Bike Cost?
Unlike other bike-sharing programs in North America, Biki doesn't require any pre-registration, membership, or special apps. It's that welcoming aloha spirit in action! All you need is a credit card to unlock your bike.
Plus, Biki is run by a nonprofit. You might be surprised how much money you'll save pedaling your way across Honolulu instead of renting a car or taking a taxi. Depending on your daily adventures and how long you're staying, Biki offers several price plans:
A 30-minute or less ride, from point A to point B, will cost you $4.
Planning on using Biki for your whole trip? Grab a multi-stop pass for $25, which gets you 300 minutes of riding Biki.
Don't forget your kama'āina discount. If you're a Hawaii resident on vacation (or a staycation), Biki offers special discounts just for you.
Grab Your First Biki Bike
There are more than 100 Biki bike stops in and around Honolulu and Waikiki. You can use Biki's online interactive bike stop map to find a bike stop closest to you. Better yet, download their free app to see real-time mapping, bike availability, and even track how long you've been riding Biki.
If you're staying at the Waikiki Resort Hotel, you're in luck. Thanks to the hotel's convenient location in central Waikiki just steps across from Waikiki Beach, you'll find numerous Biki bike stops around you, including:
Literally around the corner at Koa Ave and Uluniu Ave
A block away at Uluniu Ave and Kalakaua Ave
Three blocks away at Kaiulani Ave and Kalakaua Ave
Where to Go on Your First Honolulu Bike Ride
First, don't forget basic biking safety. You might be in paradise, but the rules of the road still apply:
Wear your helmet. If you didn't pack one in your suitcase, you can get one from the Biki Headquarters by making a $20 donation. Email them at info@bikesharehawaii.org for more info.
Don't leave your Biki bike unattended. Keep a close eye on it even while lounging at the beach, cooling off over Hawaiian shave ice, or watching the sunset.
Follow all of Hawaii's bike laws. Use hand signals, obey traffic signs and lights, and don't ride on the sidewalks.
No matter how tasty that mai tai, remember that biking should only be done when not under the influence of alcohol.
Once you've strapped on your helmet (and dabbed on some sunscreen, too), head out on one of the many easy rides that take you from Waikiki Resort Hotel's conveniently central location to some of the area's best sights:
Bike the 2.5-mile loop to Ala Moana Beach Park for warm, shallow swimming, sprawling white sands, and breathtaking sunsets. Across the street is the Ala Moana Shopping Center - the world's largest open-air mall and home to countless shops, restaurants, and entertainment options.
Do the easy 4-mile-long Waikiki loop to get familiarized with the bustling strip. With so many Biki bike stops along the way, stopping for a meal or for a dip in the ocean takes just seconds.
Escape to King Street, a quick 30-minute ride. Turn off along the way to see Iolani Palace, sample dim sum in China Town, or browse the historic Fort Street open market (Tuesdays and Fridays only).
Whatever your agenda, and however you like to spend your time in Waikiki, using Biki's bike-sharing network is a safe, convenient, and economical way to explore Honolulu and see its sights and sounds up close and personal.
The Waikiki Resort Hotel Offers Convenient Beach Access and Easy Biki Bike Access
No other hotel compares to the Waikiki Resort Hotel's safe, convenient location directly across from Waikiki Beach, and at such proximity to so many Biki bike stops.
Whether you're visiting Oahu from across the Pacific, or you're a local on a relaxing staycation, we're ready to welcome you with our trademark aloha spirit and Hawaiian hospitality. Plus, our comprehensive "Clean Promise" COVID-19 protocol ensures unparalleled sanitization and hygiene for your health and peace of mind.
Learn more at waikikiresort.com or call our friendly hospitality team at (808) 922-4911 today!