When is the Best Time to Visit Oahu?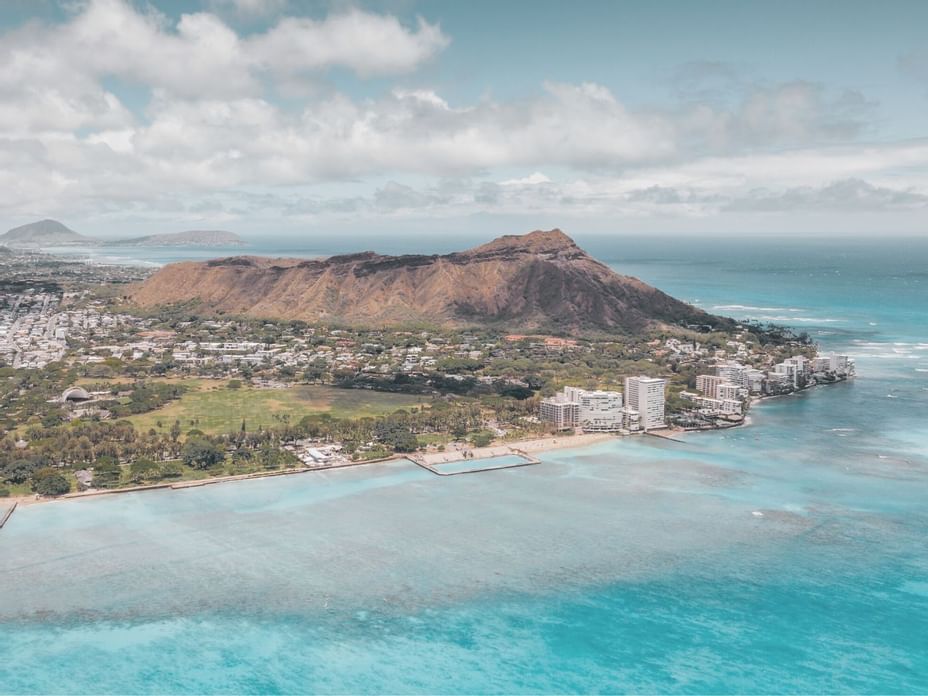 The best time to visit Oahu is...today! The second-best time to visit Hawaii's third-largest island—and home to iconic attractions like Waikiki Beach and picturesque Haleiwa Town—is when Oahu's seasons and events best align with the type of Hawaii getaway you crave most. With a little bit of planning and the kamaʻāina (local) insights in this Oahu travel guide, you can plan ahead and schedule your trip so you can experience everything your heart desires—whether that's watching turtles or chasing big waves.

Best Time to Visit Oahu: High-Level Numbers on Weather, Tourist Traffic, and More
While Hawaii's balmy weather and warm oceans are relatively similar all year long, there are some minor variations throughout the months that may influence your decision.
1. The Best Time to Visit Oahu Based on Rain, Weather, and Traffic
Unlike on the North American continent, Hawaii has just two "official" seasons—winter, which ranges from October-April, and summer, which runs from May-October. And this can have a minor impact on your ability to get a nice suntan on world-famous Waikiki Beach:
Air temperature:

The hot season: If you're seeking warmth, the best time to visit Oahu is between the end of June and mid-October, when temperatures hit a daily average high of 85+ degrees Fahrenheit (August tends to be the hottest month on Oahu, and in Waikiki/Honolulu specifically).
The cool season: Temperatures dip in the winter, dropping to their lowest between mid-December and early April (January ranks as Oahu's coldest month, with an average high of 79 °F and an average low of approximately 68 °F).

Sunshine forecasts:

Sunny: Oahu gets an average of 271 sunny days a year—in contrast with 168 days on the Big Island and 240 days on Kauai (and just 205 days for the continental U.S.).
Overcast: The cloudiest months are from April-December, while the clearest skies can be enjoyed from December through mid-April.

Chance of rain:

The wet season: From mid-October through to the end of March, you have a 16% chance of getting rained on—Honolulu gets an average of 7 days of rain in January, making it Oahu's wettest month.
The dry season: You can likely leave your rain jacket at home from March-October, with June being Oahu's driest month (it just gets two days of rain on average).

Traffic:

Tourist numbers soar from June-August and again in December-April, so you'll find attractions, beaches, and roads busier during these times (and accommodations and car rentals pricier, too).
2. The Best Time to See Whales in Oahu
Thousands of koholā (humpback whales) navigate to Hawaii from October through March—in some years, researchers have counted upwards of 12,000 of these 40-ton sea mammals during this migratory period.
It makes for a stunning view as they swim off the southern coasts of Oahu, with some of the best whale-watching spots just minutes from the centrally located Waikiki Resort Hotel:
Hanauma Bay
Diamond Head
The Makapu'u Lighthouse
While whales can be sighted as early as October, the best time to see whales in Oahu is during peak whale season in January, February, and March.
3. The Best Time to See Turtles in Oahu
Oahu is home to hundreds of endangered honu (green turtle) and 'ea (hawksbill turtle), which were almost hunted to extinction after colonialization and the overthrow of the Hawaiian Kingdom. While turtles are present all year, the best time to see turtles on Oahu are:
From May-October, when the coastal waters are slightly warmer, increasing turtle activity
Midday between 11 a.m. and 3 p.m. when turtles often rest on Oahu's sandy beaches

4. The Best Time to Visit Oahu For Seasonal Activities
Beyond the "big three"—weather, whale-watching, and turtle-watching—there may be other factors that influence why you want to visit Oahu:
Arts, culture, and history: Oahu regularly hosts numerous festivals and celebrations of local and Native Hawaiian culture, including lei day in May and celebrations for King Kamehameha in June (check out our month-by-month breakdown of the best monthly celebrations in Oahu).
Surfing: If you want to watch world-class surfers compete on behemoth 50-foot waves, the best time to visit Oahu is in the winter when the north shore's swells are their biggest. Summer months are great if you want to take surf lessons right on Waikiki Beach itself.
Christmas: Mele kalikimaka (Merry Christmas)! If you love the holidays, you'll want to visit Oahu in December to see many of the unique ways Hawaiians celebrate the season.
No matter when you choose to book a trip to Oahu, the Waikiki Resort Hotel is your home away from home all year long. Thanks to our convenient location, you're just steps from sunswept beaches, breathtaking vistas of migrating whales, and some of the hottest events and cultural celebrations in Honolulu. Book your stay at the Waikiki Resort Hotel online or call us at 1-800-367-5116 to see why our location, friendly staff, convenience, and amenities give us top ratings among our guests — from January through December!