What is Poi and Where to Eat the Best Poi in Hawaii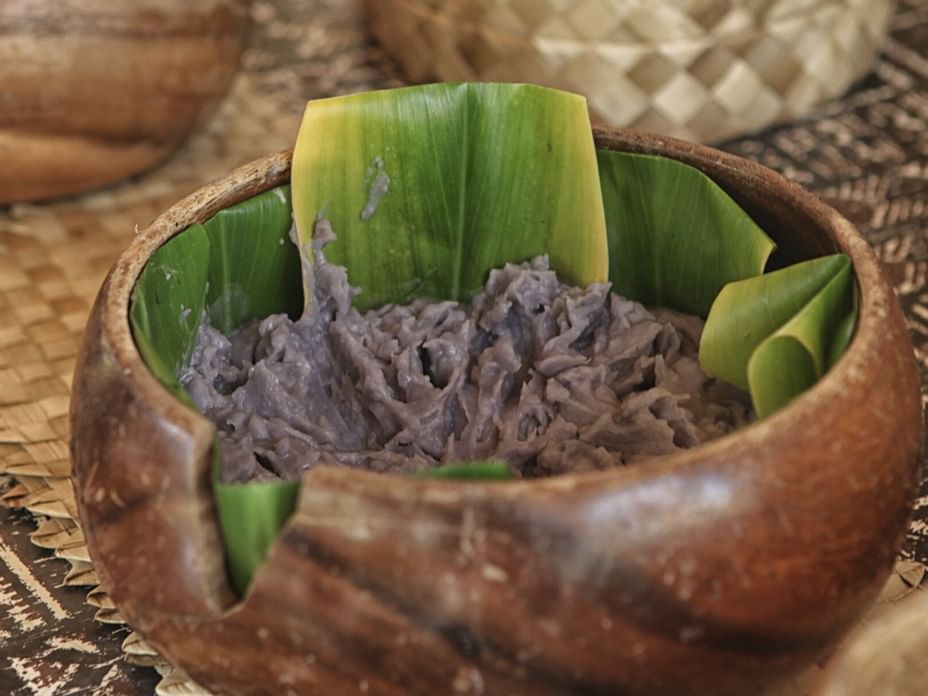 Poi is one of the most well-known Hawaiian ingredients–it's a staple at many traditional meals, and is made from taro, one of Hawaii's oldest harvests. The taro plant was first brought to the state by Polynesians thousands of years ago and is associated with the god Kane–creator of water, sun, and life. So, poi is a sacred part of Hawaiian life...and some consider it to be an acquired taste.
Taro is a root vegetable that's similar to sweet potato or yam–but it has a striking purple color when cooked. Poi is made by mashing taro with water to create something thick and syrupy, almost paste-like, which can be eaten on its own, as a side dish, or added into recipes (like bread!).
Poi is a food you can feel good about eating on your Hawaiian vacation. It's super nutritious, low in fat, and a great source of Vitamin B and calcium. So, whether you're heading to Kauai or sticking to Waikiki Beach, here are five of the best places to try Hawaiian poi.

1. Waiahole Poi Factory
20 miles from Waikiki Resort Hotel
Open 7 days a week
This family-owned restaurant is conveniently located on the Kamehameha Highway–and it's a perfect pit stop if you're heading to Oahu's North Shore for a day trip. On their menu, you'll find luau-inspired dishes like kalua pork and chicken long rice, which are served with poi, salmon, and haupia. The combination of salty, savory meat with creamy, sweet poi is one that can't be beaten!
2. Hanalei Poi Company
Located on Kauai
Family-owned and operated
You'll find Hanalei Poi Company on the northern tip of Kauai, in Hanalei–a small, peaceful town filled with great shops and eateries. At Hanalei Poi Company, you'll find packaged poi that's perfect for shipping back home...just ask them about 2-day shipping! Heading on a hike or to the beach? Grab a few of the brand's on-the-go 'Poi Packs' for some sustenance.
3. Hanalei Taro & Juice Co.
Located on Kauai
Tours available to visitors
Also located on Kauai, Hanalei Taro offers some unique grocery items like taro hummus, taro veggie burgers, taro mochi cake, and taro smoothies. They source all of their ingredients from local farms, and you can also pop in for lunch. Look for meal specials like kalua pork, shoyu chicken, furikake baked fish, and so much more.
4. Helena's Hawaiian Food
James Beard Award recipient
5 miles from Waikiki Resort Hotel
Family-owned since 1946
If you're heading to the Bishop Museum for an outing, head to Helena's Hawaiian Food afterward for a delicious meal–and an authentic taste of poi. On their menu, you'll find Hawaiian staples like kalua pork, butterfish, poke, haupia, and pipikaula short ribs–try any of these main dishes with a side of poi for an extra-memorable bite.
5. Dee's Poi Mochi
Located just outside the Maui outlet mall
Mochi is made to order
Mochi is one of those fusion desserts you'll see a lot of in Hawaii–and Dee is making deep-fried poi mochi in Maui that's become a crowd favorite. Their original Poi Mochi is their best seller, and is made with local poi...but you'll also find rotating mochi flavors like ube, strawberry, coconut, guava, and more. Add one of their homemade dipping sauces to your order to take it to another level. We recommend pairing ube dipping sauce with your poi mochi for a full taro root taste experience.