What is the First Friday Art Walk in Hawaii?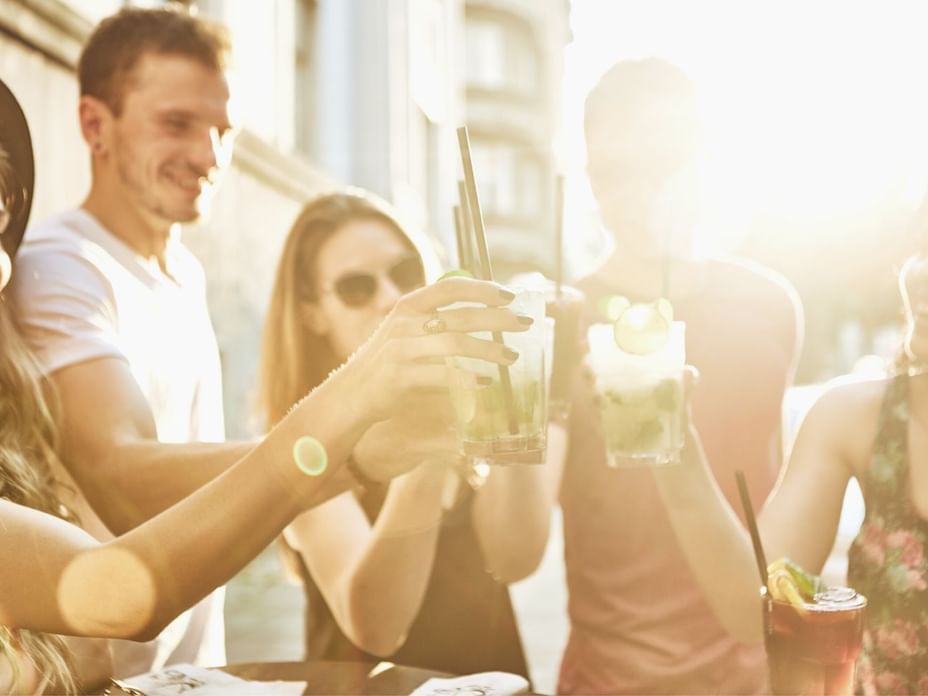 Chinatown in downtown Honolulu is the state's oldest arts and culture district. And there's no better way to explore these fabled city blocks than during the First Friday Art Walk.
What is the First Friday Art Walk in Oahu?
"More than any other Oahu neighborhood, Chinatown is a different place for everyone who visits," reports Hawaii's seminal lifestyle publication, Honolulu Magazine. "For some, it's a bustling marketplace, full of bargains and unique items. For others, it's an arts district that comes alive on the first Friday of every month."
As its name implies, the First Friday Art Walk takes place on the first Friday of every month and runs from 5 p.m. to 9 p.m. During this monthly celebration:
Think of it as a giant block party with food trucks, live music, and even DJs spinning their jams.
Dozens of Chinatown's independent boutiques, unique art galleries, and bars and restaurants open their doors with free entertainment, special sales and offers, and new art exhibits.
The event is self-guided and completely free (unless, of course, you find an irresistible restaurant menu or take-home souvenir that you can't say no to).
And while it's not part of Chinatown itself, the Hawaii State Art Museum (250 South Hotel Street, Honolulu, HI 96813) gets in on the action, too. As part of the monthly block party, the museum opens its doors with free admission for the entire family. Explore its famous sculpture garden, browse the Lēʻahi Gallery, and enjoy art, music, and food booths.
How to Experience First Friday Honolulu
Use First Friday Art Walk's interactive maps to build your own itinerary of galleries, boutiques, cafes, and restaurants. Each month's event looks a bit different, and you can create a walking tour that fits your own preferences. And don't worry, Chinatown packs a lot of activities and attractions into just a few blocks, so it's easy to catch all the sights and sounds that you want!

Example Walking Routes
Do a short circle tour of this historic cultural district, strolling along Maunakea Street towards the ocean from Beretania Street to King Street, then turn left to go up Smith Street and head back up to Beretania to complete your circle.
Walk down Hotel Street and up King Street between Maunakea Street and River Street.
Head down Nu'uanu Avenue from Beretania Street to South King Street, then walk on Bethel Street back to Beretania Street.
New Galleries You Won't Want to Miss
There's something for everyone, even if you don't define yourself as an art connoisseur. Over the past year, several unique galleries have opened that will be taking part in 2023's various First Friday Art Walks:
Downtown Art Center: Part artist hub and part public gallery, it will be hosting several workshops (and don't forget to check out its downstairs art and gift shop).
Arts & Letters Nu'uanu: This building has long been considered a cornerstone of Oahu's art scene, and today it's home to a gallery that puts a special emphasis on Hawaiiana and island-focused exhibitions.
First Hawaiian Center's lobby gallery: On the ground floor of Hawaii's tallest building is a public art space dedicated to local homegrown artists.
What About the Block Party?
As you step out of each boutique, cafe, or art gallery, you'll find yourself immersed in a giant block party. Each Friday will look a little different, but you can expect:
Streets packed with festival goers, locals, and tourists alike
Outdoor beer and wine gardens (don't forget to bring your ID!)
Live local music
Live performances, including dance groups, hula, and even live mural painting
Special events at bars and nightclubs, often stretching into the early hours of the morning
The Waikiki Resort Hotel is Just Steps from Oahu's Biggest Monthly Block Party
From the centrally located Waikiki Resort Hotel, Honolulu's Chinatown is a short 20-minute drive away:
Alternatively, rent a Biki Bike and follow the Waikiki Strip towards Honolulu, then go along Ala Moana Boulevard to Chinatown. The total bike trip will take you approximately 30 minutes.
Book your stay at the Waikiki Resort Hotel online or call us at 1-800-367-5116 to see why our location, friendly staff, convenience, and amenities give us top ratings among our guests — on first Fridays, and every day before and after.