The Best Hawaiian Land Adventures in Oahu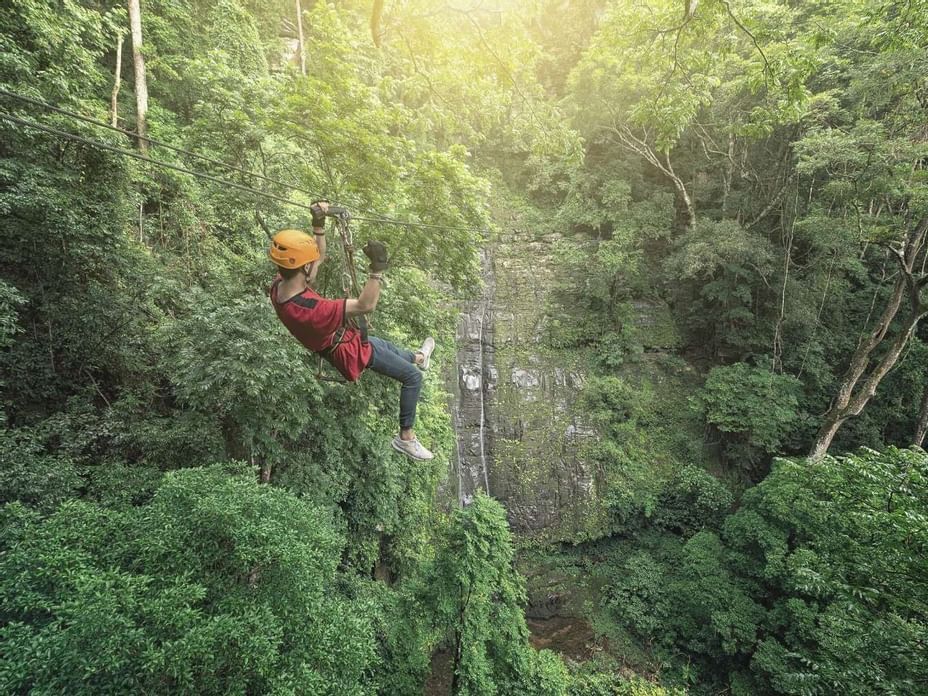 From mauka to makai (mountain to ocean), Oahu's lush landscape beckons you with thrilling adventures, scenic tours and breathtaking ways to really immerse yourself in the island's Hawaiian beauty. Escape the urban glow of Waikiki and get up close and personal with Oahu's best land adventures, including secret waterfalls and adrenaline-pumping ziplines. 
1. Ziplining
If you have the need for speed, see Oahu via a ziplining adventure. You'll hit speeds as fast as 40 miles-per-hour while you take in mountain vistas and ocean views high above some of Oahu's tallest trees:
North Shore Zipline at Keana Farms
A 1-hour drive from the Waikiki Resort Hotel.
The longest and fastest zipline on Oahu, with eight ziplines (including one that's an incredible 1/2-mile long). 
The total excursion takes three hours and includes a Hawaiian history-infused guided tour, three sky bridges, two chances to rappel, and a jostling ATV ride.
Kualoa Ranch Zipline Tour 
A 45-minute drive from the hotel.
This is the best option if you want the best views, in part because it's nestled into the world-famous Ka'a'awa Valley (the set for the original Jurassic Park movie). 
You'll ride seven ziplines (ranging in length from 200 to 1,320 feet), plus private access to numerous Jurassic film locations (including movie props!), two suspension bridges, and three lush hiking trails.
Bay View Zipline 
A 30-minute drive from the hotel.
Perfect for those who want a low-stress opportunity to try ziplining for the first time. 
At less than $50 a person, it's also considerably cheaper than other zipline operators (ideal if you're nervous about shelling out lots of money for an experience you might not like). 
Over the course of an hour, you'll ride on three beginner-friendly ziplines with scenic views of Kaneohe Bay. 
Afterward, your zipline ticket gets you access to an 18-hole miniature golf course.
2. Mountain Climbing and Rappelling
On any given day, fragrant tropical rain showers turn Oahu's looming mountains into waterfall-dotted vistas. Climb these mountains and see a part of Oahu that others rarely experience. Get outfitted at Climb Aloha — the island's sole mountain climbing store — then head to some of Oahu's best-kept mountain climbing secrets:
The Mokule'ia Wall: Head to Oahu's world-famous north shore where, after a short 30-minute hike, you arrive at the Aloha State's largest crag. It's been featured in many mountain climbing magazines and offers approximately 60 climbing routes for all experience levels.  
Makapu'u Point: This crag on Oahu's east shore is ideal for beginners, or if you just want to squeeze in a short, easy climbing route on your way to other attractions. Bonus: You'll get to see the scenic Makapu'u Lighthouse!
Coral Crater Adventure Park: If climbing in nature sounds like too much work, head to this 35-acre outdoor adventure park on the west shore. You'll find two 50-foot climbing walls, rappelling walls, an aerial adventure tower, plus other adventure options (i.e., laser gun tag, ATV rides, aerial obstacle courses, and quirky events like a zombie-themed adventure day).
3. ATV Tours and Horseback Riding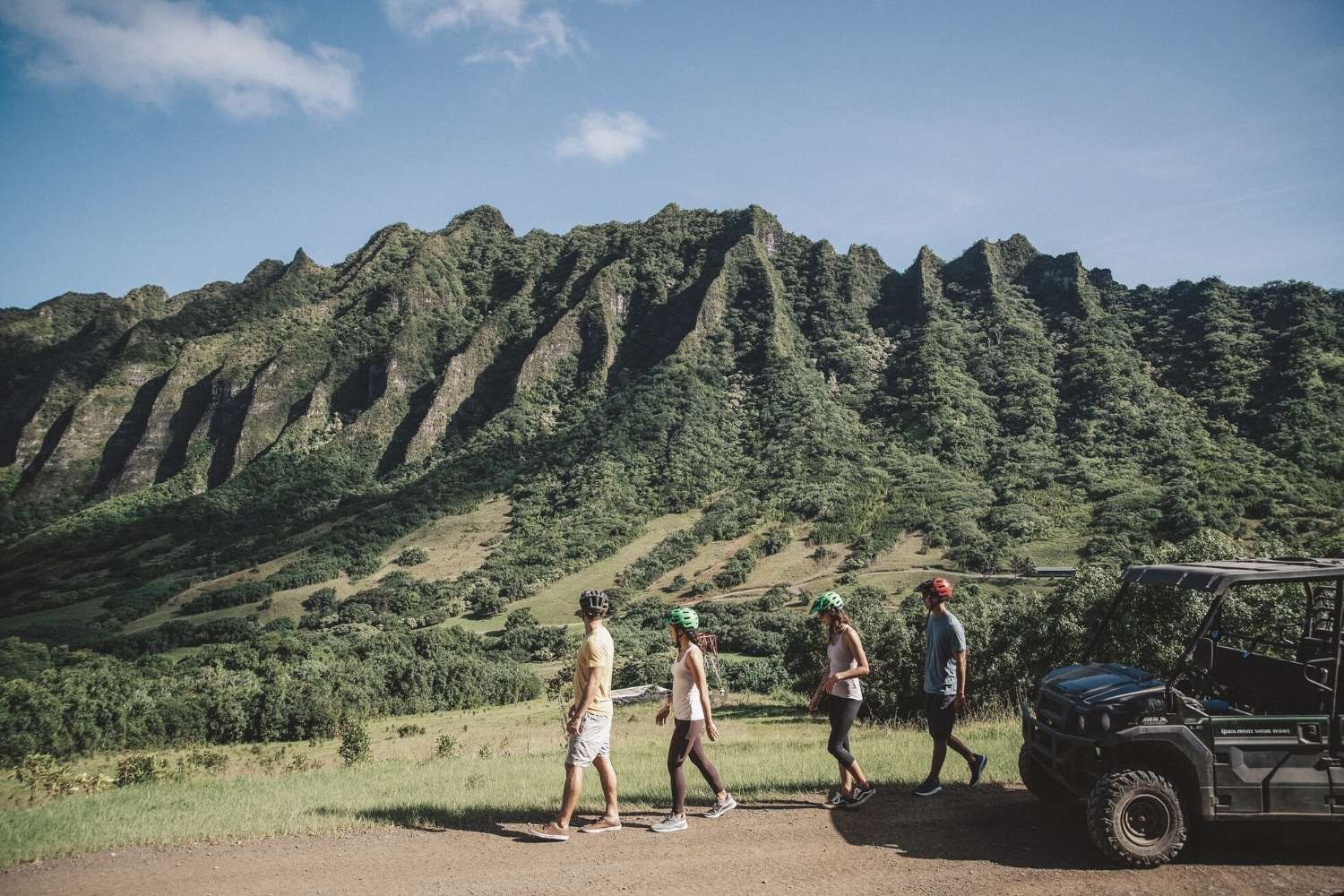 Credit: Hawaii Tourism Authority (HTA) / Ben Ono
Strap in and prepare to get dirty as you see Oahu's jungles, mountains, and wind-swept fields on a bouncing, high-speed all-terrain vehicle. Alternatively, trade in a motorized vehicle for a four-legged transportation option for a completely different experience:
ATV Raptor Tour at Kualoa Ranch: Be just like the characters in Jurassic Park, just without the risk of being eaten by a T-rex. This two-hour tour takes you through several sets of the Hollywood blockbuster with unprecedented access to the private 1,000-acre Ka'a'awa Valley. Bring a camera, because you'll have numerous opportunities to pull over and take stunning photos of the scenery.
Off-Road Tours at Gunstock Ranch: Private, fully guided tours range in length from one to two hours. Choose from adrenaline-pumping options that take you to hidden caves and ocean vistas, or choose a romantic sunset option where you go off-roading to an idyllic spot where you're greeted with a sit-down dinner and a pre-made campfire.
Horseback Tours at Gunstock Ranch: Be a paniolo (Hawaiian cowboy) with a horseback ride to hidden caves and the filming location of Hawaii 5-0. For families, this real, working ranch also offers pony rides for children ages 2-7.
Whatever land adventure you choose on Oahu, come back to your Waikiki home at the Waikiki Resort Hotel. Rinse off the dust from your ATV tour or mountain climbing adventure in the warm waters of world-famous Waikiki Beach, which is just steps from your hotel room. Book today online or call us at 1-800-367-5116 for more info.