Plan Your Visit to the Waikiki Aquarium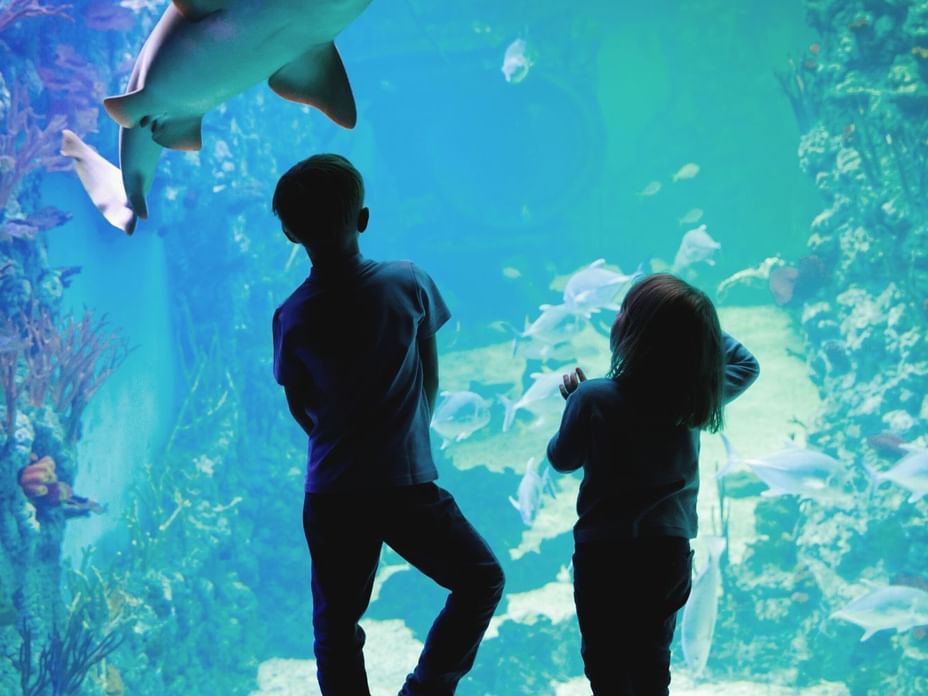 If you're vacationing on Oahu then you've probably already explored some of the island's sublime beaches and dipped your toes into the clear blue waters of the Pacific. But have you stopped to wonder about the many creatures that live below the surface? If you're curious to learn about subaquatic life in Hawaii, read on and plan a visit to the Waikiki Aquarium.
A Brief History of the Waikiki Aquarium
Inaugurated in 1904, the Waikiki Aquarium is the second-oldest aquarium in the United States after the New York Aquarium.
Set up as a place to show the world the riches of the Hawaii reef, in its first 15 years it displayed animals collected by local anglers.
Since 1919 it has been an important institution of the University of Hawaii.
The aquarium moved to its present location in 1955 and today houses 3,500 organisms of 490 species of marine plants and animals.
What to See at the Waikiki Aquarium
A visit to the Waikiki Aquarium offers the chance to explore over a dozen exhibits that showcase the magic of the ocean. The following are currently open to the public:
Amazing Adaptations: A 60-foot-long gallery wall displaying various species of seahorses, seadragons, and pipefishes.
Giant Clams: An outdoor display of giant clams found in the South Pacific, Indian Ocean, and Red Sea.
Marine Protected Areas and Conservation: Showcase of Pacific habitats and species, including the Asian Arowana and Hawaiian stream gobies.
Coral Farm: An area dedicated to the cultivation of corals in aquariums.
Ocean Aquaculture: An exhibit that explores the life of the Pacific six-fingered threadfin, or moi, which is a food fish once reared only for royalty.
Northwestern Hawaiian Islands: One of the world's largest aquarium exhibits, home to 7,000 colorful species including angelfish and tigerfish.
Diversity and Adaptations: A gallery that highlights the way creatures, such as seahorses, shrimp, and turkey fish, adapt to feed, deceive, and stay alive.
Hunters on the Reef: This enormous tank is home to groupers, jacks, sharks, and other predators of the sea. Look out for the distinctive zebra shark.
Ocean Drifters: In this rotating exhibition are curious critters from the world's seas like jellyfish and sea nettles.
Hawaiian Marine Communities: A recreation of important local marine habitats. Among them is Kane'ohe Bay and the surf coastlines around Koko Head.
Jet Set: Take a look at some of the creatures that have the ability to move via jet propulsion, like the octopus.
South Pacific Marine Communities: A collection of five smaller exhibits that examine the Pacific habitats and ecological communities, and their threats.
The Living Reef: A unique opportunity to witness the abundance of both stony and soft coral species that inhabit the Pacific Ocean.

Tours, Activities, and Events at the Aquarium
All internal activities, classes, and workshops are currently suspended due to Covid restrictions. Updates and more information can be found here.
Waikiki Aquarium Beach Cleanups: Join a team of experts and volunteers in cleaning up Waikiki's beaches and parks. It's free to attend, and all ages are welcome.
Ke Kani O Ke Kai: An outdoor oceanside summer concert series with well-known Hawaiian artists. Check the website for event dates.
Waikiki Aquarium Opening Hours
The aquarium is open every day of the year, except for Honolulu Marathon Day (December 10th, 2023) and Christmas Day.
Regular hours: 9 am to 4.30 pm (site closes at 5 pm)
Thanksgiving Day: 9 am to 2.30 pm (site closes at 3 pm)
New Year's Day: 11 am to 4.30 pm (site closes at 5 pm)
Waikiki Aquarium Tickets and Admission Fees
Adults (13 to 64): $12
Junior (4 to 12): $5
Senior (64+): $5
Children (3 and under): Free
Kama'aina (Hawaiian residents) and military personnel: $8
All paid admission fees include the use of the aquarium's mobile audio guide.
How to Get to the Waikiki Aquarium
Location: 2777 Kalākaua Avenue, Waikiki.
From the Waikiki Resort Hotel, it's either a 5-minute drive or a 15-minute walk.
Limited free parking is available outside the aquarium. Otherwise, metered parking is possible along Kalākaua Avenue.
Other ways to get here are on TheBus (lines 14, 19, 20, and 22) and the green line of the Waikiki Trolley.

Tips for Visiting Waikiki Aquarium
Allow between 45 minutes to one hour to see all of the exhibits.
Signs indicate a one-way route around the aquarium, which visitors are encouraged to follow.
Consider bringing a light sweater or cardigan for rooms where the air-conditioning is turned up to the max.
Face coverings are advisable, although not compulsory.
There's no food or drink sold inside the attraction, but visitors are welcome to bring their own.