Eat Your Way Through Hawaiian Culture: The Best Lūʻau Shows on Oahu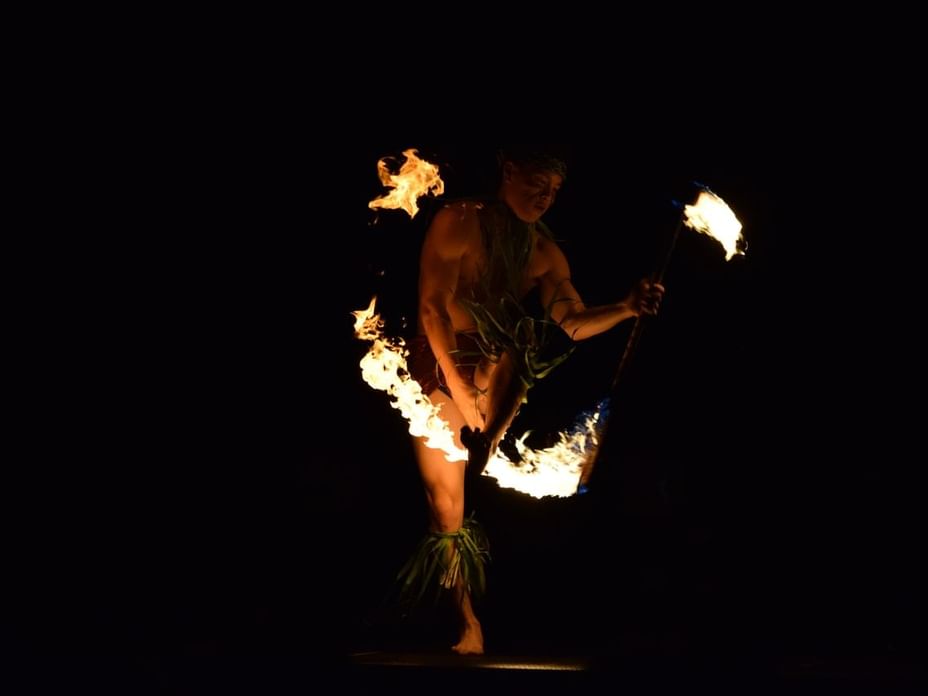 The delicious lūʻau feast has been enjoyed by Native Hawaiians for centuries. And to this day, kamaʻāina (Hawaii locals) often host a lūʻau for special occasions like weddings, high school graduations, and the birth of a new baby. 
During your stay at the Waikiki Resort Hotel, you're just a short walk away from an array of authentic, all-you-can-eat lūʻaus. It's the perfect way to explore Hawaiian culture and Hawaii's unique indigenous practices, and feast on a wide array of local flavors. A real Hawaiian lūʻau is just one of those island vacation experiences that you simply can't replicate anywhere else.
What to Eat at a Honolulu Lūʻau
Many first-time visitors to Waikiki are overwhelmed with the many food options laid out before them at a Honolulu lūʻau. While most venues will give you an introduction to all the different meals you can sample, here's a quick sneak peek of what to expect (try not to get too hungry reading this!): 
Poi: Poi is made from the sacred taro root, which is boiled then pounded into a smooth, sweet pudding-like dish. Hawaiians eat it on its own or treat it as a side dish, not unlike how you might view a side of rice or potatoes. Today, modern scientists consider poi to be a highly nutritious superfood.
Poké: Now a widespread trend on the mainland, authentic Hawaiian poké traces its roots back decades. It's typically made from aku (skipjack tuna), which is cut into raw cubes and seasoned.
Laulau: Enjoyed across Polynesia, laulau is a piece of pork, chicken, fish, or other meat wrapped in cooked taro leaves and steamed.
Kālua puaʻa: This is the main spectacle at many lūʻaus. An entire pig is cooked underground in a traditional imu (oven). It's moist, falls apart at the touch, and is flavored with Hawaiian sea salt and a touch of smokiness.
Now that we've whet your appetite, where can you enjoy these amazing Hawaiian dishes? Why, just steps from your room at the Waikiki Resort Hotel!
The Best Lūʻau Shows for Your Waikiki Vacation
From the Waikiki Resort Hotel, stroll 20 minutes down bustling Kalakaua Avenue to Hilton Hawaiian Village where you'll find this lūʻau:
When: Every Thursday and Friday at 5 pm
Cost: Starts at $150/adult and $95/child
Lūʻau show highlights: As you eat, enjoy a production of Voyages Across the South Seas. Don't miss the fire knife dancers, who present different dramatic dances from Hawaii, Samoa, and other Polynesian destinations.
Insider tips: Arrive when doors open so you don't miss the hula lesson that takes place before dinner. Face masks are required for entrance.
Cross the street to Waikiki Beach and experience this lūʻau at the Royal Hawaiian:
When: Every Monday and Thursday at 5 pm
Cost: Starts at $200/adult and $149/child
Lūʻau show highlights: The Helumoa Story Unfolds transports you out of touristy Waikiki and into a 50-minute journey through Waikiki's ancient past. Because the hotel sits on historic Hawaiian land, the show celebrates the area's history with stories and dances that take you from the Hawaiian Kingdom to the modern age.
Insider tips: Unlike many lūʻaus, dinner is provided as a three-course table service versus a buffet line. Masks are required during the entire lūʻau, except when you're seated at your table.
This unique lūʻau takes place at Sea Life Park, a short 30-minute drive from the Waikiki Resort Hotel to Oahu's east shore:
When: Daily at 5:30 pm
Cost: $104/adult, $89/teenagers and $77/child
Lūʻau show highlights: The show is less spectacle and more hands-on interactions, which is perfect if you want a take-home souvenir, a great story to tell, or if you have young children. You'll be able to do an array of cultural activities, from pounding poi to weaving coconut headbands.
Insider tips: Masks are required to enter. Every entrance ticket also gives you admission to Sea Life Park, which you can use the same day as your dinner or within 12 months of your reservation date.
No matter which lūʻau you decide to try — some of our guests might even choose to attend all three — only the Waikiki Resort Hotel gives you such unparalleled walking and driving access to Honolulu's best lūʻau shows. Located in the heart of Waikiki right across the street from world-famous Waikiki Beach, our hotel is the perfect launching pad for an authentic Hawaiian experience. Learn more about our resort at waikikiresort.com or call (808) 922-4911 today!