Feast on Delicious Baked Treats at These Five Oahu Bakeries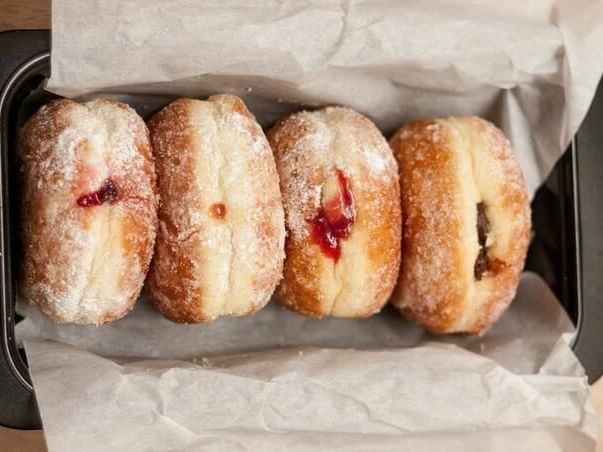 When vacationing in Waikiki you can be catching waves at Waikiki Beach, hiking up Diamond Head, and shopping on Kalakaua Avenue all on the same day. With so much activity, you're sure to build up a craving for local Hawaiian foods. Sure, poke bowls and shave ice are popular choices, but Hawaii is also famous for its freshly baked sweet goodies. Here are five of our favorite bakeries—and their finger-licking specialties—to try on your trip to Oahu. 
Diamond Head Market and Grill
On the mauka (mountain) side of Diamond Head, the aptly named Diamond Head Market and Grill is a cherished window-serve spot for pastries, breakfast, lunches, and dinners inspired by Hawaiian culture. Run by award-winning chef Kelvin Ro, the locale featured in Esquire magazine's 100 Restaurants America Can't Afford to Lose. 
Must try: Scones, which resemble muffin tops, and come in mouthwatering flavors such as blueberry cream cheese and pineapple cream cheese.
Check the website for the weekly scone schedule.
Distance from hotel: 5-minute drive or 25-minute walk, via the scenic Kapi'olani Regional Park.
Leonard's Bakery
Established in 1952, Leonard's Bakery was one of the first places in Hawaii to bake malasadas (Portuguese donuts). These ono (good to eat) balls of fried yeast dough covered with sugar, and sometimes cinnamon, are traditionally eaten on Shrove Tuesday. Leonard's first served malasadas in 1953 when the owner's mother suggested they offer an item to celebrate their Portuguese heritage.
Must try: Classic malasadas and malasadas puffs, filled with a choice of custard, chocolate, guava, haupia (coconut), and macadamia nut. 
Distance from hotel: 10-minute drive or 30-minute walk. 
Face masks are obligatory when inside the bakery.
The MalasadaMobile food truck serves malasadas at various locations on Oahu.
Kamehameha Bakery
Kamehameha Bakery is a mainstay of Oahu's bakery scene, nestled amid the malls, restaurants, and takeouts of Honolulu's Kalihi neighborhood. For over four decades this family-owned spot has been tantalizing the taste buds of locals with bread, cupcakes, donuts, and malasadas. 
Must try: Poi-glazed donuts—a no-hole donut ball smothered in a layer of poi, which is a sticky and sweet starch made from taro plant root. 
Distance from hotel: 20-minute drive (approximately 6 miles).
Face mask required and a 2-customer limit inside the store.
Liliha Bakery
Liliha Bakery is a bakery and diner that covers the full spectrum of culinary flavors from burgers to curries and customized cakes. It's the selection of 150 baked delights—all baked from scratch to the same methods since 1950—that has earned the store a loyal following and iconic status in Honolulu.
Must try: Coco puffs—puffed pastry balls stuffed with creamy chocolate and topped with a Chantilly buttercream frosting.
Locations at the Ala Moana Center, close to Honolulu Harbour and in the Liliha-Kapalama neighborhood. 
Distance from hotel to the Original Liliha: 20-minute drive (approximately 5 miles).
Paalaa Kai Bakery
In the beachside North Shore community of Waialua, Paalaa Kai Bakery has been satisfying locals' sweet-toothed desires since 1970. The roadside bakeshop is a great stop to pick up Portuguese-style pastries, snow puffies, and sandwiches on the way to Hale'iwa Beach.
Must try: Snow puffies—a Paalaa Kai creation, this cold dessert has layers of puff pastry and creamy custard topped with chocolate fudge and powdered sugar. 
Daily 50% discount hour from 6 pm to 7 pm.
Distance from hotel: 50-minute drive (approximately 32 miles).
Gateway to Oahu's Culinary Treasures
Book a room at the Waikiki Resort Hotel for easy access to these bakeries and dozens of more food options that showcase the exotic flavors of Hawaii.