Best North Shore Beaches To Visit In Oahu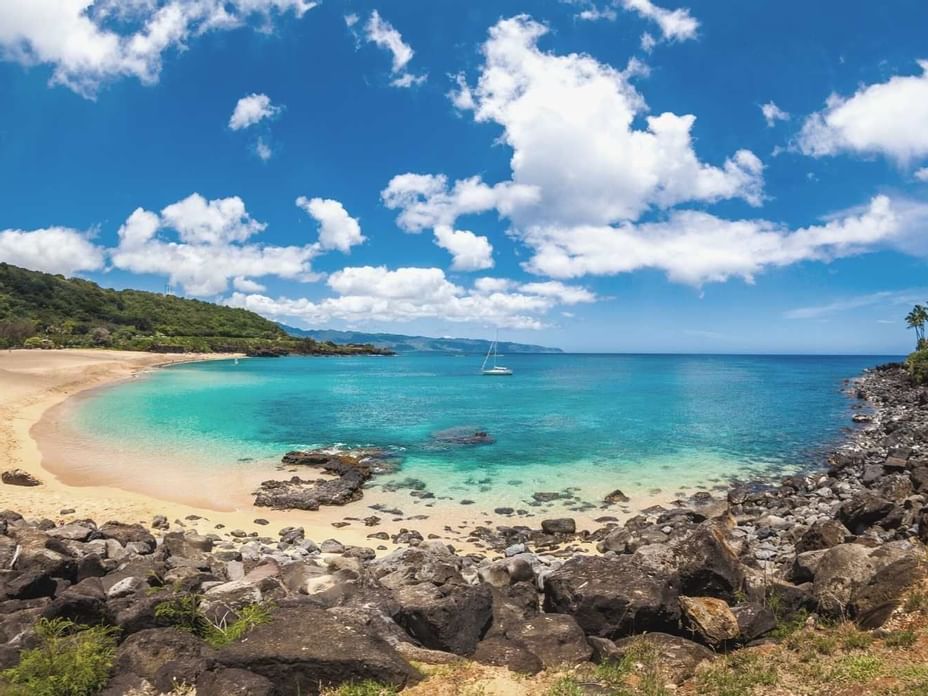 Hawaii is probably best known for its beautiful beaches. And if you're staying near Waikiki Beach, you might be content to stay near your hotel for your whole vacation. But there are so many other beaches to explore–especially on Oahu's North Shore. The North Shore is on the other side of Oahu, so it's the perfect place to head for a sun-filled day trip.
Whether you're intrigued by local marine life or you want to take a surfing lesson, there's a North Shore beach for every kind of vacationer. Here, check out six of the best ones to visit during your stay on Oahu.
Waimea Bay
Three Tables Beach
Laniakea Beach
Ehukai Beach Park
Sunset Beach
Shark's Cove
Waimea Bay
25-30' waves
Lifeguard on duty
Parking inside the park and on Kamehameha Highway
Waimea Bay is one of the best-known beaches on the North Shore–thanks mostly to its amazing waves. This is the perfect place to watch some seasoned surfers in action, but the beach can get crowded, so be prepared to walk for a while to find a spot to set up.
Three Tables Beach
Located within Pūpūkea Beach Park
Ideal to visit from May through September
If you're interested in snorkeling, diving, or exploring the Hawaiian coral reef, hop in your rental car and make the 50-minute drive to Three Tables Beach. Named for the table-like sections of reef that are visible at low tide, this is a popular spot to see marine wildlife like goatfish, parrotfish, sea cumbers, and even sea turtles.
Laniakea Beach
Also known as 'Turtle Beach'
Free street parking
If seeing Hawaiian sea turtles is on your bucket list, then Laniakea Beach is a must-visit. Arrive between 11am and 1pm during the summer months for your best chance of seeing a turtle. If you're lucky enough to see one (or a few!), just remember to keep your distance–it's illegal to touch wild sea turtles.
Ehukai Beach Park
Also known as the 'Banzai Pipeline'
Location for Vans Triple Crown of Surfing competition
This is one of the most famous surfing beaches on the North Shore of Oahu. It's a perfect place to watch barreling, tube-like waves, and professional surfers. If you want to go in the water, visit in the Spring when the waves are a little calmer. Visitors are also asked to stay out of the water from June-September when stinging limu wash up on the shore.
Sunset Beach
40 miles from Waikiki Beach
Located next to Ehukai Beach
As you can probably guess from the name, this is the North Shore beach with the best sunsets. It's also a great surf spot, and is perfect for family beach days in the summer months–the waves are calmer, and there are lifeguards on duty. We recommend packing a picnic for dinner and soaking up the sunset, or getting an acai bowl from one of the nearby eateries.
Shark's Cove
Located within Pūpūkea Beach Park
Water shoes are recommended
Shark's Cove is a favorite snorkeling spot–and don't worry, contrary to its name, this isn't a haven for sharks. This North Shore beach gets its name because the reef has a shark-like shape when seen from above. Check out the tide pools for a glimpse of butterflyfish and eels, or relax on the beach with a refreshing beverage.