5 Must-Try Types of Hawaiian Coffee You Won't Want to Miss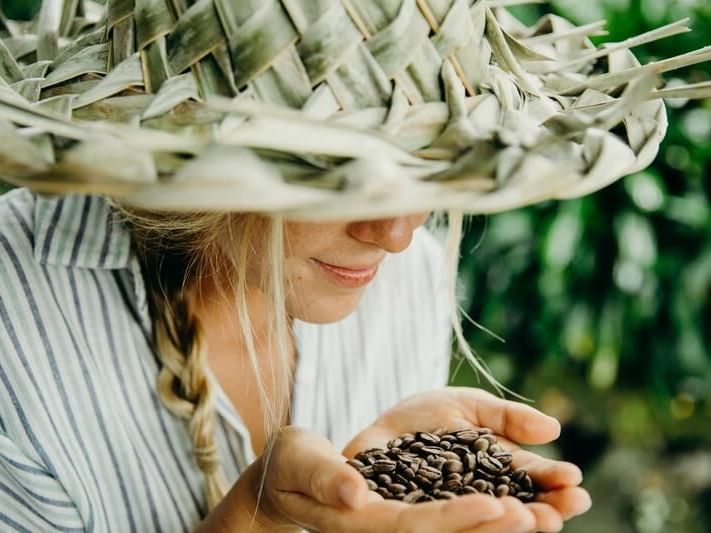 Imagine yourself waking up in your ocean-view room at the Waikiki Resort Hotel, just steps from world-famous Waikiki Beach. The sunrise is painting nearby Lēʻahi (i.e., Diamond Head) in vibrant hues as the tropical morning breeze fills your room with the gentle scents of the seaspray. 
Before you head out on your sunrise hike, you reach for your mug of coffee. The question is, what type of coffee are you craving this morning? Good news: Hawaii is renowned around the world for its premium, locally grown coffee, with each variety offering something tantalizing, energizing, and truly unique to the islands. 
The History of Hawaiian Coffee
Hawaiian coffee is so different from other regional coffees because of the environment in which it's grown. Nutrient-rich volcanic soil, bountiful mountain rain, hot Pacific sun, and cooling ocean breezes come together to create conditions in which coffee trees thrive.
Some of the earliest written records of coffee being grown in Hawaii date back to the early 1800s planted right here on the island of Oahu just a few miles from the Waikiki Resort Hotel. By the mid-1800s, a local reverend named Samuel Ruggles took coffee plant cuttings to the Kona District on the Island of Hawaii. Soon, Kona coffee became a worldwide phenomenon.
Today, the University of Hawaii reports that Hawaii's coffee industry is "one of the most diverse and dynamic in the world," with coffee plants even growing wild in Hawaii's mountain forests. And when you visit Waikiki, you can sample some of the best Hawaiian coffee in the world. 
Sip Your Way Through the Islands: The Best Coffee in Hawaii
1. Kona Coffee
No discussion about Hawaii's coffee offerings would be complete without talking about Kona coffee. It's grown on the Big Island (i.e., the Island of Hawaii) on the sunny slopes of two active volcanoes: Hualālai and Mauna Loa. 
The porous soil on the volcanoes (which is exceptionally high in minerals), plus unique weather conditions — the area tends to have sunny, dry mornings, cooler rainy afternoons, and very little wind — create coffee beans with depth and personality. 
Many visitors find Kona coffee to have very mild floral aromatics, with almost a wine-like character, and some varieties might even have a touch of fruity flavor or earthy notes.
The exclusive nature of Kona coffee also means it's one of the most expensive coffees in the world, averaging nearly $40 a pound. When you're buying Kona coffee, carefully read the label. Some cheaper brands might market themselves as a "Kona blend," meaning they mix Kona coffee with cheaper beans from elsewhere. 
For a truly authentic experience, look for labels that read "100% Kona coffee" and be prepared to pay the premium. Prominent farms and brands include Kona Coffee & Tea and Royal Kona.
2. Other Big Island Coffee Varieties
Kona isn't the only district on the Big Island that has thriving coffee farms. 
Branch out with:
Ka'u coffee: Ka'u is located just south of Kona. Its coffee tends to have a more intense richness that's a lot smoother than Kona coffee. Some people find it to have a more nutty, floral taste with a hint of malt.
Hāmākua coffee: Hāmākua is found on the northeast end of the Big Island. Here, the soil is much deeper and more earthy than on the volcanic slopes. Hāmākua often has a sweeter flavor profile with a heavy body. Colder nights extend the time it takes for the coffee cherries to ripen, leading to deeper and more complex notes in each sip.
3. Kauai Coffee
Kauai lies on the opposite end of the state from the Big Island. As the second-oldest island, its soil is very loamy and rich, leading to an abundance of farms, lush gardens, and sprawling forests that give the island its nickname of the "Garden Isle."
While Kona coffee might be the most well-known coffee from Hawaii, Kauai actually grows the most coffee in all of the United States with more than 3,000 acres of coffee shrubs. While there are several small boutique farms on the island, the largest producer is the Kauai Coffee Company, which has been roasting coffee since the 1800s. 
Coffee from Kauai is known for its easy-drinking, mild character, and very subtle fruity nuances.
4. Molokaʻi Coffee
Sandwiched between Kauai and the Big Island is the tiny island of Molokai, which is only 38 miles long by 10 miles wide. It's primarily a farm-based island, with the first commercial coffee farm starting in the 1800s. 
Today, the largest coffee farm is grown in partnership with Coffees of Hawaii and the historic Molokai Ranch on more than 600 acres of land. 
Molokai coffee tends to be slightly more acidic than other varieties, with a rich body and hints of chocolate or malt.
Buying Hawaiian Coffee and Bringing It Home
During your stay in Waikiki, you can find all of the above Hawaiian coffees in the many boutique stores and coffee shops around the Waikiki Resort Hotel. Because of Hawaii's strict agricultural export laws, here's what you need to know if you want to bring a taste of Hawaii home with you:
You can bring unlimited amounts of both unroasted and roasted Hawaiian coffee home with you through any continental U.S. port of entry.
Make sure you declare your coffee, whether it's in your carry-on or your packed luggage when you arrive at the airport and go through the agricultural screening checkpoint.
Consider double-packing your coffee in a sealed plastic bag to avoid unfortunate spills (it also helps to keep your clothes and packed items from smelling like coffee when you arrive home).
Keep your Hawaiian coffee fresh by storing it in a cool, dark location in an airtight container.
Whatever your coffee preferences, you'll find numerous options to sip and buy Hawaiian coffee just steps from the Waikiki Resort Hotel's location in the heart of bustling Waikiki. 
Head across the street to Kai Coffee. Stroll up Kuhio Avenue to the International Market Place and visit Kona Coffee Purveyors. Or browse the selection of grounds and whole beans at Hawaiian Crown Cafe. 
Endless coffee shopping awaits you in any direction. Learn more about our resort at waikikiresort.com or call (808) 922-4911 today!