Top 10 Free Things to Do on Oahu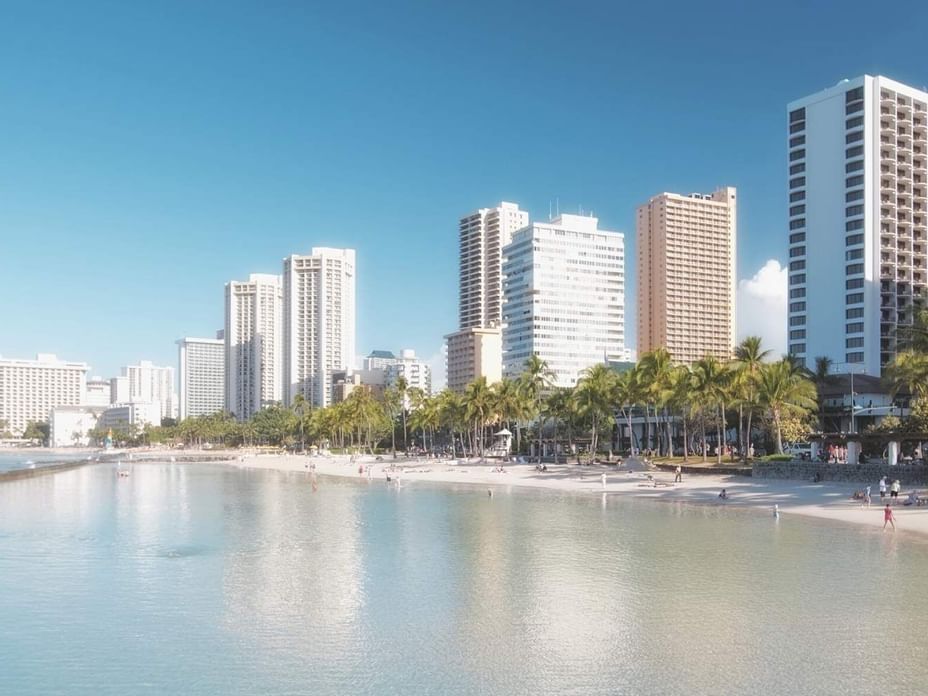 If you want to make a trip to Oahu a little more affordable then you're in luck. Spread throughout the island are wonderful activities and attractions that are perfect for anyone traveling on a budget. From hanging loose at a world-famous beach to hiking scenic trails and admiring superb art collections, check out our recommendations for 10 free things to do on Oahu.
As well as being a shopping center, the Royal Hawaiian Center offers free cultural classes and entertainment at The Royal Grove stage. 
Activities range from weekly hula and ukulele lessons to lei-making classes and pu'uhonua concerts. 
Just a 10-minute walk from the hotel.
Chilling out on one of Hawaii's most iconic beaches and revered surf spots should be at the top of your list. 
Whether playing in the waves, watching the sunset, or snapping a photo next to the Duke Kahanamoku statue, there's always something fun to do.
The beach is on the doorstep of the hotel.
The history and culture of Waikiki come to life on a 2-mile walk between Kapiolani Park Beach and Kalakaua Park.
En route, 21 surfboard markers commemorate notable people, places, and events associated with the district.
The first marker is less than a 10-minute walk from the hotel.
Learn about the 1941 Pearl Harbor attack at the wrecked ship USS Arizona, Pearl Harbor Visitor Center, museums, and exhibition galleries. 
Located a 30-minute drive from the hotel; free onsite parking is also available.
Note: Fees are applicable for associated sites like the Battleship Missouri Memorial and Pearl Harbor Aviation Museum. 
A treasure trove of contemporary Hawaiian art awaits inside the historic No. 1 Capitol District Building in downtown Honolulu.
The permanent exhibition showcases works by over 100 artists, such as Ben Norris and Bumpei Akaji, which help to understand the people and customs of the islands. 
A 15-minute drive or 30-minute bus ride from the hotel. 
6. Visit Ho'omaluhia Botanical Garden
Wander amid 400 acres of lush tropical vegetation set around an artificial lake and in the shadow of the Koolau Mountain Range.
It's a serene spot for everything from photo sessions and camping to fishing and birdwatching.
Located a 35-minute drive from the hotel; free onsite parking is available. 
One of many free hiking trails on Oahu, this tranquil route affords incredible views of Kailua Bay and the Koolau Mountains. 
Easy to combine with a morning or afternoon at nearby Kailua Beach and Lanikai Beach.
Located in Kailua, about a 45-minute drive from the hotel. 
8. Observe Turtles at Laniakea Beach
This beach on the North Shore is the best place on the island to watch green sea turtles basking in the sunshine on pristine sands.
Arrive from 11 am to 1 pm for the best chance of seeing the turtles.
Located on Oahu's North Shore, about an hour's drive from the hotel. 
9. Go Snorkeling at Shark's Cove
Shark's Cove has some of the island's clearest waters and rocky tidal pools teeming with tropical aquatic creatures.
Fish can be seen with the naked eye, but it's worth renting snorkeling gear for up-close interaction. 
Located in Pupukea, on the North Shore, just over an hour's drive from the hotel. 
Few waves are more iconic and lauded by surfers around the world than the perfect barrels of Banzai Pipeline, at Ehukai Beach Park.
Come in winter to see pros competing at the Triple Crown of Surfing and Billabong Pipeline Masters competitions. 
On the North Shore, approximately an hour's drive from the hotel.
It's not necessary to spend a fortune to enjoy Oahu's enticing blend of Hawaiian culture, art, food, and natural wonders. And when you stay at the Waikiki Resort Hotel, much of this and more will be a stone's throw away.