Tips for Driving & Parking on Oahu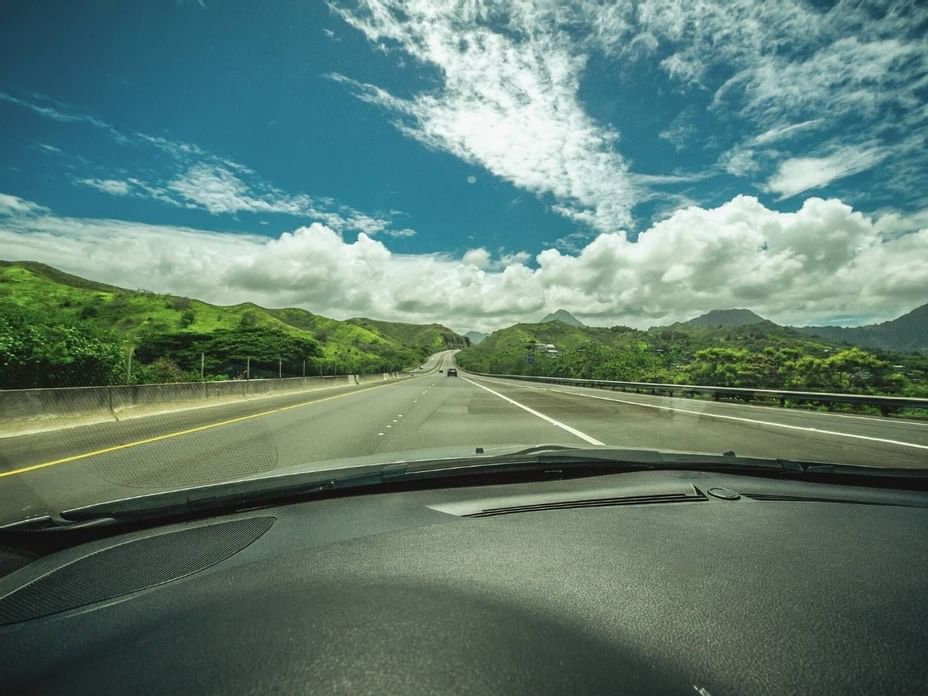 With nearly a million registered cars on Oahu, there's just one tiny (pun intended) problem: It's a small island with only a few hundred miles of roads. And it's not just on the highways that criss-cross Honolulu where you'll bump into traffic — even small side streets in Waikiki and neighborhood alleyways to hidden beaches are often lined with cars. 
But never fear. Whether you're off to a Honolulu land adventure or are on the hunt for Oahu's best shave ice, hang loose and enjoy the ride with our tips, tricks, and kamaʻāina (local) strategies to avoid rush hour, navigate the unique local driving customs, and get to where you want to go.
Where to Rent a Car in Honolulu
You'll find all the major car rental companies at Honolulu International Airport, as well as right in downtown Waikiki if you only want to rent a car for a few days out of your trip:
Car rentals are governed by Hawaii's Safe Travels Program, and require proof of vaccination or a negative COVID-19 test when picking up your rental.
You'll save money renting outside of the airport, as the airport rental locations charge an airport tax.
Demand for on-street meter parking in Waikiki often outstrips supply, especially on weekdays when locals need parking too. Check with your resort for on-site parking (at the Waikiki Resort Hotel, we offer a budget-friendly $35/day parking pass for registered guests).
How to Save Time During Honolulu's Infamous Rush Hour
With 2/3 of Hawaii's population living on the 40-mile-long island of Oahu, plan ahead for rush hour:
Expect heavy traffic on the H1 and H2 highways from 5 a.m. to 8:30 a.m. going into Honolulu, and from 3 p.m. to 6:30 p.m. leaving Honolulu.
Completely avoid some of the worst rush-hour bottlenecks, such as the Middle Street interchange on H1, the H1/H2 Merge, and the on-ramps for Vineyard Boulevard and Ward Avenue.
Enjoy less traffic in the summer and during the Christmas season.
Check the Honolulu traffic cameras before heading to or from your hotel to avoid problematic areas if possible.
Rules of the Road: Local Customs and Driving With Aloha
Driving in Oahu is just like driving on the mainland U.S. However, Oahu's residents strive to embody the Aloha spirit, even during rush hour or in a crowded parking lot:
Watch for hand waves or signals, as most residents are happy to let someone merge ahead of them into a lane of traffic and expect the same from you.
Avoid honking your horn, which is seen as very aggressive and rude here on the islands.
Right turns on red lights are permitted, but pay special care when in pedestrian-heavy areas like Waikiki where your right turn often includes a crosswalk.
Finally, parking space in Honolulu is a rarity. Your best bets tend to be:
Metered street parking, if available.
Paid parking at shopping centers, restaurants, and events (some venues offer validated parking with a purchase)
Areas farther from main avenues and attractions (i.e., parking gets easier the farther away from Waikiki Beach you get)
Watch out for color-coded curbs: Red is no parking, green lets you park for limited amounts of time, and yellow or white is strictly for loading and unloading
If you're staying at the Waikiki Resort Hotel, you're in luck. Our convenient location puts you right in the center of the activity, and our on-site parking for registered guests means you can safely park your car and have instant walkable access to all that Waikiki has to offer. Book your stay at the Waikiki Resort Hotel online or call us at 1-800-367-5116 to discover a world-class destination that's just steps (literally) from iconic, historic sights and sounds.