Oahu Sunrise and Sunset Guide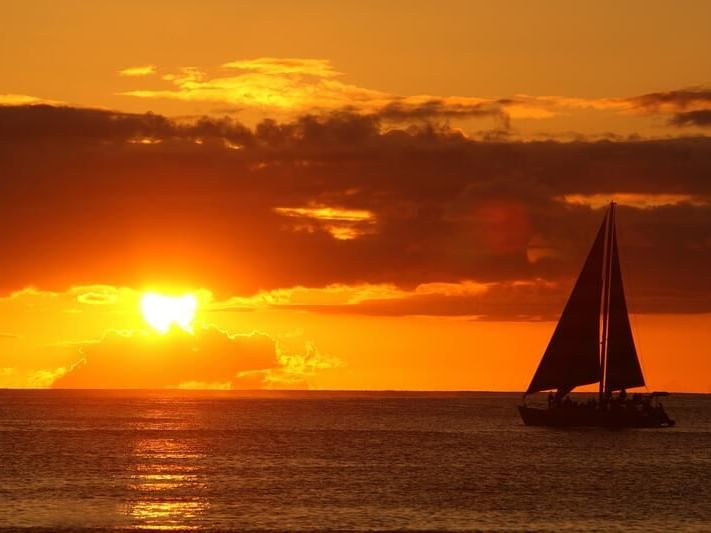 The incredible weather, lush tropical plant life, and abundance of sea life and bird species may make Oahu feel like a different planet. But rest assured, the island's unforgettable beauty is in fact quite earthly, and the sun rises in the east and sets in the west on the island just like its faraway "mainland" neighbors.
That said, the brilliant array of pink, purple, and orange hues that illuminate Oahu's sparkling ocean waters and skies at daybreak and nightfall may be unmatched anywhere else on the planet. Both locals and visitors will agree that the Oahu sunrise and Oahu sunset are an unmistakable part of the island experience. 
So where are the bests spots on Oahu to capture the magic of the sun? Let's find out!
Aloha Kakahiaka! (Good Morning!)
• 'Ehukai Pillbox (Northern Oahu)
Ehukai Pillbox — a defunct military installation — is perched on a large hilltop that offers sweeping views of Oahu's North Shore and the island's world-class surf break known as the "Seven Mile Miracle." A remarkable start to any day in Hawaii, indeed.
Directions from Waikiki Resort: Take I-H-2 N
Driving time: 60 minutes
• Kaena Point (Western Oahu)
Kaena Point — the westernmost spot on all of Oahu, offers an incredible spot to capture the day's beginning thanks to its expansive view of unique birds and wildlife. Stay to spend the day hiking the park's bright coast side trail.
Directions from Waikiki Resort: Take I-H-2 N
Driving time: 60 minutes
• Makapu'u Beach (Eastern Oahu)
Located near the remnant of an ancient rock ridge, the 1,000-foot stretch of white sand beach known as Makapu'u Beach offers once the most colorful sunrise spots on Oahu. Its tranquil turquoise shores and expansive views of the Pacific beyond complement the view.
Directions from Waikiki Resort: Take Kapiolani Boulevard to HI-72
Driving time: 30 minutes
Aloha Ahiahi! (Good Evening)
• Shark's Cove (Northern Oahu)
Photographers -- professional and amateur alike -- love to capture the brilliant sunset at Shark's Cove due to the way its rocky tide pools distribute the fading colors across the beach's numerous tide pools. You'll also find a number of palm trees dotting the beach, adding substance to the view and to photos that capture the light show above.
Directions from Waikiki Resort: Take I-H-2 North
Driving time: 60 minutes
• Yokohama Bay (Western Oahu)
The sunset at Yokohama bay can also include natural subject matter such as its rock jetty. But a majority of the bay's shoreline is free from visual barriers -- natural and otherwise. That means the expansive skyline and sunset can take center stage in a brilliant blast of yellows, oranges, and purples.
Directions from Waikiki Resort: Take I-H-1 W to HI-93
Driving time: 75 minutes
• Ala Moana Beach Park
The famed Ala Moana Beach Park is one of Oahu's most photographed sunset locations. Tall palm trees dot the sky and a seemingly endless water view offers a spectacular horizon to watch the rainbow of colors that make Hawaiian sunsets popular across the world.
Directions from Waikiki Resort: Follow Prince Edward Street to Ala Wai Boulevard<
Driving time: 10 minutes
Nani o Ka La (Beautiful Day)
Experiencing the beautiful Pacific sunrise is a phenomenal way to begin your day of adventure on Oahu, while sunset views are a relaxing and romantic end to a day of island activities. And both sunrise and sunset give you the perfect backdrop for memorable photos to remember your vacation by. No trip to Oahu is complete without experiencing both.