3 Scenic Drives in Oahu You Shouldn't Miss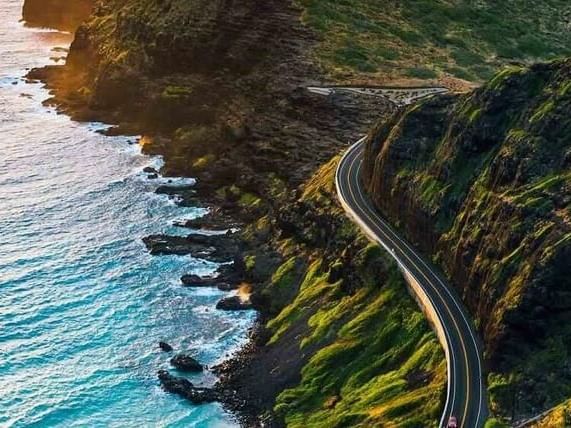 If you're looking for socially distanced activities during your Oahu stay, it doesn't get safer than navigating the island's hidden gems and breathtaking vistas from the comfort of your own vehicle.
Here are three of the best scenic drives in Oahu, with tips included for stops along the way.
H-1/Kalanianaole Highway to Makapuʻu Point
Miles: 16 miles (Waikiki-Hanuama Bay-Makapuʻu Point)
Drive Time from Waikiki: Approximately 40 minutes
Traffic: Expect congestion during peak times on weekdays from 3-6 pm.
The southeastern shores of Oahu pack quite the scenic punch. Travel along Interstate H-1 to the start of the Kalanianaole Highway (Route 72) and take in the surrounding beauty.
Make your first stop in Hanauma Bay, home to a nature preserve and underwater marine park popular for snorkelers. More than 400 fish species make these waters their home, so you can count on an exciting snorkeling experience.
Continuing east, you'll pass the Halona Blowhole, the impressive result of molten lava tubes that now act like a geyser, and the Halona Beach Cove. This sandy cove, or the "Peering Place," is most popular in the summer months when the waves are calmer.
The nearby Sandy Beach is notorious for unforgiving waves, even among the most experienced surfers. So it's recommended that you watch the crashing waves from the shore.
End your scenic drive at Makapuu Point. If you're ready for a hike, tackle the Makapuu Point Lighthouse Trail, a 2-mile roundtrip trek to spectacular views of the southeastern coast, potential whale-spotting, and the historic Makapuu Point Lighthouse.
Nearby Makapuu Beach is popular with bodysurfers but only recommended for experienced swimmers.
The North Shore
Miles: 52.9 miles (Waikiki-Waialua-Laie)
Drive Time from Waikiki: Approximately 1.5 hours
Traffic: Traffic can get heavy around tourist highlights like Laniakea Beach, on weekends, and during peak travel times on weekdays from 3-6 pm.
For those looking to experience the best of North Shore Oahu with some potential stops along the way, it doesn't get much better than the Kamehameha Highway. If you're starting your drive around lunch, fuel up with a stop at any of the shrimp trucks near Haleiwa town. (Giovanni's Shrimp Truck is iconic.)
From there, continue to Laniakea Beach, home to a resident population of sunning sea turtles, the Banzai Pipeline, a world-famous surf mecca, and Sunset Beach, named as such for the incredible sunsets you can watch there. Ending in Laie, you'll have the chance to stretch your legs at Laʻie Point State Wayside and its panoramic ocean views.

Pali Highway
Miles: 9.8 miles
Drive Time from Waikiki: Approximately 20 minutes
Traffic: Expect congestion during peak times on weekdays from 3-6 pm.
A short drive from Waikiki, the Pali Highway is easily accessible from the Honolulu city lights. Navigate twisting roads surrounded by the mountainsides of the Koʻolau Range until you reach your pullout to take in this spectacular drive.
Pullover and grab a jacket to brace against the winds once you reach the Nu'uanu Pali Lookout, an impressive viewpoint from 1,200 feet of the surrounding cliffs all the way to Oahu's Windward Coast. It costs just $3 per vehicle to enjoy the breathtaking panoramic views from this Lookout.
From there, you can either return or continue your scenic drive all the way to Kailua for access to more Oahu activities, including the beautiful Kailua Beach.
Waikiki: A Base for Oahu Road Trips
Oahu is an island that begs for exploration, but you'll need a base from which to do all that. Waikiki is the island's vibrant heart and a great place to kick off Oahu's best scenic drives. Choose from hotels near Waikiki Beach like the Waikiki Resort Hotel and you'll certainly have a place you'll want to return to after your scenic drive.