Best Snorkeling Spots in Oahu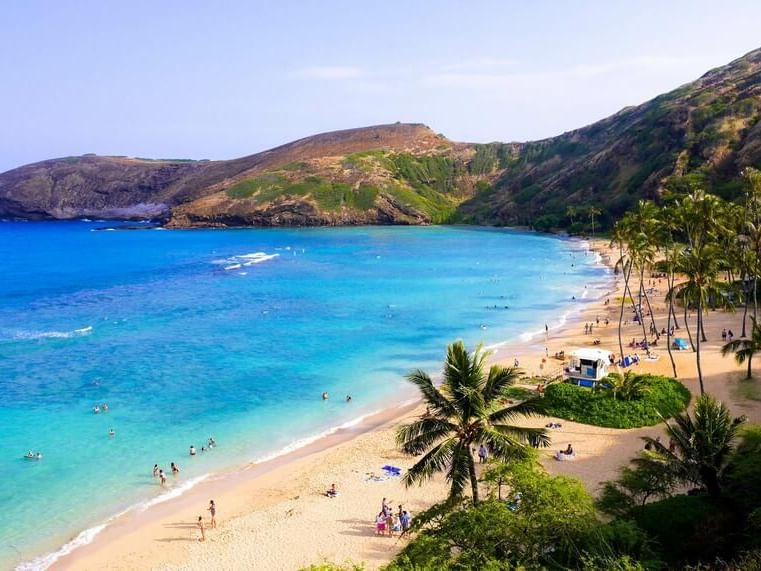 From scenic vistas, tropical forests, and glorious sunsets, Oahu is no stranger to beauty. And while scenic drives are a great way to take in the island's natural splendor, make sure to bring your flippers and mask along. Snorkeling in Oahu is the only way to capture the vibrant sea life and unique vegetation that lies just below the surface of its welcoming turquoise waters. 
With 112 miles of Oahu coastline to explore, there's no telling how many snorkeling sites you'll encounter. Just be sure not to leave these must-see spots off your list!
Honolulu
• Sans Souci Beach
Located in Kapiolani Park and just a short walk from the doors of the hotel, Sans Souci Beach is a favorite spot for locals and Oahu snorkeling tours. The beach's calm waters are great to spot colorful schools of fish. You might even spot a monk seal or two out on the rocks.
Directions from Waikiki Resort: Take Prince Edward Street to Kalakaua Ave
Walking time: 15 minutes
• Hanauma Bay
Formed within an ancient (dormant) volcanic core, Hanauma Bay is a vibrant ocean ecosystem that's home to large schools of butterflyfish, parrotfish, and red-lipped batfish. It's also the most popular snorkeling spot right now. 
Keep in mind that this spot is closed every Monday and Tuesday. And make sure to check out the price for entry and the open and close hours on the Hanauma Bay website.
Directions from Waikiki Resort: Take Kapiolani Boulevard to HI-72
Driving time: 28 minutes
Leeward Coast (Western Oahu)
• Papaoneone Beach
More commonly known as Turtle Beach for the turtles that often bask offshore, Papaoneone Beach offers an amazing snorkeling experience, particularly when the waters are calm. Here, you can spot black and yellow Moorish idol fish and fantail goldfish, among many others.
Directions from Waikiki Resort: Take Interstate 1 to HI-93W
Driving time: 90 minutes
• Electric Beach
Fish, eels, and hundreds of different species of sea creatures populate Electric Beach, named for a nearby power facility. In addition to damselfish and parrotfish, morning visitors may even see spinner dolphins darting across the waters in the distance.
Directions from Waikiki Resort:  Take Interstate 1
Driving time: 60 minutes
Windward Coast (Eastern Oahu)
• Malaekahana Beach
The calm, shallow waters of Malaekahana Beach are renowned for snorkeling. Here you can spot many humuhumunukunukuāpuaʻa or reef triggerfish, the fish species that was at one time the Hawaii state fish.
Directions from Waikiki Resort: Take HI-83 W
Driving time: 60 minutes
• Kailua Beach
Kailua Beach is home to a dense reef that offers its own unique snorkeling adventure. Hundreds of fish species and bright corals call this location home. Showers, locker rentals, and dressing rooms are also on-site.
Directions from Waikiki Resort: Take Interstate 1W to HI-61
Driving time: 40 minutes
Northshore (Northern Oahu)
• Sharks Cove
How fantastic is the snorkeling at Sharks Cove? It was once named by Scuba Diving Magazine as one of the world's Top 12 best snorkeling sights. While the shoreline is home to abundant wildlife, the entrance to the waters is rocky. So watch your step!
Directions from Waikiki Resort: Take I-H-2 N
Driving time: 1 hour 20 minutes
• Three Tables Beach
Bright, colorful live coral and schools of colorful fish call the clear waters of Three Tables Beach home. Fishing is not allowed here, so sea life thrives. Keep an eye out for large schools of tang, damselfish, and freckled hawkfish.
Directions from Waikiki Resort: Take I-H-2-N
Driving time: 1 hour 15 minutes
No trip to "The Gathering Place," as Oahu is known, is complete without visiting the island's best places to snorkel. It's truly a favorite pastime for both visitors and lifelong residents alike. Those unfamiliar with snorkeling should familiarize themselves with equipment and basic safety tips, such as never snorkeling alone, using sunscreen, and always staying close to the shore. 
A great day of swimming and snorkeling can create a lifetime of memories and help make your Hawaiian adventure truly memorable.