Kaimuki: A Foodie's Paradise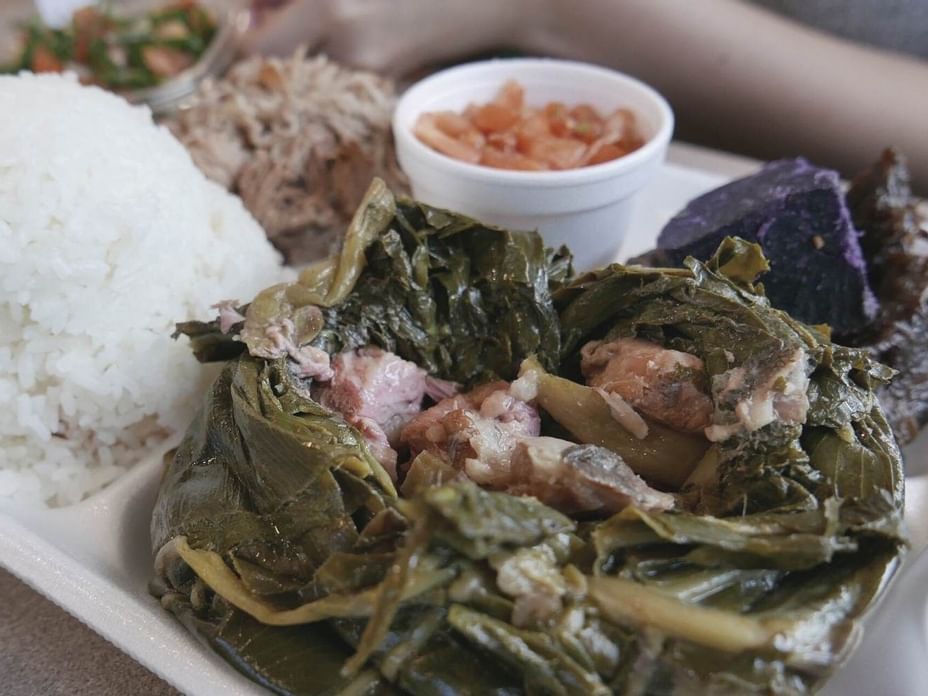 Whether you're craving authentic Hawaiian plate lunches or an elevated taste of Oahu's ethnic diversity, the vibrant neighborhood of Kaimuki—just minutes from the Waikiki Strip—is a foodie's paradise. After strolling the many boutiques and mom-and-pop shops along Kaimuki's bustling Waialae Avenue, dig into some of the best restaurants Hawaii has to offer. Warning: each of these restaurants in Kaimuki will leave you with a major kanak attack (local pidgin slang for the "food coma" you feel after a big, satisfying meal).
The 6 Best Places to Eat in Kaimuki
From local hole-in-the-wall diners to high-end Asian fusion, you won't want to miss these Kaimuki eateries.
1. To Thai For
Location: 3571 Waialae Ave (in the Waialae Plaza)
Specialties: Menu is based on Central Thailand cuisine and draws on generations of rice farmer recipes handed down from family to family
Know before you go: This Kaimuki restaurant was a finalist for Oahu's best Thai food in Honolulu Magazine's prestigious Hale Aina Awards. It's best known for its pad thai, with house-made vinegar adding an acidic bite to balance out the dish's sweetness.
2. Mud Hen Water
Location: 452 Waialae Ave.
Specialties: Small plates of Hawaiian and local favorites, but with an elevated and creative twist
Know before you go: Grab a seat on their new outdoor patio, crisscrossed with string lights offering a breezy view of Kaimuki's eclectic vibe. Each dish is inspired by Hawaiian cuisine, like its lau lau made with Molokai venison at dinner, or its corned beef and kalo (taro) hash at brunch. Everything pairs well with their farm-to-glass housemade cocktails.
3. Sprout Sandwich Shop
Location: 154 Koko Head Ave
Specialties: Healthy, filling made-from-scratch dishes built around fresh, local ingredients sourced from nearby farms
Know before you go: There's something for every diet, whether you're vegan or a hardcore carnivore. The popular "The Duke" sandwich reinvents a BLT with house-made chipotle mayo and fresh, oven-roasted turkey on a crunchy toasted ciabatta.
4. Cowcow's Tea
Location: 3620 Waialae Ave
Specialties: Boba tea in an Instagrammable, eye-catching cafe
Know before you go: Get refreshed on a hot Hawaiian day with Cowcow's unique approach to the current boba tea (i.e. bubble tea) trend that's sweeping the state. Unlike most boba cafes, this Kamuki restaurant uses rice yogurt—it's a unique and delightful change. Best-sellers include taro purple rice yogurt, and pineapple green tea (made with real chunks of juicy pineapple!)
5. Kaimuki Superette
Location: 3458 Waialae Ave
Specialties: A reincarnation of a popular downtown Honolulu spot with a casual market vibe
Know before you go: Think cafeteria dining meets local gourmet, with an expansive menu of quiche, sandwiches, soups, and more. Grab a to-go lunch or dinner, or browse the grocery shelves for local favorites like watermelon rind kim chee (a Korean-inspired pickled dish) or candied green mango.
6. Oahu Grill
Location: 1137 11th Ave #104
Specialties: Native Hawaiian cuisine with flair
Know before you go: The head chef hails from the island of Molokai and worked at the iconic Waiahole Poi Factory, giving local street cred to this Kaimuki eatery's Native Hawaiian menu. Try their squid luau or chicken hekka plates—classic Hawaiian dishes made with fresh ingredients that combine sweet, salty, and savory in a filling and budget-friendly dish.
Neighborhoods like Kaimuki offer a peek at the diverse, delicious Hawaiian food scene. When you stay at the conveniently located Waikiki Resort Hotel, you're just a short ride from all the deliciousness that these Kaimuki eateries have to offer. Book your stay at the Waikiki Resort Hotel online or call us at 1-800-367-5116 to see why our hotel is a top choice for locals on staycation and tourists from the mainland alike.