Exploring Quaint Kaimuki: Neighborhood Guide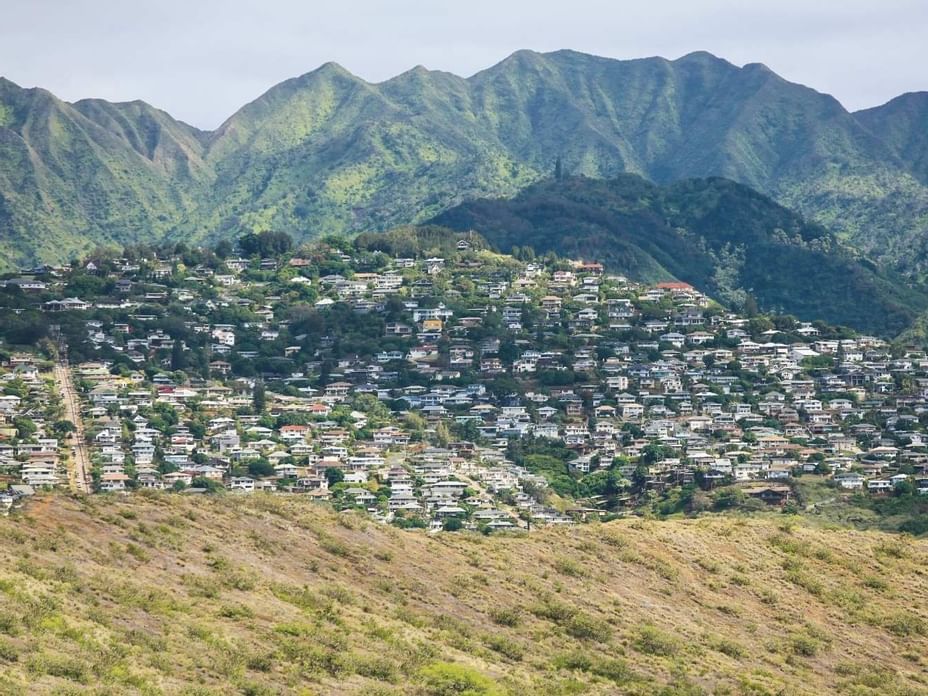 Perched just on the edge of bustling Waikiki is the historic, eclectic Kaimuki neighborhood. Quaint yet vibrant, this town offers more than just views of scenic Diamond Head. When you're ready to take a break from the beaches, nightlife, and urban sounds of the iconic Waikiki Strip, holoholo (Hawaiian for "go" or "visit") Kaimuki and discover incredible opportunities to shop, dine, and experience life in an authentic Hawaiian town. Explore Kaimuki with this visitor's introduction to all the neighborhood has to offer.
Where is Kaimuki?
Waikiki and Kaimuki border each other, with the edges of Kaimuki creeping up against Diamond Head and the Ala Wai Golf Course on Waikiki's eastern end. In fact, it's just a short 10-minute drive from the centrally located Waikiki Resort Hotel.
When talking to kamaʻāina (Hawaii locals) about directions to Kaimuki, they'll likely tell you to head mauka (toward the mountains) from iconic Diamond Head, which hovers over Waikiki Beach.
The History of Kaimuki
If you pay close attention when you explore Kaimuki, you'll probably notice countless plaques, signs, and statues telling a story of Kaimuki's history and its ancestors. Kaimuki was used strategically by the Kingdom of Hawai for centuries:
King Kamehameha I used the red dirt hills of the Kaimuki area as lookout spots when stationing his armies on Waikiki Beach.
King Kamehameha III gave the agricultural land that would become today's Kaimuki to future King William Lunalilo in the mid-1800s.
King David Kalakaua, the last king of Hawaii and successor to the throne after Lunalilo, used the area to house his free-ranging exotic birds.
Today, this casual walking district is dotted with delicious local eateries, mom-and-pop shops, and specialty boutiques that invite visitors and locals alike to put on a pair of "slippahs" (pidgin, or Hawaiian slang, for the ubiquitous sandals that Hawaii residents wear) and stroll through this historic neighborhood.
Things to Do When You Explore Kaimuki
Because it's a haven for creative folk, Kaimuki has an unparalleled mix of storefronts offering handmade goods, music records, arts and crafts, vintage Hawaiian souvenirs, and priceless antiques. Meander down sunny Waialae Avenue—the main strip through the town—to get a taste of what Kaimuki has to offer.
Classic, Local Favorites
Because of its history, generations of Honolulu residents have grown up visiting the following shops. The following are tried-and-true go-to's for a boundless array of goodies:
Kaimuki's Crack Seed Store (1156 Koko Head Ave): What started as a place to buy li hing mui treats (salty-and-sweet dried fruits and snacks) now offers numerous specialty goods. It's been family-owned and operated for approximately 80 years.
KCC Farmers' Market (4303 Diamond Head Rd): Nestled in the south end of Kaimuki, this Saturday market has everything from hot meals at food trucks to overflowing amounts of fresh Hawaiian fruits and veggies.
Pu'u O Kaimuki Park (951 Koko Head Ave): It's the perfect spot to unwind, enjoy a takeout lunch, or catch Waikiki's breathtaking sunsets over Diamond Head.
Can't-Miss Dining
Once you've worked up an appetite exploring Kaimuki, refuel at these joints:
Okata Bento (3616 Waialae Ave.): Proving that "cheap eats" doesn't have to mean "low quality," this unassuming hole-in-the-wall eatery is renowned for its overflowing bento boxes and cheap cheeseburgers. It's been cooking food-to-order for nearly four decades.
Kaimuki Superette (3458 Waialae Ave.): This unassuming cafeteria-style restaurant is renowned for its farm-to-fork, all-day breakfast menu.
Unique Boutiques and Shops
These newer shops and stores encapsulate the new wave of creative, artsy boutiques being drawn to Kaimuki's eclectic energy and proximity to downtown Honolulu:
Jewelry: As its name implies, Jewel or Juice (3619 Waialae Ave) lets you pick out stunning necklaces, bracelets, and earrings while sipping freshly made juices, smoothies, or even acai bowls. Or hit up the craft emporium Bead It! Kaimuki (1152 Koko Head Ave) to make your own jewelry.
Clothing: Amie Honolulu (3434 Wai'alae Ave) offers chic, minimalist fashion and lifestyle pieces. Ten Tomorrow (1114 11th Ave) is home to local womenswear designers specializing in modern, flowing resort wear.
Souvenirs and gifts: Sugarcane Shop (1137 11th Ave) bursts with locally made gifts, vintage dishes, and handmade jewelry. And Da Shop HNL (3565 Harding Ave.) sells "curiosities" and books—it's one of the few independent bookstores left in Hawaii.
Towns like Kaimuki offer you a peek into local life and unique items and foods outside of the more touristy Waikiki district. When you stay at the conveniently located Waikiki Resort Hotel, you're just a hop and a skip away from chances to explore Kaimuki and other nearby neighborhoods. Book your stay at the Waikiki Resort Hotel online or call us at 1-800-367-5116 to see why our hotel is a top choice for locals on staycation and tourists from the mainland alike.