A Guide to Enjoying Hawaii's Famous Lava Tubes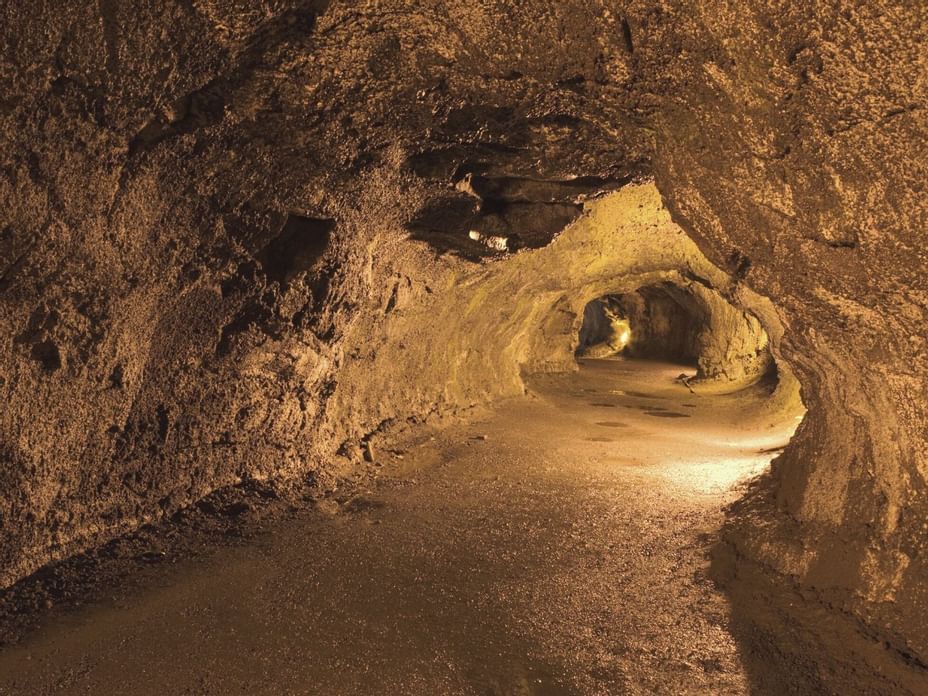 Right now, pāhoehoe and ʻaʻā (the Hawaiian words for lava) are flowing throughout the Big Island of Hawaiʻi (the first time the volcanic Mauna Loa has erupted since 1984). Lava tubes—or nāhuku—are stunning relics of active lava flows, creating unique rock formations and lush, cool habitats shielded from the Hawaiian sun. And while Oahu's numerous dormant volcanoes are not at risk of erupting anytime soon, lava tubes in Hawaii are an incredible way to get up close and personal with the raw forces of nature that forged the foundation of the Hawaiian Kingdom.
What is a Lava Tube in Hawaii?
According to the U.S. Geological Survey, lava tubes in Hawaii are formed when:
A volcano erupts—which happens every two to three years in Hawaii—and the hot lava flows down the slope of the volcano, forming a lava field.
The top crust of the lava field cools and hardens into solid rock.
Lava continues to flow under the hardened top surface of the lava field, forming tunnels of hot magma underneath.
After a period of time, the hot magma flows out of the hardened tube, leaving behind a network of tunnels and caverns.
Native Hawaiians gave the damp lava tubes great importance in their culture, using the tubes as shelter, food storage sites, ceremonial sites, and even places to gather cool, fresh water. You can find the world's longest lava tube on the slopes of Hawaii's Kīlauea. This 500-year-old cave system stretches more than 40 miles in length.
Where Are Lava Tubes Found on Oahu?
The island of Oahu is home to multiple dormant volcanoes that offer breathtaking views and vistas of the surrounding Pacific. If you're wondering where are lava tubes found on Oahu, you have multiple options—but these three are your best bets for a first-time visit:
Hālona Blowhole

Location: Type it into your navigation app or use the GPS coordinates (Latitude: 21.28273497, Longitude: -157.677225) to find this Southshore blowhole—its geyser can shoot as high as 30 feet—just a 20-minute drive from the centrally located Waikiki Resort Hotel
What it is: The Hawaii magazine calls it one of the island's "most iconic beaches" and names the drive to the lava tube "among the most scenic on the island." Look for the lava tube at the back end of a beach made famous in movies like Pirates of the Caribbean and the 1950s classic From Here to Eternity. Don't forget a flashlight!

Shark's Cove

Location: 59-711 Kamehameha Hwy, Haleiwa, HI 96712, on Oahu's world-famous north shore
What it is: Part of Pupukea Beach Park, dive into an underwater vista full of endangered Hawaiian green sea turtles and vibrant tropical fish. Then, explore numerous underwater lava tubes and caves—yes, true to its name, some are filled with white-tipped reef sharks, but they are harmless to swimmers.

Mermaid's Cave

Location: 89-435 Keaulana Ave, Waianae, HI 96792
What it is: Found at Nanakuli Beach, hike across lava rock cliffs—careful, the rocks are sharp—to find entries into stunning underwater caves full of turquoise water. Keep in mind these caves are filled with the tide, and you should only enter when the tide is low and calm, and only if you're well-experienced with ocean safety.
Lava tubes in Hawaii are an incredible way to see how Pele (the Hawaiian goddess of fire and volcanoes) helped build the lush landscapes that we visit today, and that Native Hawaiians continue to call home. At the centrally located Waikiki Resort Hotel, you're just a short drive from some of the best geysers, caves, and lava tubes in Hawaii. Book your stay at the Waikiki Resort Hotel online or call us at 1-800-367-5116 to see why our location, friendly staff, convenience, and amenities give us top ratings among our guests— whether they're seeking cave explorations or just a casual, relaxing day at the beach.