Best Dormant Volcanoes to See In and Around Oahu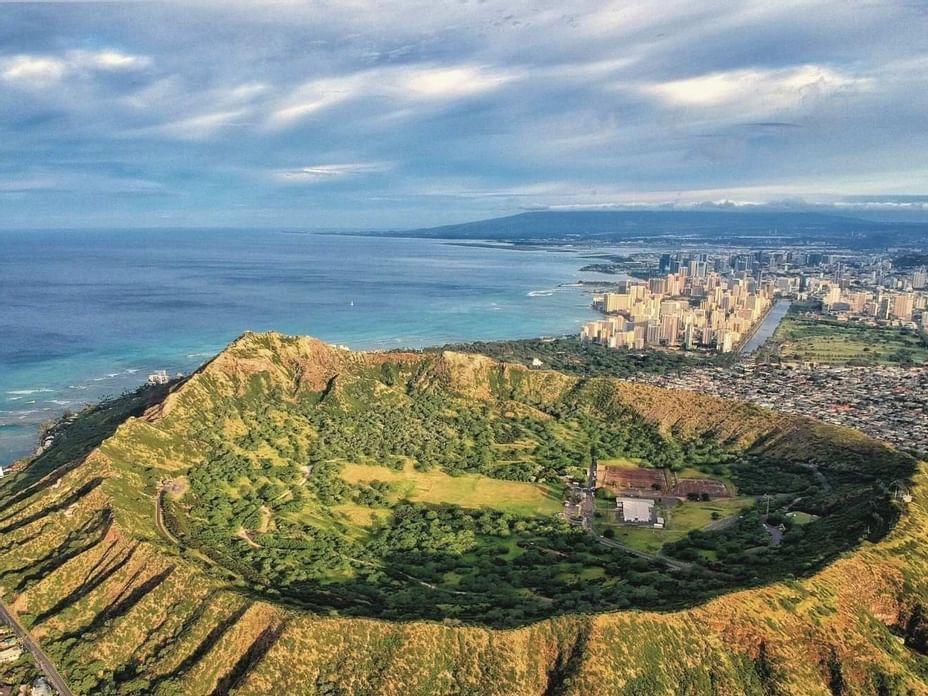 Oahu—the second-oldest island in the Hawaiian chain, second to the garden isle of Kauai—was formed by volcanoes. The first volcano erupted nearly 4 million years ago, with some evidence suggesting that lava might have been still flowing across the island as recently as 5,000 years ago. Today, these numerous inactive volcanoes on Oahu are no longer filled with hot lava, but they are hotspots for tourists seeking unparalleled views, breezy hikes, and breathtaking sunrises and sunsets.

Does Oahu Have Active Volcanoes?
There is so much volcanic activity in the Aloha State that there's an actual government agency—known as the USGS Hawaiian Volcano Observatory (HVO)—responsible for keeping track of them. Thankfully, Hawaii's six active volcanoes are located on Maui and Hawaii Island, meaning you don't have to worry about a volcano ruining your Oahu getaway.
However, volcanic smog (vog) can be an issue on Oahu, with the volcanoes on Maui and Hawaii impacting air quality for approximately two to three weeks a year. Be sure to keep track of vog-related air quality before your visit.
Dormant Volcanoes in Hawaii: The 3 Best Volcanoes to See on Oahu
1. Diamond Head
Known as Lë'ahi to Native Hawaiians, this nationally designated landmark towers over the Waikiki strip and is one of the most recognizable sites in the state:
Directions: Diamond Head Crater and its visitor center are located in Honolulu, HI 96815. It doesn't have a street address, but entering it into any GPS will give you easy directions. It's a short 8-minute drive from the Waikiki Resort Hotel. Take Kūhiō Ave. to Kapahulu Ave, turn right onto Paki Ave, turn left on Monsarrat Ave, and continue onto Diamond Head Rd.
Volcanic history: Diamond Head erupted approximately 150,000 years ago and is a monogenetic volcano, meaning it only erupts a single time.
Why you should visit: There's a reason it's featured on every tourist brochure and postcard—it's a short 1.6-mile roundtrip hike that gives you incredible views of Waikiki (don't forget to take a picture-perfect photo for Instagram). Because it's so close to your hotel, it's also a great spot to catch a sunrise or sunset.
2. Koko Head
Just nine miles from Diamond Head are scenic Koko Head and Koko Crater:
Directions: 7491 Kokonani St, Honolulu, HI 96825
Volcanic history: You'll find numerous visible craters in the area. It was the site of Oahu's last volcanic activity, with lava flowing just a few thousand years ago. Native Hawaiians believe it was created when the pig god Kamapuaa chased Pele, the goddess of volcanoes.
Why you should visit: Climb more than 1,000 stairs to the Kokohead Lookout and take in a birds-eye vista of the entire eastern shoreline. Don't miss the historic military bunker, then climb back down and relax in the lush, fragrant 60-acre Koko Crater Botanical Garden nestled right in the bottom of an actual volcanic crater.
3. Punchbowl
Craving a seismic view, but don't feel like hiking? Take in a scenic panorama of downtown Honolulu right from your car:
Directions: 2177 Puowaina Dr, Honolulu, HI 96813
Volcanic history: This volcano was formed from an eruption through what used to be coral reefs and was originally known as Pūowaina ("Hill of Sacrifice") because it was once a sacred place where human sacrifices and executions were carried out.
Why you should visit: Stroll over to the impressive war monument in the national cemetery, where you also get impressive views of Waikiki, Diamond Head, downtown Honolulu, and the massive crater's interior. On the way back to Waikiki, take a detour to the Tantalus Lookout—the edge of another extinct volcano that offers amazing views that you can enjoy by car (no hiking required).
All of Oahu's most scenic dormant volcanoes are only a few minutes from the conveniently located Waikiki Resort Hotel. With lava-hot room specials, amazing amenities, and friendly staff who know the aloha spirit isn't dormant like these volcanoes, you'll enjoy the best that Hawaii has to offer—and all just steps from world-famous Waikiki Beach. Book your stay at the Waikiki Resort Hotel online or call us at 1-800-367-5116 to see why our location, friendly staff, convenience, and amenities give us top ratings among our guests.