6 Top Spots for Delicious Manapua on Oahu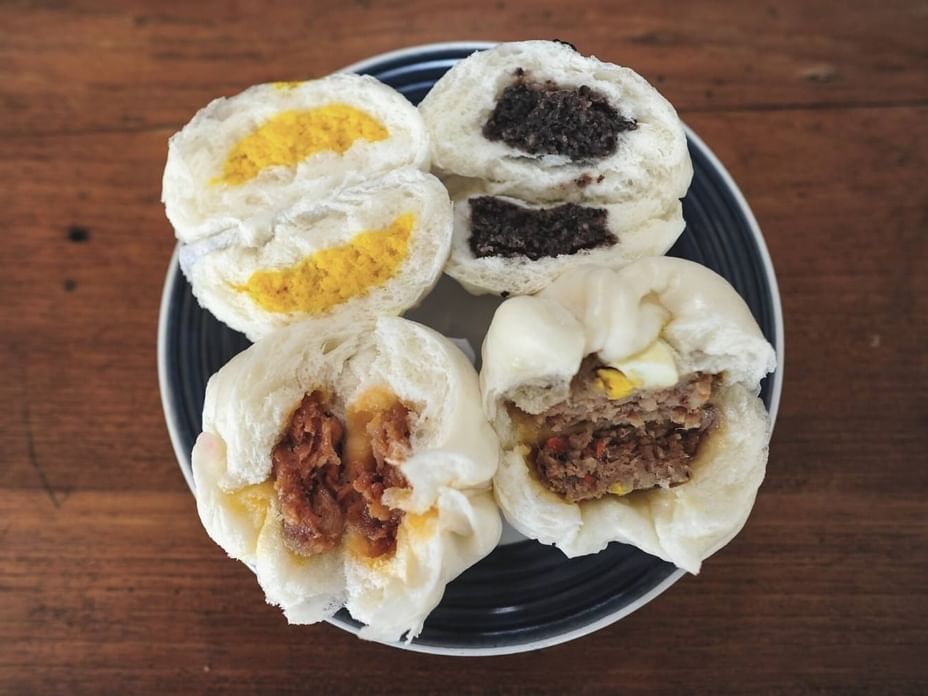 Hawaii is known for many delicious local food items, from poke bowls to shave ice. But what about manapua–Hawaii's take on Cantonese char siu bao?
Char siu bao first arrived in Hawaii in the 19th century when Chinese immigrants arrived to work on the sugarcane and pineapple plantations. These savory, fluffy buns are served steamed and are traditionally stuffed with an Asian-flavored marinated pork...but you'll also find versions of manapua in Hawaii filled with sweet potato, kalua pork, curry chicken, and even hot dogs.
Whether you're a fan of Asian fusion cuisine or just want to get all the local flavor you can on your Hawaiian vacation, here are five of the best places to enjoy manapua on Oahu.
1. Chun Wah Kam
4 locations in Hawaii, including one at Ala Moana Center
One of Hawaii's oldest family-run businesses
Chun Wah Kam's first location opened 75 years ago, and today they're going strong with eateries across Oahu. Their menu is filled with creative takes on manapua, including pizza, shoyu chicken, ube, and so much more. Their manapua is available baked or steamed, so get one of each to decide which style you prefer.
2. Aiea Manapua & Snacks
Located near Pearl Harbor National Memorial
Originally opened in 1980
Their manapua is available frozen if you want to take some home with you!
On your way to Waimano Falls or visiting the Pearl Harbor National Memorial? Stop by Aiea Manapua for a savory snack. This Oahu staple has been under new ownership since 2000, so expect to find a delicious mix of traditional manpua as well as more inventive flavors–like pizza, turkey melt, ham & cheese omelet, and cheeseburger.
3. Royal Kitchen
Less than 5 miles away from Waikiki Resort Hotel
One of the first eateries in Honolulu to bake their manapua instead of steaming it
Free parking is available in the Open Market parking lot
Located in the heart of downtown Honolulu, Royal Kitchen is the perfect place to stop for a snack after a visit to Foster Botanical Garden or the Maunakea Marketplace. Some of their most unique flavors include Portuguese sausage, black sugar, and coconut. And beyond manapua, Royal Kitchen has lots of dim sum and noodle offerings!
4. Sing Cheong Yuan Bakery
Located in downtown Honolulu
Less than 5 miles from Waikiki Resort Hotel
Sing Cheong Yuan Bakery is loved on the island for their traditional Chinese snacks, especially their mochi mooncakes and egg custard tarts. But they also make some of the best manapua in Oahu. Get the classic char siu one either steamed or baked or try the lap cheong (Chinese pork sausage).
5. Honolulu Kitchen
Creator of the "original fried manapua"
Mini and full-sized manapua available
Parking lot available
Located in Waipahu, Honolulu Kitchen is a bit of a trek from the Waikiki Resort Hotel...but if you're exploring the island, make sure to stop by on your way back to Waikiki Beach. Yelp reviewers are raving about creative manapua flavors like pork adobo, mango, spinach mozzarella, honey garlic chicken, chocolate creme, mango, and more.
6. 7-Eleven
Dozens of locations on Oahu
Many locations are open 24 hours a day
Looking for a convenient place to get some good manapua? Pop into a 7-Eleven in Oahu–there are even a few within walking distance from the Waikiki Resort Hotel! These are promised to be freshly made, and come in flavors like teriyaki chicken, curry chicken, char siu, and lap cheong. 7-Eleven in Hawaii also sells other typical local items like Spam Musubi and Nori Rolls.