Top Places to Have a Beach Wedding on Oahu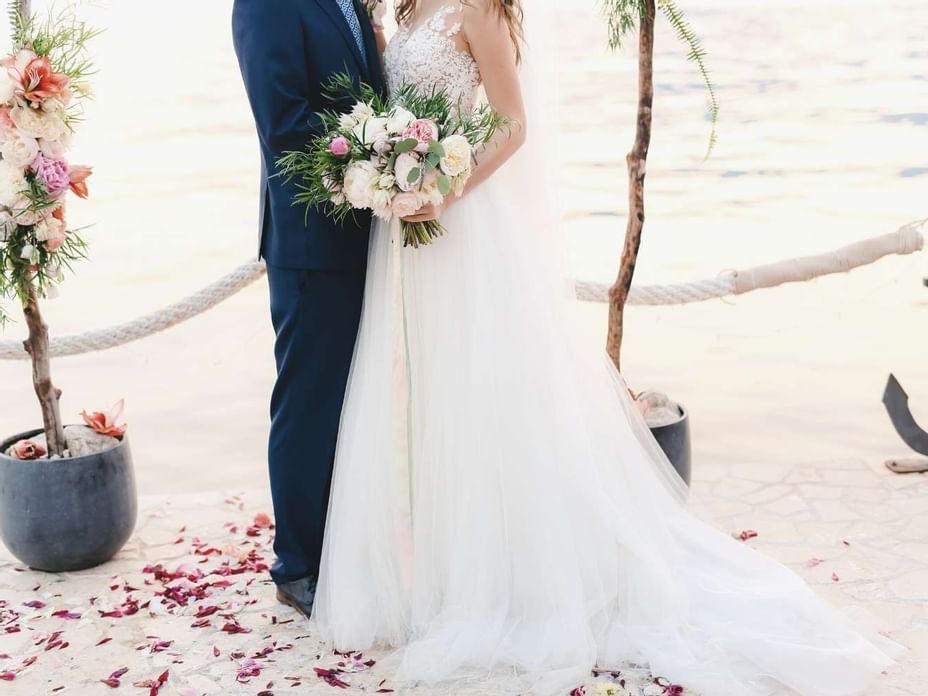 It doesn't get more beautiful than a Hawaiian wedding. And if you're planning on exchanging vows during your stay in Oahu, you're in luck. There are some breathtaking beaches on Oahu that are perfect for ceremonies of all sizes. Whether you want an intimate sunset ceremony or a grand daytime celebration, here are seven places to have a beach wedding in Oahu.
1. Waialae Beach
Just 4 miles away from Waikiki Beach
Popular photo shoot location
Parking lot and restrooms available
If you're planning to stay on Waikiki Beach and want to get married close by, Waialae Beach is a great option. You'll find beautiful palm trees, shallow waters, and views of a nearby offshore island. It's a perfect backdrop for a ceremony or beach elopement. Because of its convenient location, this beach is a popular pick with lovebirds, so plan to arrive in the morning for your best shot at an uninterrupted ceremony and plenty of parking.
2. He'eia State Park
30-minute drive from Waikiki Beach
Public parking and restrooms are available
If you want to make sure you're the only one tying the knot on the beach, check out the offerings at He'eia State Park, right next to Kaneohe Bay. Enjoy a waterfront ceremony (expect to pay a minimum of $200/hour), and host guests in their on-site banquet hall if you want to keep the party going. They're sure to love the sweeping views of the bay!
3. Haleiwa Ali'i Beach Park
Located on Oahu's North Shore
Expect an hour's drive from Waikiki Beach
Parking lot available
Want to have a beachfront ceremony that feels a little more authentic? Haleiwa Ali'i Beach Park is conveniently located near the historic town of Haleiwa, which is filled with great shops and restaurants. Enjoy a beachfront ceremony with plenty of palm trees. And if you're eloping or planning a small ceremony, head into town afterwords for celebratory snacks and cocktails.
4. Waimanalo Beach
Longest white sand beach on Oahu
Located on the east side of the island
18 miles from Waikiki Beach
Looking for a backdrop of pristine white sand, crystal-clear water, and impressive mountains? Waimanalo Beach is for you. You might even get lucky and spot Hawaiian Green Sea Turtles during your ceremony!
5. Kewaula Beach at Yokohama Bay
44 miles from Waikiki Beach
Best for sunrise or sunset ceremonies
If you want to get really adventurous, hold your beach ceremony at Kewaula Beach, located in one of Oahu's most remote regions. You'll find a sprawling sandy beach with breathtaking lava formations and plenty of tropical greenery.
6. Kualoa Regional Park Beach
Listed on the National Register of Historic Places
45-minute drive from Waikiki Beach
With views of the Ko'olau Mountains and the island of Mokoli'i, this regional park has both a luxurious green lawn and a sprawling sandy shoreline. The park is large enough that you should be able to find a quiet spot for your ceremony, though it's best to go in the morning or evening.
7. Sunset Beach
40 miles from Waikiki Beach
Best for sunset ceremonies
If you're set on a sunset ceremony, then why not exchange vows at Sunset Beach? This beach, located on Oahu's North Shore, stretches uninterrupted for two miles. There are a few eateries along the shore, too, so you can grab a post-ceremony bite to eat before heading back to Waikiki.