7 Famous Waterfalls to See on Oahu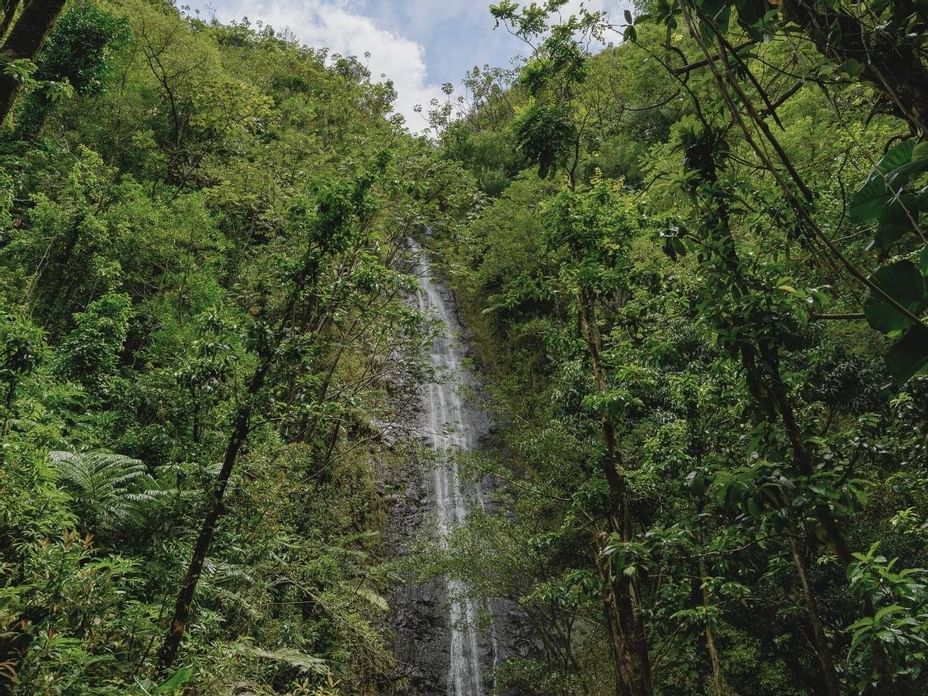 Hawaii is famous for many things, with its waterfalls being one of them. And if you're spending your vacation at the Waikiki Resort Hotel, you're in luck–some of the best Oahu waterfalls are just a short drive away. Whether you're looking for a family-friendly day trip or craving an adrenaline-pumping excursion, there's a perfect waterfall experience for everyone. Here, check out seven of the best Oahu waterfalls to visit on your next vacation.
Waimea Falls
Less than one mile to hike to the falls
Ticketed entry required
Lifeguards on duty and life jackets available
Waimea Falls is one of the most famous waterfalls on Oahu and visiting it makes for a great day trip from Waikiki Beach. It's on the North side of the island, about an hour away by car. You'll hike on a paved road through botanical gardens before you reach the 45-foot high falls, which flow into a pool that's open for swimming and relaxing.
Manoa Falls
Used as a film set for Jurassic Park and Lost
Expect to pay a $5 parking fee
Restaurants and cafes nearby
Manoa Falls is very convenient to Waikiki–just about 6 miles by car. You can reach the falls by car or via an easy (and scenic!) 45-minute hike through a tropical bamboo forest. Keep in mind that swimming isn't allowed here, so you won't be able to take a dip to cool off after your hike.
Waimano Falls
3-mile roundtrip hike
30-minute drive from Waikiki Resort Hotel
You can reach Waimano Falls, in Pearl City, through a relatively short hike, and upon arrival, you'll find two pools perfect for taking a dip. You might even see some brave hikers jump the 20-feet distance of the falls into the pool below!
Li'keke Falls
1.75-mile hike
Expect muddy trails!
This is one of the less-famous waterfalls on Oahu, but it's a great choice if you're looking for a more secluded day hike. The 15-foot falls cascade into a pool where you can cool off after your trek. You'll find the trailhead–and stunning views–at Nuuanu Pali Lookout, a 20-minute drive up Route 61 from Waikiki Beach.
Aihualama Falls
This is a well-kept trail that's great for hikers of all levels. The start of the trail is an easy 20-minute drive from the Waikiki Resort Hotel–just stay on Manoa Road. Once you've arrived, keep an eye out for signage along the way to learn more about the plant life on the trail, and stop by the Honolulu Pineapple Co. for a fruity treat on your way back to Waikiki.
Lulumahu Falls
2.5-mile round trip hike
Located on private property, so you'll need to obtain a day permit
This is one of the most impressive Oahu waterfalls–it's 50 feet tall, and you can even see it from the Pali Highway. It's typically a more overgrown trail that's not as busy as other popular falls, so it's better for more experienced hikers. Be sure to bring your swimsuit to take a dip!
Kapena Falls
Quick 1-mile hike
Large natural pools for swimming
Kapena Falls is just a 13-minute drive from the Waikiki Resort Hotel, located near the Punchbowl Crater. Plan to hike this short trail in the morning, then stop by the Kaka'ako neighborhood for a leisurely lunch on your way back to the beach.