5 of the Best Coffee Shops in Waikiki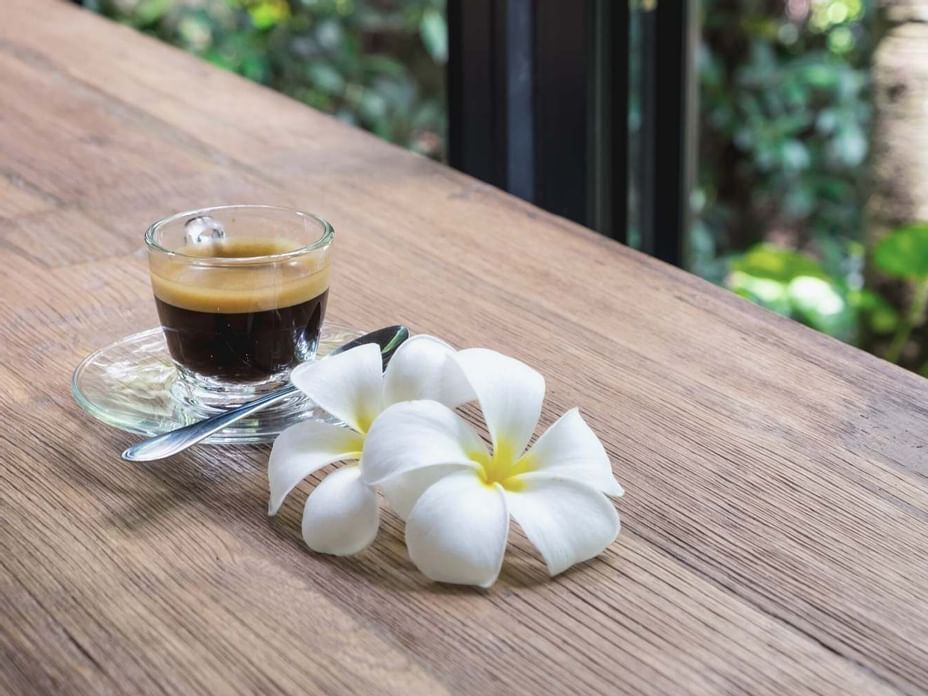 Famous for beverages like Mai Tai and the lilikoi (passion fruit)-based POG juice, Hawaii also does coffee in style. The mineral-rich soil of the islands is ideal for growing coffee and plantations sprawl across Big Island, Kauai, Maui, Molokai, and Oahu. Many Hawaiians favor drip coffee brewed using Kona beans grown on the Big Island, but local roasters cater to all tastes. So whether you're looking for a morning fix or an afternoon pick-me-up, here are the best coffee shops in Waikiki.
About: Kai Coffee was founded in 2011 by a husband and wife team that wanted to create a roasting business with a malama (giving back) ethos.
The Menu: Wide range of in-house and takeout coffees brewed with Hawaiian artisanal beans. Options for milk alternatives like almond soy, coconut, and macadamia nut.
Good to Know: Beans are available to purchase, and every kilo bought provides food for four children in Uganda.
Locations: 2424 and 2490 Kalakaua Avenue. Both are about a 3-minute walk from the hotel.
About: Another husband and wife team (from Seattle) opened Kona Coffee Purveyors in 2008. They bring the beans directly to the store from a farm in Kona, Big Island.
The Menu: Everything from straight Kona coffee to Americano, espresso, flat white, and cold brews. A large selection of beans by weight is available to take home.
Good to Know: The café collaborates with the award-winning B Patisserie to offer a delicious choice of croissants, Kouign-Amann, and other pastries.
Location: International Marketplace, 2330 Kalakaua Avenue. Around a 7-minute walk from the hotel.
About: Hawaiian Aroma Caffe is a high-end chain of cafés that serve tropical-inspired food and drinks alongside some of the best coffee on Oahu. It's famous for its latte art.
The Menu: From filter coffee to flat white and almond lattes. Fruit lovers and the sweet-toothed should try an Aroma Special, which is a mocha infused with flavors such as raspberry with white chocolate and blackberry with chocolate.
Good to Know: The café hosts nightly events like live music and art exhibitions. Find out what's going on via the event schedule.
Locations: 150 Kaʻiulani Avenue (5-minute walk) and 2300 Kalakaua Avenue (7-minute walk).
About: Close to Honolulu Zoo, this stylish spot serves locally-sourced coffee in addition to breakfasts, brunch, craft beer, and cocktails.
The Menu: Knots introduced coffee jelly to Waikiki. Be adventurous and try the Soft Serve Tokyo Style, a coffee jelly topped with vanilla soft serve, espresso drizzle, and a cookie.
Good to Know: You can order grab-and-go options ideal for a beach day or park picnic. Alternatively, take your time over your brew at the café's open-air terrace.
Location: 150 Kapahulu Ave, about a 7-minute walk from the hotel.
About: Since 1996, Island Vintage Coffee has been roasting 100% gourmet Kona beans to the delight of Waikiki's coffee fanatics.
The Menu: If you feel like jazzing up your brew then this is the place. The Honey Hawaiian Latte and Vintage Kona Mocha (frozen coffee with macadamia, coconut, and peaberry chips) are must-tries.
Good to Know: Lines are common, but you can save time on takeout coffee by placing your order online in advance.
Location: Royal Hawaiian Center, approximately a 10-minute walk from the hotel.
Close to all the action and attractions of Waikiki, the Waikiki Resort Hotel is a wonderful base for sampling the best coffee in Oahu. Book a stay with us and get ready to drink and taste your way through one of Hawaii's most iconic destinations.