What You Need to Know about the Shinnyo Lantern Floating Hawai'i Ceremony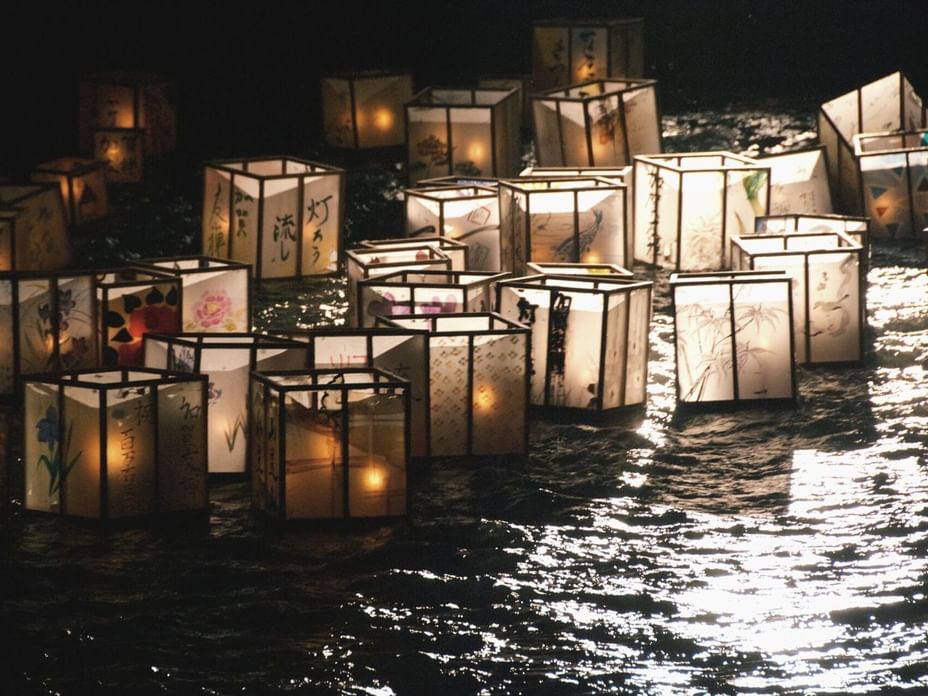 Every year, thousands of people from around the world travel to Oahu for the Shinnyo Lantern Floating Hawaii Ceremony. Imagine hundreds of hand-decorated, candlelit paper lanterns bobbing and floating on the Pacific Ocean. It's a heartfelt and beautiful tradition that you can't experience anywhere else. If you're on Oahu during the month of May and want to take it all in, it's important to understand the significance and heritage of lantern floating in Hawaii.
What is Shinnyo Lantern Floating?
Shinnyo Lantern Floating Hawaii first began in the 1990s and occurs every year (although the ceremony was paused from 2020-2022 due to the pandemic).
The term "shinnyo" refers to the Buddhist concept of how there's a light that exists within all beings and is commemorated by using translucent paper lanterns illuminated with a candle.
Today, the ceremony takes place every Memorial Day to both honor and respect those who have passed on, and also to bring people together to share humanity's hope for peace.
What to Expect at the Shinnyo Lantern Floating Hawaii Ceremony
As the sun sets over Waikiki, visitors are treated to an array of traditional ceremonies honoring both Buddhist and Hawaiian traditions, with each ceremony carrying historic significance. You can watch the most recent lantern floating ceremony from 2019 for a peek at what to expect.
A few example ceremonies that will take place include:
Blowing of the pū: The pū, or Hawaiian conch shell, is traditionally used to mark the start of an event. At the lantern floating ceremony, the sound of the pū is often followed by the pounding of Japanese taiko drums.
Chanting an oli and doing the hula: The oli is a Hawaiian chant, and the hula is a poetic dance that symbolizes the ceremony's theme of unity.
Bringing in the six main lanterns: After the opening music and dance, six ceremonial lanterns—which are thought to carry the prayers of all beings both living and passed on—are brought in, then a fire known as the "Light of Harmony" is lit.
With the stage literally and figuratively set, the rest of the ceremony proceeds. This includes prayers, blessings over the audience, the spreading of flower petals, Buddhist chants, and more.
Finally, at the very end, attendees send out their prayers and wishes by releasing their lanterns into the ocean.

How to Attend the Shinnyo Lantern Floating Hawaii Ceremony
You don't have to be a Buddhist to attend. The ceremony is intended to unite the hope of everyone who participates and draws visitors from around the globe. In fact, at the most recent ceremony in 2019, more than 50,000 people attended and lit more than 7,000 lanterns, making it one of the world's largest Memorial Day observations.
If you're on Oahu on May 29, 2023, here's what you need to know:
Location: Ala Moana Beach Park (1201 Ala Moana Blvd, Honolulu, HI 96814), a short 30-minute walk down the Waikiki Strip from the centrally located Waikiki Resort Hotel.
Cost: It's free to attend and free to pick up a lantern, but donations are happily accepted and go toward supporting beach and park cleanups.
Parking: Parking in Waikiki is extremely limited on a regular day, and is almost impossible when thousands of people convene at the beach—we recommend walking or renting a Biki bike.
Getting your lantern: The tent where you can pick up a lantern and decorate will be open from 10 a.m. to 3 p.m., or until all the lanterns have been given out.
Ceremony time: The ceremony runs from approximately 6 p.m. to 7:30 p.m.
How to stay updated on ceremony details: The 2023 event is still being planned, and you're encouraged to visit the official lantern ceremony website for the latest event details.
If you're hoping to attend this year's lantern floating ceremony, avoid the stress of parking and transit by booking a stay at the Waikiki Resort Hotel. Not only are you just steps from where the ceremony will be held, but you're also conveniently close to all that Waikiki has to offer. Book your stay at the Waikiki Resort Hotel online or call us at 1-800-367-5116 to see why our location, friendly staff, convenience, and amenities give us top ratings among our guests.