O'ahu Vegan Restaurants: Where Plant-Based Dreams Come True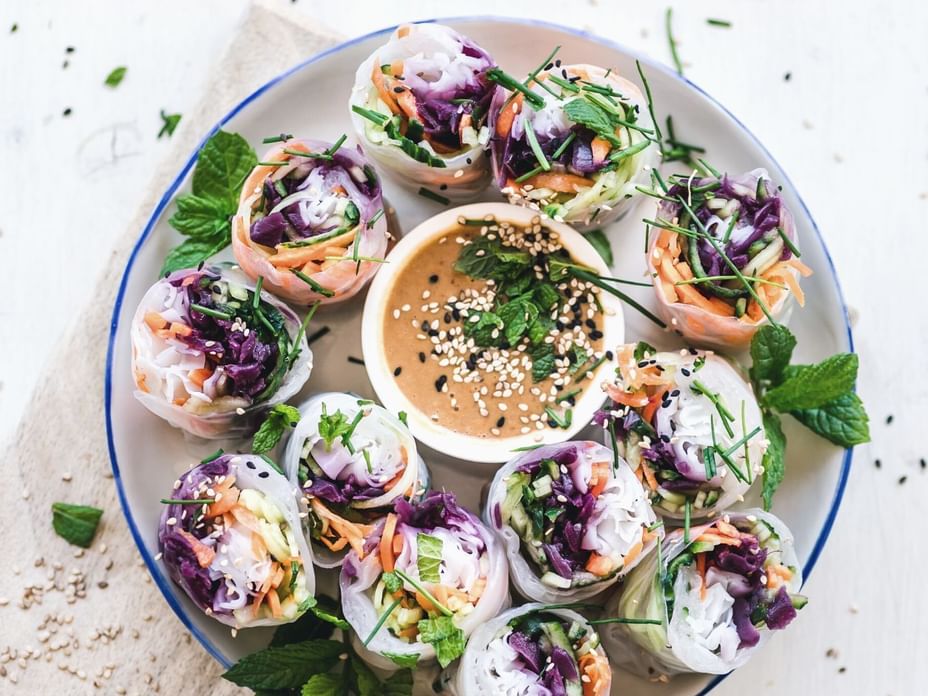 As someone who prioritizes cruelty-free eating, you may need to dig deeper to find spots that cater to your plant-based cravings. We've crafted a list of some of the best sites to try when seeking vegan food in O'ahu. This vibrant and diverse island is sprinkled with places that offer delicious and cruelty-free dishes with fresh produce from their ʻāina (land).
Here's a helpful list of places that serve vegan food in O'ahu. And remember, you don't need to be a vegan to enjoy good, tasty, meat-free meals!
The Cosmic Kitchen
66-443 Kamehameha HWY, Haleiwa, HI 96712
Price range: $4-$15 (depending on their daily menu offerings)
This small hidden gem serves nourishing vegan and vegetarian cuisine as a grab-and-go option during a busy day of sightseeing. You'll find many tempting items on their daily menu with vibrant ingredients like starfruit, coconut 'bacon,' and local organic tofu. Indulge in their smoothies, a fresh soup, or their sandwich of the day. The Cosmic Kitchen is a small family business that loves to support its local farmers!
Tane Vegan Sushi & Izakaya
2065 South Beretania St., Honolulu, HI 96826
Price range: $4-$20 per plate
Tane Vegan is a unique restaurant that offers vegan Japanese sushi and izakaya. Their beautiful dishes are all crafted using delicate Japanese culinary techniques. This is one of the best vegan restaurants O'ahu offers, and you'll be pleased you stopped by for a variety of their small dishes and some saki or Japanese beer. This is the ideal spot for a special occasion when you want to get a little more dressed up after a day on the beach.
Barefoot Beach Cafe
2699 Kalakaua Avenue, Honolulu, HI 96816
Price range: $8-$20 for the vegan meal selection
The Barefoot Beach Cafe in Waikiki has something for everyone with some "tasty vegan options," according to one of their many fans. With a beautiful setting, live music evenings, Hula dancing, and Friday fireworks, this spot is a must-visit for all drawn to this attractive destination.

Leahi Health
3441 Waialae Ave, Honolulu, HI 96816 | 2752 Woodlawn Dr., HI 96822 | 820 W. Hind Drive Honolulu, HI 96821
Price range: $8-$15
Leahi Health is a small franchise located around Honolulu in the Kaimuki, Aina Haina, and Manoa neighborhoods. They strive for farm-to-table practices, using the best produce from around Hawaii. They make their kombucha and take pride in offering their customers delicious 100% vegan plant-based meals.
Peace Cafe
2239 S. King St., Honolulu, HI 96826
Price range: $5-$20
Intending to create tasty, fun, and creative food, Peace Cafe stands out with its earth-friendly stance. Their Vietnamese and Japanese-inspired food is sugar-free (maple and agave only), and they strive to use local and organic produce when possible. Try their Katsu Curry entree of tempeh or tofu katsu, tomatoes, brown and black rice, cucumbers, parsley, and house dressing, followed by their mochi cake.
The Beet Box Cafe
66-437 Kamehameha Hwy Ste.104, Haleiwa, HI 96712 |46 Ho'olai Street, Ste A, Kailua, HI 96734
Price range for meals: $9-$16
This cute cafe offers a variety of veggie meals, from smoothies to acai bowls, breakfast burritos, Thai tacos, veggie burgers, and even a meal selection for your sweet keiki (kids). A fan favorite is The Mc Jegger Muffin, made with vegan breakfast sausage, a JUST egg vegan patty, vegan cheese, garlic aioli on a toasted English muffin, and Sriracha ketch. Their Instagram page boasts some drool-worthy donuts.
Banán - Waikiki & Kaimuki, Honolulu
1152 Koko Head Ave. Honolulu, HI 96816 | 2301 Kalakaua Ave. Honolulu, HI 96815 | 2161 Kalia Ave. Honolulu, HI 96815

Price range: $8-$12
No island vacation would be complete without some ice cream. Try Banán for some banana-based, 100% vegan ice-creams. Their passion is to revive Hawaii's dying banana industry by sourcing organic bananas from local farming communities. Rumor says food scraps go to a local farmer to feed his pigs. You can catch their cold, tasty treats from their food trucks or in many locations around O'ahu. (Plus, their Banán Beach Shack is only a 7-minute walk from our Waikiki Resort Hotel.)
Try their Salted Mocha Crunch: Coffee Banán topped with dark chocolate espresso beans, puffed quinoa, and honey. Yum!
Grab Some Tasty Plant-Based Kau Kau in Hawaii
O'ahu's vegan food scene is thriving, and these spots, among others, offer a fantastic array of options for plant-based eaters and those looking to explore cruelty-free dining.
Embark on a culinary adventure and savor the flavors of O'ahu vegan restaurants with an affordable vacation at the Waikiki Resort Hotel in Honolulu. We look forward to welcoming you.