8 of the Best Places to Get Pancakes on Oahu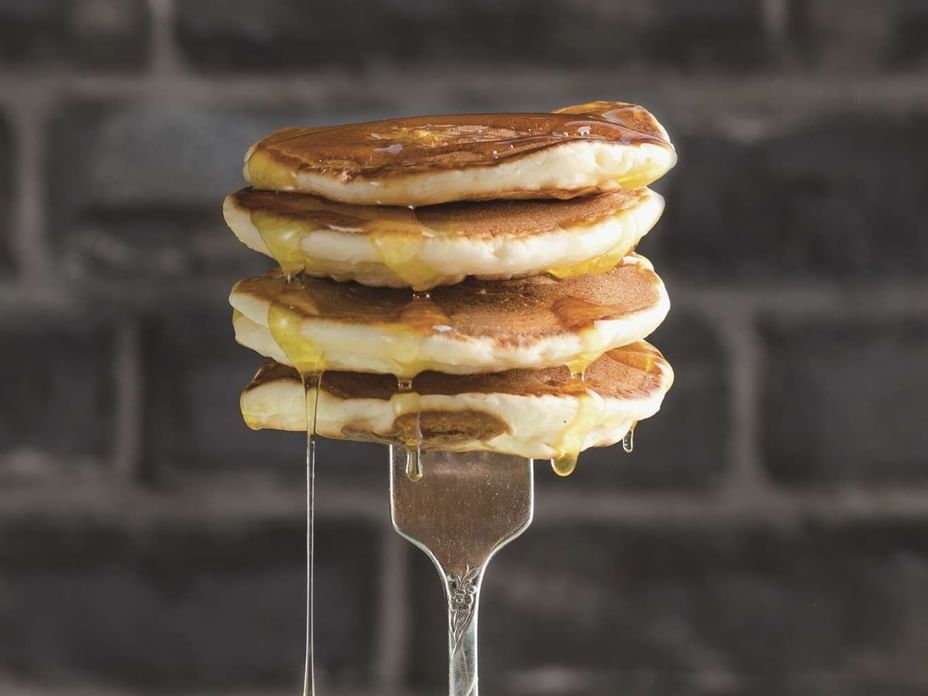 Whether for breakfast, lunch, afternoon snack, or dessert, anytime is a good time to indulge yourself in the joys of a pancake. And in the Aloha State, pancakes are big business. Local chefs serve up these griddled or fried fluffy treats with sweet, savory, exotic, and flavorsome ingredients native to the islands. From the original macadamia nut topping to a signature charcoal pancake, these are some of the best pancake spots on Oahu that are sure to excite your taste buds.
A contemporary and upscale restaurant on Waikiki's buzzing Dukes Lane, which is a 10-minute walk from the hotel.
Acclaimed for its black charcoal buttermilk pancakes served with guava-strawberry sauce, whipped cream, and berries.
The blackness comes from adding high-grade Japanese charcoal that's turned into a powder so only the charcoal's color, and not the flavor, remains.
Pancakes are served for breakfast and lunch.
This laidback breakfast and lunch diner is the home of the original macadamia nut pancake, a thick and fluffy hotcake smothered in creamy macadamia nut sauce.
Boots and Kimo's is well-known among sports fans, too, for a huge collection of Denver Broncos memorabilia.
Located in the windward side coastal town of Kailua, about a 35-minute drive from the hotel.
Closed on Tuesdays.
Established in 1974, Eggs n Things specializes in fresh ingredients and Ohana (family) classics.
The finger-licking sugar or cinnamon-sprinkled malasada pancakes, which are a doughnut-pancake hybrid, are a big hit.
Standard pancakes with whipped cream or fresh fruits are also available.
Three Honolulu locations, with the closest a 2-minute walk from the hotel on Kalakaua Avenue.
The Waikiki Resort Hotel's casual Ilima Café is another place to get the best pancakes on Oahu.
It's loved for its ube pancakes, which are made with the purple sweet potato-like Hawaiian vegetable called ube.
Da Pancakes are a popular alternative and come topped with banana, strawberry, blueberry, and either maple syrup or lilikoi (tropical yellow passion fruit) sauce.
Koko Head is an all-day brunch café in Honolulu's vibrant Kaimuki neighborhood.
On the menu are ricotta pancakes with a topping choice of either Hawaiian fruit compote, bacon and black pepper maple syrup, or haupia coconut syrup.
Located just a 10-minute drive from the hotel.
Closed on Monday and Tuesday.
An island institution since 1950 serving everything from signature coco puffs and malasadas to burgers and corned beef hash.
Liliha's fluffy banana or blueberry hotcakes come in stacks of two or three and with toppings such as chocolate chips, mixed nuts, and whipped cream.
Various Honolulu and Waikiki locations.
Closest store to the hotel is a 5-minute walk away at the International Market Place mall.
My Café is a breakfast and lunch eatery at the Halekuai Center in Kapolei.
Pancakes dominate the breakfast menu and ono (delicious) flavors range from buttermilk to lilikoi and chocolate taro (poi) haupia.
The Flight of Pancakes—three pancakes and three different toppings—is ideal for those unable to choose or simply feeling indulgent.
Located roughly 40 minutes by car from the hotel.
Another breakfast and lunch café that's a top pick for pancakes.
Sweet E's fluffy pancakes are served in stacks of three, infused with banana, buttermilk, or blueberries, and crowned with optional fresh fruits.
The sweet-toothed can also dig into waffles and Hawaiian sweet bread, which is a twist on French toast.
Located a 10-minute drive from the hotel.
The lure of the best pancakes on Oahu is never far away when staying at the Waikiki Resort Hotel. Get yours on the way to the beach or when returning to your room after an action-packed day in paradise.