Farmers Markets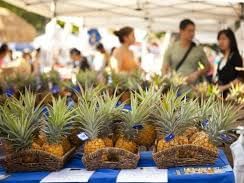 Oahu farmers markets are sprouting up everywhere offering fresh produce and homemade treats with local flavor. Support local and organically grown goods at any of the Farmers Market scattered throughout Oahu. Following are a few recommended
King's Village Farmers Market
131 Kaiulani Ave, Honolulu (5 mins walk)
Mondays, Wednesdays, Fridays, Saturdays,
4:00 pm – 9:00 pm

KCC Farmers Market
Kapiolani Community College
4303 Diamond Head Rd.
Saturdays, 7:30 am – 11:00 am

Ala Moana Center Farmers Market
Mall Level 2, 1450 Ala Moana Blvd.
Sundays, 9:00 am – 12:00 pm

For other locations and hours of the Farmers markets, please ask any of the guest service agents at the hotel.