Where to Find the Best Boba Places on Oahu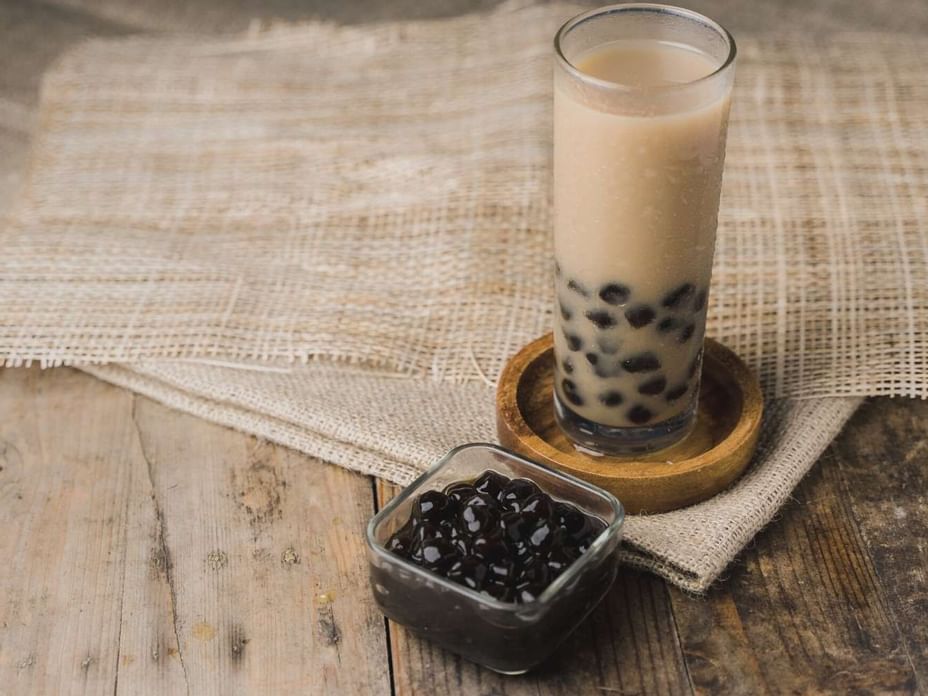 While boba tea (or 'bubble tea') originated in Taiwan, it's made its way to Hawaii over the years. Now, there are dozens of places to find these refreshing, unusual drinks on Oahu, whether you're relaxing on Waikiki Beach or exploring Kaka'ako. Whether you're looking for traditional Taiwanese milk tea or want to try a more creative take on boba, here are some local favorites to explore on Oahu.
Hana Tea
Tiger Sugar
Taste Tea
Mr. Tea Cafe
Wen's Tea
The Alley
Coffee or Tea? Waikiki
Teapresso Bar
1. Hana Tea
Known for unique boba toppings like cake whip and cheese foam

Easy to order online for quick pick up

Located around five miles from Waikiki Beach and just outside the Honolulu Arts District 
With two locations, Hana Tea boasts an extensive menu of customizable boba drinks and toppings. Order ahead for easy pick-up while you're out running errands in the Pearl City or Dillingham neighborhoods.
2. Tiger Sugar
Signature syrups give drinks a 'tiger stripe' effect

Best known for their signature black sugar boba and pearl coffee latte with cream mousse

Conveniently located in the heart of Honolulu's Arts District, just outside Kaka'ako
Originating in Taiwan, Tiger Sugar now has numerous locations in the US – including this one right on Oahu. If you're looking for the most Instagram-ready boba on the island, look no further. Don't forget to take a photo of your tiger-striped boba before your first sip! 

3. Taste Tea
Four locations in Honolulu
Unique 'split cup' offering lets you try two different teas at once
Beyond boba, look for creative offerings like blended tea and exotic lemonades
Planning some retail therapy at the Ala Moana shopping center? Treat yourself afterward with a refreshing drink from Taste Tea, located right inside the mall.
4. Mr. Tea Cafe
Known for creative twists on boba, like cotton candy and fruity pebbles
Their mustache cup design is sure to make you smile
Two convenient locations – one at Ala Moana Center, another at Kaka'ako marketplace
Mr. Tea promises authentic Taiwanese boba tea with plenty of creativity – look for unique island-inspired ingredients like haupia and azuki beans. 
5. Wen's Tea
Known for tasty toppings like cheese cap and custard pudding, and specialty sparkling drinks
Choose soy or almond milk for a non-dairy option
Located just outside the Ala Moana Center, around 2 miles from Waikiki Beach
Planning to stroll from Waikiki Beach to Kaka'ako? Stop at Wen's Tea on the way for a cool, sweet cup of bubble tea. 
6. The Alley
Don't miss their signature brown sugar boba, taro jelly, and ube cream sauce
Order online to avoid standing in line
Located right inside the Ala Moana Center
With locations in Hawaii, California, and Nevada, The Alley is one of the major boba outposts on the island. You'll love their aesthetically-pleasing tea room and extensive menu. Don't forget to snap a pic of your drink!

7. Coffee or Tea? 
Head here for delicious milk teas and more
Not into boba? Try a smoothie, shake, or shave ice
Several Oahu locations, including one in the heart of Waikiki Beach
Opening in 1999, Coffee or Tea? was one of the first places to get boba tea in Honolulu. They now have dozens of locations throughout Hawaii, including one right in Waikiki Beach – the perfect spot for a mid-day pick-me-up on a warm day.
8. Teapresso Bar
Teapresso specializes in healthier boba tea options
Their cafes are designed for hanging out – grab a board game or bring a book
Locations near Waikiki Beach in Ala Moana Center and the Arts District
With 15+ locations on Oahu, Teapresso is a local favorite with plenty of vegan and organic options. And beyond boba, look for creative offerings like slushes, frappes, and lemonades.