Top 3 Must Have Local Foods on Waikiki Beach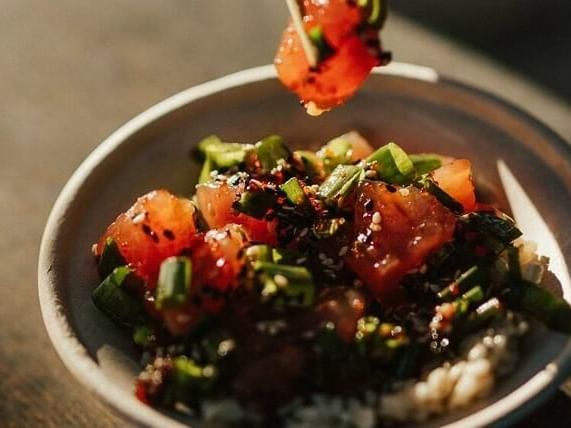 Whether it's frolicking in the surf, snorkeling at Hanauma Bay, or shopping at the Royal Hawaiian center, you'll find no shortage of memorable activities during your stay at the Waikiki Resort Hotel. That means you're bound to work up a healthy appetite for some traditional Hawaiian food. 
What are the best local foods you need to sample during your stay at our Oahu hotel? While you'll find an abundance of options, these are the three must-try local dishes you should experience in and around Waikiki Beach.
Loco Moco
The Japanese-inspired dish, Loco Moco is one of the island's most popular comfort foods, and a must-have for those eager to try local food in Hawaii. While many different variations of the dish can be found island-wide, it's the traditional version that's most beloved. 
Loco Moco includes a hamburger steak and flavorful beef gravy served on top of steaming hot white rice. It's then topped with a fried egg. Packed with protein and delicious flavor, it's a hearty way to start your day on Waikiki Beach.
Many local restaurants put their own unique spin on traditional Loco Moco. It's not uncommon for soba noodles to be included, or for the hamburger steak to be replaced with Portuguese sausage, Kalua pork — even shrimp and oysters. Fried tofu is a popular vegetarian alternative to meat versions, while marinated mahi-mahi is often used in fish Loco Moco.
Poke
Poke (pronounced po-kay) means "to slice" in Hawaiian — and there's no limit to its deliciousness. The Hawaii poke bowl consists of diced fresh local seafood served raw with any number of fresh vegetable and seasoning accompaniments. 
Fish has been a staple food in the Hawaiian Islands for centuries. And it's believed that poke originated among fishermen who added vegetables and seasonings to the cut-offs from their catch that fish vendors weren't interested in purchasing.
Traditional poke comprised of skinned and deboned yellowfin tuna fully mixed with vegetables such as cucumber, pickled jalapeño, and avocado. Modern variants of the dish have been known to include everything from the octopus and raw salmon to even oysters paired with seaweed and macadamia nuts for a little crunch.
Soy sauce and sesame oil are key accompaniments to poke's unique flavor. Japanese and Korean cuisines have had a growing influence on modern takes on poke. From the inclusion of mayonnaise to kimchi and wasabi, Asian variations on the dish are as popular as they are delicious. 
Spam Musubi
Spam has been an inextricable part of Hawaiian cuisine since the Second World War, where it was introduced to locals by U.S. troops who provided millions of cans of pork product each week throughout the duration of the conflict. Today, Spam is used in a variety of creative and delicious ways that leaves visitors to Oahu wondering why it's so unfairly maligned as a strange food product back on the U.S. mainland.
Spam musubi — derived from the traditional Japanese dish omusubi — consists of a slice of Spam and a block of white rice wrapped in dried seaweed, or nori. Spam musubi is a simple yet delicious dish, and great to have as a light meal.
Scrambled eggs are often included in breakfast variants of the food, while more gourmet takes on musubi replace Spam with teriyaki chicken, roast pork, or Portuguese sausage.
Dining In
The Waikiki Resort Hotel is within walking distance of dozens of different Oahu activities and dining establishments, including beachside cafes, restaurants, and bars that offer these and many other delicious cuisines native to Hawaii.