The Sweetest Guide to Malasadas in Hawaii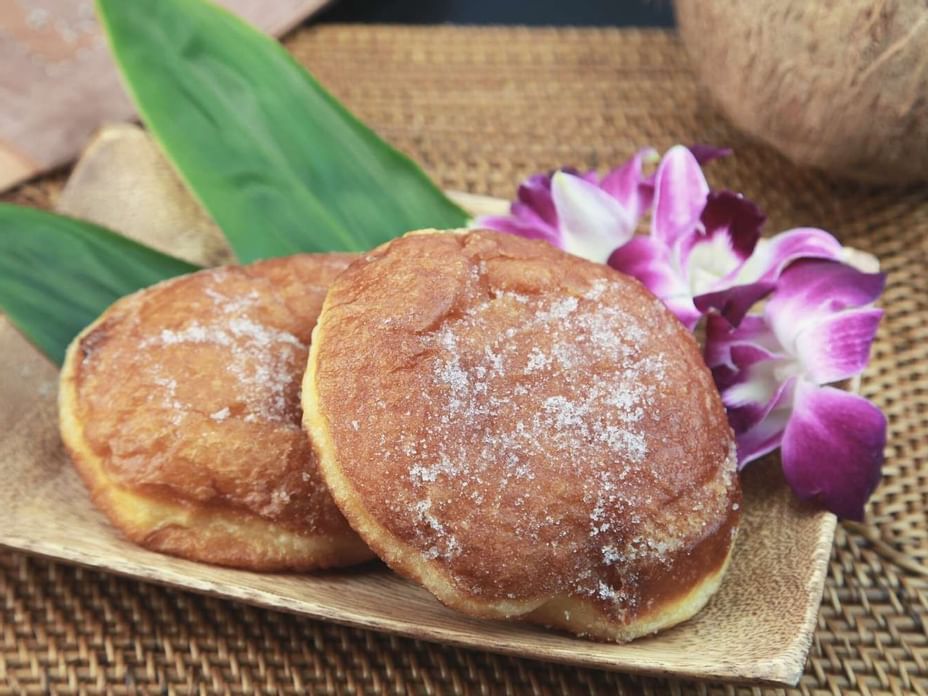 Whether this is your first trip to Hawaii or you're a frequent visitor to the islands, you might know that malasadas are a big deal here. This ono (delicious) sweet snack can be found at bakeries, cafés, and food trucks throughout the islands. Read on and get tempted by this traditional baked delight.
What is a Malasada?
Malasadas are yeast doughnuts of Portuguese origin. Rich with eggs, butter, and evaporated or fresh milk, they are deep-fried, coated with sugar, and enjoyed warm. First eaten on the Azores islands and Madeira region of Portugal, the name translates to badly baked.
While the traditional malasada is served ungarnished, the Hawaiian version has been adapted to include mouthwatering sweet flavors. From chocolate, custard, and ice cream to guava, mango, and passion fruit, the variations are endless.
The History of Malasadas in Hawaii
Malasadas made their way to the islands of Hawaii in the 1800s when immigrants were invited to come and work on the sugar cane plantations. Most came from other Pacific nations, but some also arrived in the Aloha State from Portugal and introduced numerous recipes to the kama'aina (locals).
Such is the popularity of the malasada that once a year Hawaiians celebrate Malasada Day. Falling on Shrove Tuesday, aka Fat Tuesday, the day coincides with the ritual of using up rich foods prior to Lent. For Hawaiians and pastry lovers, it's the perfect excuse to indulge in a bag of warm, sugary deliciousness without feeling guilty.
Here's where to get your hands on the best malasadas in Hawaii.
5 of the Best Spots for Malasadas in Hawaii
Location: 933 Kapahulu Avenue, Honolulu, Oahu
Specialty: Hawaii's original malasada bakery has been serving up generously-sized dough balls filled with everything from macadamia nut to haupia (coconut milk pudding) since 1952.
Tip: Malasadamobile is a food truck that brings the joy of malasadas to those unable to make it to the bakery. Check the website for the various locations.
Location: 1284 Kalani Street, Honolulu, Oahu
Specialty: Poi glazed malasada, which has pounded taro (poi) root added to the dough to create an Instagram-worthy purple color. A poi glaze offers more sugary goodness.
Tip: Night owls and early birds can pick up mouthwatering baked treats from 2 am on weekdays and 3 am on weekends.
Location: 3632 Waialae Avenue, Honolulu, Oahu
Specialty: The Malamode–a traditional malasada wrapped around a ball of homemade ice cream, which comes in six flavors including chocolate, haupia, and strawberry.
Tip: Keep an eye on the social media pages for the Weekly Flavors schedule of cake bombs, ice creams, malasadas, scones, and more.
Location: 95-5642 Mamalahoa Highway, Naalehu, Big Island
Specialty: Fruity fillings, like apple, mango, pineapple, and strawberry, go perfectly with the airy and fluffy malasadas at this Big Island favorite.
Tip: The bakery doubles up as a local visitor center and also has a souvenir shop and a four-acre tropical garden.
Location: 45-690 Pakalana Street, Honokaa, Big Island
Specialty: Tex's version of the malasada is a freshly-fried and square-shaped sweet delight best ordered with Bavarian cream or mango filling.
Tip: From breakfasts to burgers and salads, a full menu of ono grinds (delicious food) is available here.
Whether for a dessert, an on-the-go snack, or for a Fat Tuesday celebration, you'll never be far from the best malasadas in Oahu when staying at the Waikiki Resort Hotel. Book your stay with us and prepare to eat your way around the island.