Guide to Enjoying the 50th State Fair in Hawaii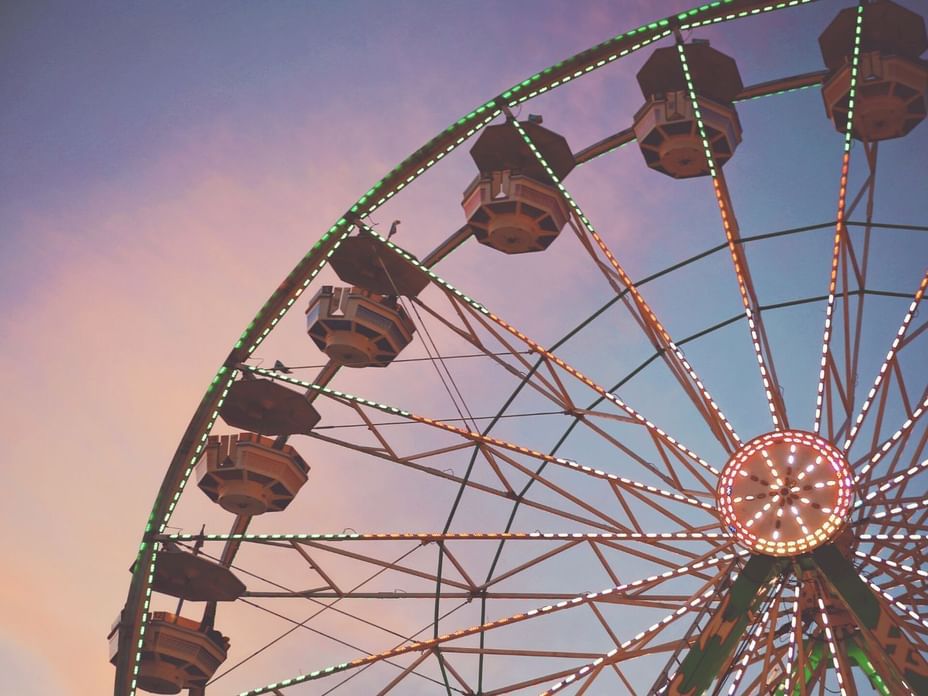 Also known as the Aloha Freedom Festival, the 50th State Fair shows that Hawaii can hold its own alongside other famous state fairs in the Midwest. Sure, you'll find all the state fair classics, such as delicious funnel cakes and rows of farm animals. But you'll also experience the unmistakable Hawaiian touch, from performances by hula hālaus (Hawaiian hula groups) to local grinds (Hawaiian slang for "good food") like Korean kalbi and fresh ahi poke bowls.
The History of the 50th State Fair
The fair dates back decades, starting as a trade show in the 1930s. In 1947, it was officially known as the 49th State Fair — after all, Hawaii's kingdom had recently been overthrown and the fair's organizers assumed the islands would become the 49th state in the U.S. (Alaska beat Hawaii to the punch).
Today, it's one of the islands' largest events and draws thousands of visitors and kamaʻāina (local residents) each year.

50th State Fair Hours, Dates, and Admission
Location: Aloha Stadium (99-500 Salt Lake Blvd.), a short 30-minute drive from the centrally located Waikiki Resort Hotel
Dates:

May 26-29
June 2-4
June 8-11
June 16-18
June 22-25
June 30-July 3
July 7-9

Hours: Doors typically open at 6 p.m. on Fridays, 4 p.m. on Saturdays, and 12 p.m. on Sundays and Mondays, with the fair closing between 10 p.m. and 12 a.m. depending on the crowd.
Admission: Entrance costs $10. Keep in mind that you must also purchase a Fun Pass (starting at $20), which is used for accessing rides, buying food, etc. You can also use your Fun Pass balance to pay for admission to the fairgrounds. Full details on admission, as well as various discounts available, are published on the 50th State Fair's official website.
Parking: Parking costs $9 per car. Be forewarned, the parking attendants only accept cash (no credit cards or debit cards).
What to Do at the 50th State Fair in 2023
Whether you want to sit back and take in the spectacle, go shopping for unique novelty gifts, or dine on delicious food, the fair has something for everyone.
Events and Attractions to Try in 2023
Each year, the fair features a rotating array of events — some perennial classics, and some unique for that year alone. In 2023, you won't want to miss:
The petting zoo: It's a mainstay at the fair, where you and your keiki (children) can play with animals like miniature donkeys, cuddly goats, and even llamas.
The circus: The Anastasini family from Italy has been performing circus acts since the 1800s. This year, it includes motorcycle tricks, aerial performances, and more. The circus only runs from May 26-June 25, so plan ahead.
The dog show: It turns out, you really can teach an old dog new tricks. At the JUMP! The Ultimate Dog Show, performers have trained dogs adopted from shelters to perform impressive feats of agility.
The hula show: As part of the Queen Lili'uokalani Keiki Hula Competition, watch Hawaii's leading keiki halaus (children hula) compete for top awards set to live Native Hawaiian music.
Popular Rides to Enjoy at the 50th State Fair
Get your adrenaline pumping with traditional fair mainstays, including The Zipper and The Super Slide. For smaller guests, your options include the likes of carousels and balloon rides. You may want to visit some of the Fun Pass kiosks scattered throughout the fairgrounds to top up the credits on your Fun Pass, as some of the most popular rides understandably cost the most credits out of everything else at the fair.
Must-Try Foods to Eat at the 50th State Fair
No fair is complete without lots of treats. Beyond the usuals such as cotton candy and doughnuts, look for local vendors hawking more unique menus. While the full list of 2023 vendors isn't yet available, last year's fair included fresh seafood, Korean takeout, garlic shrimp plate lunches (made famous on Oahu's north shore), and poke.
Where to Stay When Visiting Hawaii's 50th State Fair in 2023
There are very few accommodations right near the fairgrounds. Instead, make your home base in Waikiki at the centrally located Waikiki Resort Hotel. It's just a short 30-minute drive from the fairgrounds, and only steps from world-famous Waikiki Beach. Book your stay at the Waikiki Resort Hotel online or call us at 1-800-367-5116 to see why our location, friendly staff, convenience, and amenities give us top ratings among our guests.