Everything You Need to Know About visiting Diamond Head in Hawaii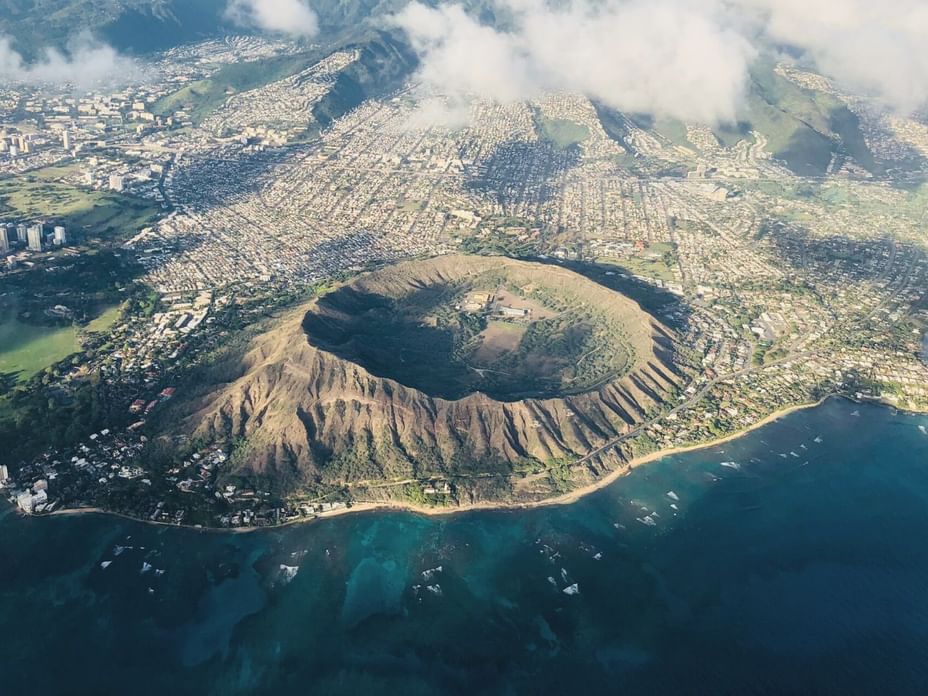 Standing as a dramatic backdrop to the Honolulu skyline, Diamond Head, aka Le'ahi, is one of the most iconic and recognizable natural landmarks in all of Hawaii. A popular image for postcards and travel brochures, this volcanic formation is a dream destination for hikers, history buffs, and photographers alike. Next time you are visiting, prepare to uncover the wonders of Diamond Head from Waikiki with our in-depth guide.
An Introduction to Diamond Head: How this State Monument Got its Name
Diamond Head is a 760-foot-tall tuff crater that was formed around 300,00 during a short, brief eruption.

It's actually a dormant volcano and part of the Honolulu Volcanic Series, which is a system of dikes, lava flows and spatter and tuff cones in southeastern Oahu.

Legend states that Hi'iaka, the sister of Hawaiian fire goddess Pele, chose the name "Le'ahi" because of a resemblance to the forehand (ale) or a fish (ahi).

An alternative translation is "fire headland," which references navigational fires that were once lit to guide boatmen paddling canoes around the shoreline.

British soldiers called it Diamond Head in the 18th century after mistaking calcite crystals found on the crater slopes for diamonds.

Used as a military lookout in the early 1900s, it became a designated National Natural Landmark in 1968.

Today it is part of the 475-acre Diamond Head State Monument.
How to Reach Diamond Head from Waikiki
Foot: If you like to walk or are just feeling energetic, it's about a 45-minute stroll to Diamond Head from the Waikiki Resort Hotel. Consider taking a break en route at Kapi'olani Regional Park.

Car: Drive east from Waikiki for about three miles, looking for the signs for Diamond Head State Monument, then follow the road up to the visitor car parking. There's a $10 fee per vehicle.

Bus: Take TheBus numbers 2 or 23 to the entrance, then continue on foot.

Trolley: The Green Line of the Waikiki Trolley connects locations throughout Waikiki with the attraction.

Things to Know Before Going on a Diamond Head Hike
The Diamond Head hike to the crater is via a 1.6-mile trail, for which you should allow around two hours.

Although a short hike, it does include switchbacks, tunnels, military bunkers, and two sets of stairs, one with 99 steps and the other 54–comfortable walking shoes are recommended.

Make sure to bring and drink plenty of water, and use sunscreen and a hat–there's no shade at the top.

Have your camera charged and at hand to take shots of the wonderful views, which include Diamond Head Lighthouse, Koko Head, and the Pacific coastline.
What to Do During Your Visit
To complement your hike, purchase the Diamond Head Audio Tour ($5) online or at the Diamond Head Interpretive Kiosk and get a deeper insight into the history and geological significance of the landmark.

You can also join a guided tour with a park ranger by prior email reservation at tours@pacifichistoricparks.org.

Pack lunch and/or your favorite snacks and enjoy a picnic at one of the rest areas, with views of the crater to boot.

Look for the remains of the artillery cannons and bunkers that were once part of a military base.
The Best Time to Visit
To avoid the midday sun and heat (and the bulk of the crowds), it's wise to plan your visit early in the morning or late in the evening.

Gates open at 6 am and close at 6 pm, with the last entry at 4 pm and the cut-off time for starting the hike being 4.30 pm.

Early risers will get the chance to watch as the sun rises spectacularly from the Pacific Ocean.

The monument is closed on Christmas Day and New Year's Day.
Entrance Fee and Making a Reservation
Non-Hawaiian residents: Adults $5, children 3 and under free.

Entrance and vehicle reservations ($10) are required for all visiting non-Hawaiian residents and must be made 30 days in advance.

Reservations and payments should be made online and by credit card only.

All visitors should arrive within 30 minutes of their allocated time slot.