Oahu Shopping: 5 Must-Try Destinations for Any Shopaholic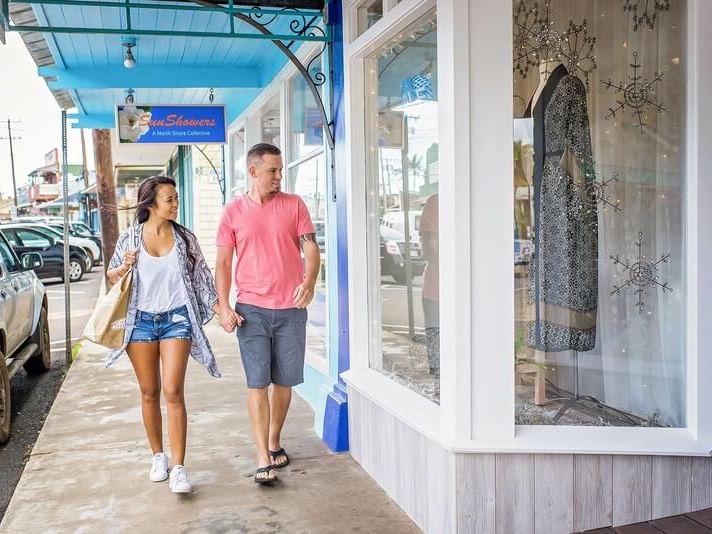 Oahu's malls and shops truly have it all, whether you're seeking a made-in-Hawaii souvenir to remember your Hawaiian vacation by, or you're craving high-end designer brands and boutique fashion labels that you can't easily find at home. Save some extra room in your luggage — once you see what awaits you in the Aloha State, you're going to want to bring home more than just a wet bathing suit and sandy flip-flops.
Recommended for: A one-stop destination for dining, shopping, and entertainment
Located a short 35-minute walk from the Waikiki Resort Hotel (or a breezy 10-minute Biki bike ride), Ala Moana is the largest shopping center in the entire state and offers more than 300 different retailers.
You'll find all your classic stores, like a Nordstrom and a Bloomingdale's, plus only-in-Hawaii classics like Hilo Hattie (great for Hawaiian souvenirs, jewelry, and trinkets), 'Auana Quilts, and Aloha Lane. After working up an appetite shopping, grab a meal at the Honolulu mall's 100+ restaurants and snack outlets, then catch the daily 1 p.m. hula show at center stage (it's currently temporarily paused during COVID-19, but will be reopening soon).
Address: 1450 Ala Moana Blvd, Honolulu, HI 96814
2. International Market Place
Recommended for: Unique boutique shopping in a tropical outdoor environment
Originally opened in the mid-1950s, what was once an eclectic array of independent booths and kitschy tourist goods has evolved into an upscale collection of curated stores and restaurants. The entire marketplace — found just a few minutes walking from the Waikiki Resort Hotel — is built around a historic banyan tree that's more than 100 years old.
Back in the tree's younger years, the shopping center attracted celebrities, tourists, and kamaʻāina (local residents) alike. Today, you get world-class shopping fused with decades of Waikiki history and culture, all surrounded by water features and lush landscaping.
Don't miss the Grand Lānai, a sprawling patio at the top of the marketplace where you can browse restaurants like Kuhio Ave. Food Hall, Magnolia Ice Cream, and Eating House 1849.
Address: 2330 Kalakaua Avenue, Honolulu, HI 96815
Recommended for: Trendy, upscale boutiques away from Waikiki's crowds
Take the scenic H-1 highway through sweeping mountain vistas and emerge in quaint Kailua, a beachfront town that's a 40-minute drive from the Waikiki Resort Hotel. Before hitting up world-famous Kailua Beach and its 2.5 miles of pristine sandy shoreline, stock your closet with specialty boutiques and Hawaiian fashion brands from Mahina, Island Bungalow, and Kailua Moon. Fuel your beach adventures with local snacks and Hawaiian foods from the Kalapawai Market or the Kailua General Store.
Address: 609 Kailua Rd, Kailua, HI 96734
Recommended for: Local art and surf-inspired apparel
Nestled on Oahu's famous North Shore an hour's drive from Waikiki, Haleiwa is your escape from the crowds and skyscrapers of Honolulu. Stroll down its picturesque, historic main street and take in the early 20th-century architecture which now houses some of Hawaii's most renowned art galleries.
Visit Wyland Gallery or the Iwa Gallery for stunning prints and original paintings, or try on surf-inspired apparel at Happy Haleiwa or Guava Shop. Don't miss Haleiwa's popular shave ice shops and food trucks, and enjoy your kaukau (Hawaiian slang for "food") at nearby Waimea Bay, Ehukai (Banzai Pipeline), or Sunset Beach.
Address: 66-145 Kamehameha Hwy, Haleiwa, HI 96712
Recommended for: Designer fashion at a discount
Turn the airport runway into a fashion runway at Hawaii's only designer outlet mall. Nearly 60 stores, such as Kate Spade, Coach, and Armani, offer hours of shopping at a steep discount. Food options are limited, but you can find more dining across the street at the Waikele Center.
Address: 94-849 Lumiaina Street, Waipahu, HI 96797
Wherever your shopping takes you during your vacation, the Waikiki Resort Hotel welcomes you back with its trademark hospitality and world-class location right across from Waikiki Beach. Learn more at waikikiresort.com or call (808) 922-4911.